Cops Discover 500 Pounds of Marijuana Littering Highway After Crash on 4/20
A pair of Mexican nationals have been charged following a crash on Interstate 70 that resulted in some 500 pounds of marijuana being spilled across a Missouri highway.
To cap it all off, the incident occurred on 4/20—a date recognized by many in the U.S. as an unofficial cannabis celebration day.
Victor Gonzalez Acosta, 32, and David Mora Navarro, 24, were not left with much to celebrate, however, after the collision resulted in them both being charged with felony drug trafficking.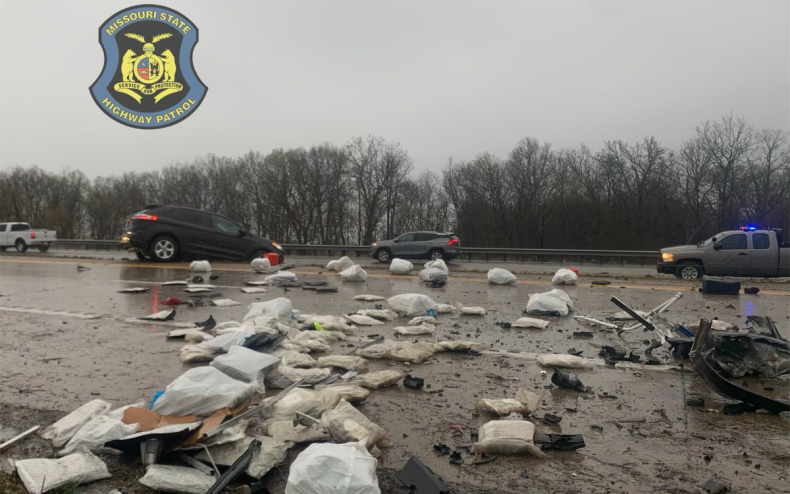 According to the crash report, the pot bust occurred on the section of I-70 located in Callaway County, roughly 100 miles west of St. Louis.
The Missouri State Highway Patrol took to social media to share an image from the chaotic scene with the picture showing bags allegedly containing marijuana strewn across the roadway.
"You don't see this everyday, but it is 4/20..." the agency wrote alongside the photo on Twitter.
The highway patrol went on to confirm that 500 pounds of packaged marijuana was found following the crash.
The traffic crash report indicates the collision occurred at around 7:15 a.m. when a semi-truck being driven by Ronell Franklin from Florissant attempted to avoid a crash that had happened earlier.
At the same time, a GMC Sierra being driven by Navarro, which contained Acosta and a fellow passenger identified as Edith Daniel Lerma, ended up losing control and ramming into the back of Franklin's semi.
Another semi-truck, being driven by Glenn Doyle from Joplin, then ended up running off the left side of the road before hitting Navarro's GMC.
While the two semis incurred minor to moderate damage in the collisions, the GMC was totaled with Navarro, Acosta and Lerma all taken to hospital with moderate injuries.
Despite this, no one was seriously hurt in the crash.
An inspection of the crash scene by highway patrol resulted in the discovery of the large quantities of marijuana. As a result, Acosta and Navarro were later charged with two counts of Felony 1st Degree Trafficking of Drugs as well as Careless and Imprudent driving.
Newsweek has contacted the Missouri State Highway Patrol for comment.
Rumored to be the brainchild of five high school teenagers from Marin County, California in the 1970s, according to Steven Hager, the former editor of High Times, the quintet would meet at around 4:20 p.m. in their hometown close to San Francisco to go searching for a cannabis plant.
The rumor was that the plant had been left behind in a nearby forest by a member of the U.S. Coast Guard who was no longer able to maintain it. Soon the phrase 420 became shorthand for their meet-ups.
What allegedly started as a private joke among friends, however, has since blossomed into something approaching a national holiday for advocates of marijuana use, especially as more and more U.S. states have begun to legalize the drug.
Though marijuana is still illegal for recreational use in Missouri, in 2014 a Senate bill was passed that reduced the penalties for certain cannabis offenses including the elimination of any potential jail time for first time possession up to 10 grams.
It also reduced the penalties for sale and cultivation and scrapped the ban on probation or parole for third-time drug felony convictions, with the changes coming into effect from 2017 and tantamount to the decriminalization of the drug.