April 20 or "4/20" is the event in the calendar that stoners look forward to every year, the main celebration of cannabis culture.
The day has gained popularity since it was first established, with large crowds gathering in parks to smoke marijuana and celebrities raising a joint to mark the occasion.
The cannabis celebration day is now becoming more mainstream and commercial, as more states legalise marijuana and businesses try and cash in on the industry.
As the festivities become more widespread, the celebration is now a far cry from its origins, which were heavily rooted in hippy counterculture.
Newsweek has the history behind the day, and how it got its name.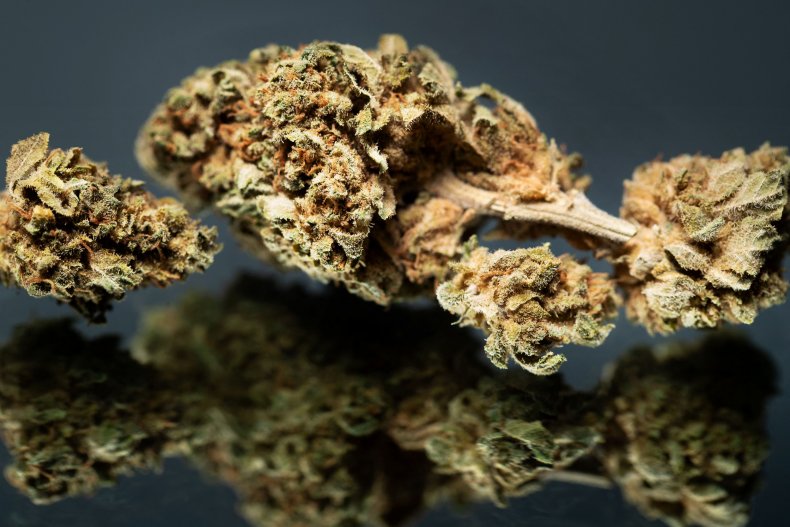 Where '4/20' Came From
There are many theories about why 4/20 was chosen as the date to celebrate, but the one that has been seen as most credible was made by Steven Hager, a former editor of the marijuana-focused news outlet High Times.
Hager told The New York Times that the ritual was started by five high school teenagers from Marin County, close to San Francisco in the 1970s, who used to meet after school and around 4.20 p.m to go and look for a cannabis plant, supposedly left behind in a forest by a U.S. Coast Guard member who could no longer maintain the crop.
The group were friends with the guard's brother, who gave them a map of the Point Reyes Forest where the plant was supposedly located.
The teenagers were nicknamed "the Waldos" as they used to hang out by a wall outside their high school in San Rafael. They were all athletes and finished their after-school sports just before 4:20 p.m.
The Waldos met at that time at least once a week at the Louis Pasteur statue outside San Rafael High, where they smoked up and drove out to search for the cannabis patch in the forest.
The Waldos have published multiple pieces of "evidence" to give credence to their theory, including letters from college and the original "420" flag from the 1970s.
"We would remind each other in the hallways we were supposed to meet up at 4:20. It originally started out 4:20-Louis and we eventually dropped the Louis," Steve Capper, one of the Waldos, told the Huffington Post in 2017.
There are several other unproven theories about how the day got its name, including that 420 was the California police or penal code for marijuana, but that theory is not backed up with any evidence.
Another theory is that there are 420 active chemicals in weed, but that's not been found to be true. In fact, there are more than 483, according to a a lengthy piece of research on cannabis and cannabinoids.
Spreading the Word
Although the Waldos never found the hidden cannabis plant, they managed to introduce a lasting code that became used by weed smokers around the globe.
Initially "420" began as private joke for their own meetups, but the phrase supposedly caught traction via the group's connection with the rock band The Grateful Dead, also based in Marin County Hills at that time, only blocks away from the high school the Waldos attended.
One of Waldos, Mark Gravitch, had a father who managed real estate for the band, while the brother of Dave Reddix (another Waldos member) managed a Grateful Dead side-band and was close friends with Grateful Dead bassist Phil Lesh.
The Grateful Dead practiced at a rehearsal hall in San Rafael, California and the Waldos used to hang out there at watch, Reddix told the Huffington Post.
Reddix told the Post that his older brother Patrick spread the "420" phrase with the band through Lesh.
"And me, too, because I was hanging out with Lesh and his band [as a roadie] when they were doing a summer tour my brother was managing," Reddix added.
Capper added: "We'd go with [Gravitch's] dad, who was a hip dad from the '60s. There was a place called Winterland and we'd always be backstage running around or onstage and, of course, we're using those phrases.
"When somebody passes a joint or something, 'Hey, 420.' So it started spreading through that community."
Capper said Marin County was "ground zero" for the California counterculture, which saw hippies smoke weed as a form of protest against government policies, such as the Vietnam War.
Later, banners calling from 4:20 p.m. meetings on 4/20 were found circulating at gatherings ahead of Grateful Dead concerts, the Huffington Post reported.
Today, 4/20 can mean a whole host of different things to weed smokers, as well as the industry. Hundreds of sellers show off their marijuana products alongside at 4/20 rallies each year.
For example, the aptly-named California town Weed is hosting its own 4/20 festival this year.
How to Celebrate
Watch a marijuana documentary
Learn more about the history of cannabis and the controversies surrounding it today by watching a marijuana documentary, such as Grass is Greener, High Country: The Future of Weed, The Culture High and The Legend of 420.
Find your nearest 4/20 rally
Find one of the hundreds of meet ups or rallies around the world celebrating 4/20.
Try a weed-friendly dating site
Singles looking to find a pot-smoking partner can try dating apps for stoners like High There! and My420Mate. Mainstream dating sites like Match and Zoosk have filters that can help you find your smoking soulmate.
Listen to a marijuana podcast
Learn more about the ins and outs of the cannabis industry on The Adam Dunn Show, Brave New Weed and Cannabis Cultivation and Science Podcast.
Try some cannabis recipes
Try a recipe or two from "The Official High Times Cannabis Cookbook," which features more than 50 tasty recipes to get you high.