A Cop's Name You Don't Know but Should
You don't know his name. The nation doesn't either. But his story is a much more accurate reflection of the nature and character of the men and women who serve in America's law enforcement community than that former police officer's name we all know, Derek Chauvin, who was recently convicted of murder in the death of George Floyd.
Just two weeks after Chauvin took the life of an arrest suspect in Minneapolis, Sergeant Damon Gutzwiller of the Santa Cruz County Sheriff's Office in California responded to a report of a suspicious van. The 911 caller reported seeing guns and bomb-making devices inside the vehicle. When Gutzwiller and fellow deputies arrived at the scene, they saw the van leave and did what they were trained to do: They followed it.
As the vehicle pulled into a driveway of a home in the mountain town of Ben Lamond, the officers were ambushed with gunfire and improvised explosives. Two were shot in the crossfire and recovered. Gutzwiller, a 14-year veteran, wasn't as fortunate. He was pronounced dead at a nearby hospital not long after he was shot. He was 38 years old.
Left behind were the loves of his life: his wife, Favi, and his 2-year-old son, Carter. Also left behind was the child he would never know. His wife was pregnant with the family's second child.
You don't know Gutzwiller's name—or his story—because the media didn't think it was worth telling. Or a story worth amplifying the way they did with Chauvin. And there was plenty to amplify, because Gutzwiller's life was extraordinary. He was a real-life hero in a media landscape that doesn't celebrate sacrificial heroism.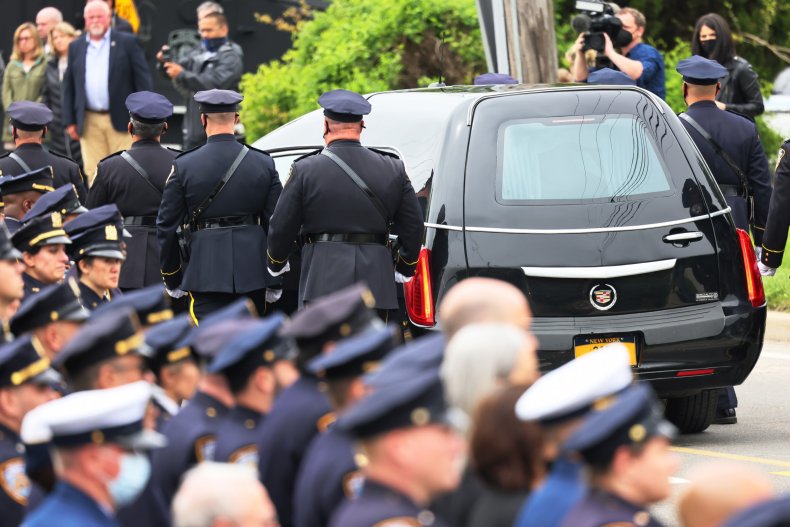 Gutzwiller had worked for the sheriff's office since 2006 and was loved by the community. Over 1,000 people showed up in front of the office the night after he was senselessly murdered to mourn his loss, which would have been a great event to cover by the same big media companies that parked in Minneapolis for months to cover the actions of a bad cop and the citizens who gathered in that city to express their outrage and grief. Why not cover as well the throngs gathered to honor a cop killed in the line of duty?
The media didn't make it to Guztwiller's memorial service either, but it's available for all to see on YouTube.
One speaker—and there were a bunch—was Sergeant Chris Shearer of the Santa Cruz County Sheriff's Office, who addressed his eulogy to the fallen officer's young son.
"Carter, your dad's smile was honest, bright and always present. He was firm. He was honest. He loved Santa Cruz. He loved the mountains and dreamt of a cabin in the Sierras. And he never once turned down an adventure," Shearing began. "He loved being a cop. He loved being a dad. We know. We heard about you every day."
Shearer then shared a list of things Carter might not have known about his dad. "How he would always choose iced tea over beer, unsweetened. How he loved poker, hiking, golf and walks with you and your mom. Or how he joined almost every special team in the office—just because he could," Shearer said.
And Shearer then added this: "Hearing someone arrested by your dad thank him before they parted ways was all too common. And almost magical."
Shearer then closed his message with these words to young Carter. "This is the community where your daddy's story will be told," he said. "The cry of our community will forever tell your story."
That would have made for a memorable national TV moment. An event to give Americans something beautiful to watch. Something that would honor the risks that nearly 700,000 American men and women in law enforcement take serving us, the overwhelming majority of whom are good people. A staggering 264 police officers were killed in the line of duty in 2020, a 96 percent increase from last year. All of those officers are being honored this week, as they are every year during National Police Week each May. You won't hear or see any of their stories either. You don't know any of their names.
Gutzwiller's wife soon took the stage and started things off with a question. "Have you ever tried describing something incredibly beautiful to someone who has never seen it?" she asked. "Some things are too big, too beautiful to describe. That's how it is with Damon."
Favi then shared a few stories about her husband. "On our first date, he brought ice cream over to my house, and we watched the movie 300. You know, the one about the 300 half-naked, greased-up Spartan soldiers battling an invading army of 300,000," she said. "Very romantic."
The audience laughed as she continued. "On that first night, Damon was very respectful. Or maybe just scared. He sat on the opposite side of the couch at least three feet away from me the whole night," his widow recalled. "It's a little thing, but it stays with me."
She then told a story that described her husband's caring nature.
"Just a few weeks into our relationship, I had a horrible night at work. I am a neo-natal ICU nurse, I'd worked 16 hours, a baby had passed, and I was beyond mentally and physically exhausted when I got home. As I walked up to my door, I saw a cooler, and inside was a note from Damon. He told me he knew I had a terrible night at work, that he was thinking about me and didn't want to bother me. He also wanted to make sure I had food when I got home, and dinner for that night before I returned to work. We'd only known each other for a few weeks. I didn't know anyone could be so kind."
Then came a story she struggled to get through.
"I knew from the beginning of our relationship he wanted to have children. When we met, we were both in our early 30s, and early on I told him, 'I don't think I want to have kids, and I think I should tell you that because I don't want to waste your time.' And he said he didn't know what the future would hold, and he'd like to get to know me better. As I grew to know and love him, I wanted to have children with him. I wanted to have children because he would be their father."
Favi then told a heartbreaking story about her husband and son. "For his birthday last month, Carter got a little scooter. Damon got himself one too and said, 'I just can't wait to have father son scooter rides.'"
There was a long pause as she held back tears. "They were only able to have one," she added. The fallen hero's bride nearly broke down. So did the grieving audience.
Favi then described her husband's life as a sheriff. "Damon had the same level of commitment and compassion to his career: He loved what he did. It wasn't just a job. He wanted to take care of the community he grew to love, the community where he wanted to build a family and raise children."
She closed things out with these words: "This is the man I'm missing. That Carter is missing. And who our new baby will never meet. This is the man our whole community is missing."
This is just a small part of the story of a cop whose name Americans should know. That America should be missing. Sergeant Gutzwiller is nothing like the ex-cop in Minneapolis whose name we all know. And much more like the hundreds of thousands of cops across the country just like him, risking their lives to make our communities safer.