Corey Graves Talks 'After the Bell' Podcast, Learning on the Job and Not Creating A WWE "Fluff Piece'
WWE is making a leap into the podcast sphere with its first show hosted by Corey Graves.
The former NXT star-turned color commentator has been a fixture on WWE television for years and is looking to bring his experience, knowledge and sharp-tongue to the audio realm on After the Bell, the promotion's first weekly-podcast.
After the Bell's first episode (premiering Wednesday, October 30) will feature Triple H, and as, Graves revealed to Newsweek, will also include Seth Rollins, Bayley and Ric Flair.
Newsweek caught up with Graves to talk about the differences between commentating and podcasting, making After the Bell overcome its preconceptions and what fans can expect.
Note: This interview has been lightly edited for clarity and length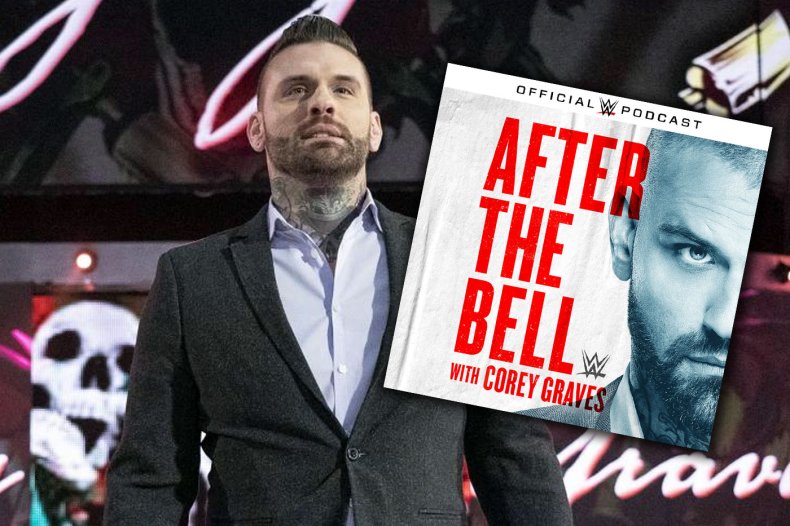 How did the WWE approach you about After the Bell?
WWE reached out to me. I heard mumblings of a podcast partnership for the last year or so, and this place is so big that you can't believe anything until you see it. So I got a call about a month, maybe two months ago, asking if I'd be interested in hosting the WWE flagship podcast. For me that's a great compliment because it's a big undertaking and the company is putting a lot of effort into this, so I was flattered to be the first one asked to do this and be entrusted with the keys to the castle.
The first question I asked when they approached me about the podcast was, "is this going to be a WWE fluff piece?" And they assured me that it wouldn't because I said "if you want me to go on and talk about how great everything is and put my head in the sand and not talk about things that most podcasts cover then I wasn't interested." They assured me that I am allowed to rock the boat a little bit. That to me was very exciting.
In the trailer for After the Bell, you hear possible guests like Carmella and Woods. How much have you recorded before the first show on Wednesday? You also hear Xavier Woods ask about what he's allowed to say on this podcast. Is that something you've come across a lot?
The bulk of the recordings we've done have been more or less technical rehearsals. But they very well may see the light of day in a proper podcast form or separately or digitally as sidebars. Not entirely sure what that's going to look like with what we've done.
In terms of the superstars asking the questions. I'm asking the same questions because we don't know exactly what it is, what it's going to evolve into. All I know [is] that above all I want it to be honest, and some of the recordings and interviews that we did running through this were really cool. You get a glimpse as to who these superstars are as people and if that pertains to certain rumors or opinions, things shared online. If it's a hot topic and really caught the buzz of the wrestling community, I'm not going to shy away from it. I'm not Mike Wallace and going to put on my journalist hat and ask the hard-hitting questions to get to the bottom of things, but if it's relevant, then maybe I will. The only rule I got is that I'm not setting anything in stone.
What's the format of the podcast?
That's the beauty of it. It's going to be on a case-by-case basis. I'm going to be covering pertinent issues from RAW, SmackDown and NXT. We're going to talk about the show, if something was really cool, or if something got traction for the wrong reasons, we'll chat about that. Whoever my guest is at the time maybe we'll talk about a match they just had from a personal perspective. I got to talk to Roderick Strong about his clashes with Velveteen Dream. It was pretty cool because you have Roderick Strong the man, not the WWE character. I want to give the world a little more of that.
I don't know how many guests I'm going to have every week. I may have one or four. I know this week we are starting off big. We have Triple H, Seth Rollins, Bayley and the "Nature Boy" Ric Flair. So I imagine I'll have more than an hour to cover. I'm just going to go ahead and make my editor do all the work and see what we use and don't. Like I said, we'll live through either bonus episodes in the future or digitally. We'll find out.
WWE is getting into the podcast business where there's so much and so many great ones. Is there a pressure to make this show rise above the others?
One thing I love about podcasts if that you don't have to compete against anybody. You establish who you are, everything is on demand. When you have free time heading to work or on the bus to school, there is an unlimited amount of time to consume podcasts. That said, I'm a fan of a lot of these wrestling podcasts, and I've taken mental notes on how they do things. But, above all, I want to be honest and credible. That's the biggest challenge. And, based on my social media response, the fans are skeptical. "This is just going to be another WWE talk about how great WWE is." It's going to happen. If I loved a pay-per-view and I'm excited for a match that we called, I'm probably going to gush about it for awhile. But I'm also going to talk about something that's relevant. Relevant is the key. Just because some internet website that put up a rumor that got a little bit of traction, if it doesn't pertain to anything but trying to destroy someone's social media life or making someone feel bad, there's no point. That's going to be the extent of the filtering. But we'll see how it goes.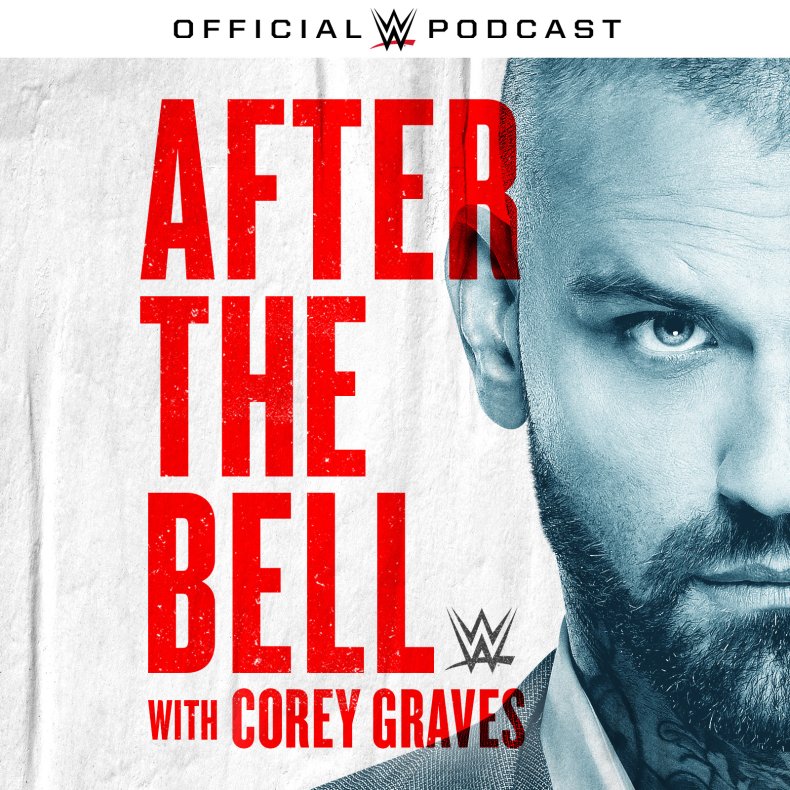 Something you learned about podcasting in your test runs?
It's definitely been a little bit challenging, personally. I'm a color commentator, and a lot of people don't realize the difference between a Michael Cole, Mauro [Ranallo] or Tom Phillips and what my actual role is. I react to a lot of things, so this was different to me because now I'm steering the ship. It's different to have all this time, because with commentating you need to get your thoughts out and move on to the next thing. You have to stick and move because the machine keeps moving. It's refreshing to feel "wow I have five minutes to explain my thoughts on this thing as opposed to a 12-second sound bite before the next segment happens. So that was cool for me.
It's a bit of a challenge for me, and I'm still learning. But I realized that I have a different relationship with superstars then what media outlets do. I've wrestled with most of the guys. I've known most of these people through the doors of WWE if not before, back in the independent days.
I have a different rapport with these wrestlers, so it's going to sound different talking to Samoa Joe then it would if a news outlet called and asked five hot-button questions. And I'm excited to show that different side of everyone in a more comfortable environment. With that said, I have that rapport with them tghat allows me to ask questions that others might not. I can't wait to talk with Seth Rollins this week, because since Hell in a Cell and all the social media stuff, Seth has had a rough time lately. I'm not afraid we're not going to be friends any more. So I can ask, "what are your thoughts on this" or "what do you feel about that?" That's what I'm excited to bring to the forefront and have a lot of people go, "maybe I was wrong." Not like anyone on the internet is ever wrong about anything, but I'm happy to put out facts in the world.
Getting to know Corey more. Is it a fear?
It definitely isn't a fear to me. If anything it's exciting because people will get to hear me in long form and talk without being in a television atmosphere. I think I'm a pretty reasonable human being and easy to get along with in reality. And I'm not the same guy you see every week. At the same time I'm a wrestling fan. I have been for 35 years. I love this business and this industry more than anything in the world. So yeah, I have opinions on things, and I'm glad to tell you why yours are wrong.
Any oversight from WWE? You're not allowed to curse?
Obviously anything under the WWE banner is going to have a certain set of parameters to operate under. You're not going to hear me out there dropping f-bombs and stringing together offensive quotes or things like that on the podcast. WWE holds everything to a higher standard in terms of production and marketing and what we let out there. It's more of a quality-control issue than a content issue. WWE wants to make sure that, if it sees the light of day, it's clean, produced well and suitable for mass consumption. But with that said, I've been told without question that I have a large amount of freedom. Like I said, I had no interest in doing this podcast if I have to play nice all the time.
Why Triple H was important for the podcast debut?
Triple H is the man in the business. I've had a long relationship with him since I came to NXT from FCW years ago, so I always had a good rapport with him. And let's be honest, what is everybody in the wrestling industry buzzing about? Wednesday nights. So we're going to talk about Wednesday nights ,and I'm going to tell you right now, I'm going to ask him about the competition, what he likes about it why NXT needs to do to improve. I'll also ask if there's any behind-the-scenes stuff that hasn't seen the light of day that he finds interesting. I want to know what the hell he does on his day off, because I don't think he has any. There are no rules as to what I can and cannot talk about with [the guests]. Can I make you a promise that this will be exactly what every smart, educated wrestling fan thinks it is? No. Because everyone has their different opinions. I can promise that I'm going to do my absolute best to fight the machine, so to speak, and use the podcast to educate and show what we love about this business and what we hate. That's my goal for myself and to all the fans.
Who do you want on the show?
Just the fan in me, the guy who loved this business his entire life, my new "white whale" has to be Vince [McMahon]. The likelihood of that happening I'd say is pretty slim to none, but if we're setting our goals high, I would love to have The Boss and I would love to talk to Stephanie [McMahon]. Although, she's always in public and bedeviled on television and you see her out there doing her brand work. But as far as Stephanie is as a person, she's pretty fascinating. I've been lucky enough to have sit down conversations with her, not on camera, and she would be the perfect person to set the record [straight] on who she is as opposed to what the public misconception is.
What can fans get from the show?
I want everyone to take away from After the Bell that no matter what your opinion on any given segment or what's on your screen, there is so much more that happens in our world that given the human faith of what the performers go through, what we go through in this business, that we are all fans at the end of the day. You may not like this wrestler, you may hate this segment, but, at the end of the day, the wrestler may have hated it just as much. We all love this business, and I feel like that gets lost and people get caught up in what a particular opinion is or what they like about this business. And there's nothing like it on earth. Pro wrestling is a bizarre, unusual world and everyone has things they like and don't like. But it will be something for everyone. And this is going to be more of a celebration than a documentary or a journalistic uncovery session.
WWE's After the Bell podcast can be heard on Google Podcasts, Castbox, Spotify, Pocket Casts.