Charlottesville Protester Who Used Aerosol Flamethrower in Iconic Image Sentenced to Jail
A 24-year-old man who was seen in an iconic photo defending counterprotesters from Confederate flag–waving men with a homemade flamethrower was sentenced to nearly one year in jail, but with all but 20 days suspended.
Corey Long, who was 23 when he showed up to oppose the Unite the Right neo-Nazi and white supremacist rally last August, was sentenced in his hometown of Charlottesville, Virginia, on Friday after being found guilty of disorderly conduct. A more serious assault charge against Long wasnolleprossed, or dismissed, because the prosecution was unable to get in contact with the alleged victim, Baltimore Ku Klux Klan leader Harold Crews. Several activists were arrested as they protested Long's conviction outside the Charlottesville General District Court.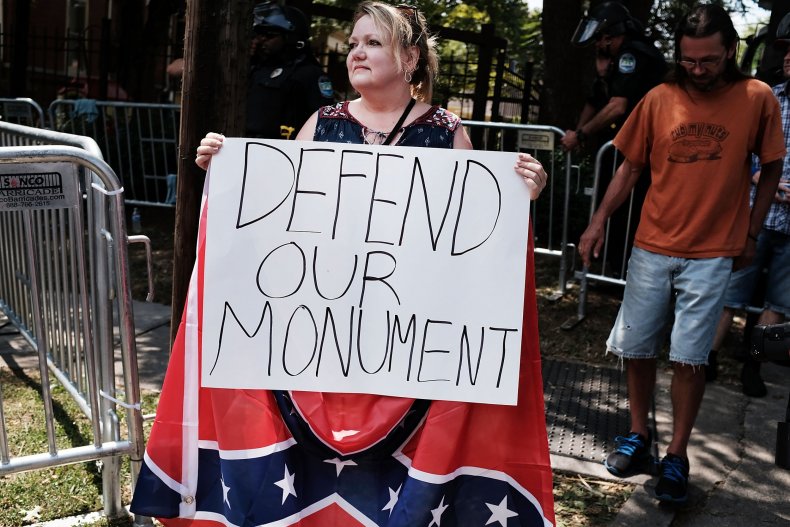 C-Ville Weekly reported that prosecutor Joe Platania argued that Long should serve no jail time for the conviction.
Long, who is African-American, told The Root last year that the August 11 and 12 far-right-wing rally started as a "peaceful protest" bu turned ugly after one of the Confederate flag–toting white men, Richard Preston, allegedly pointed a gun at Long before firing a shot down at his feet. As seen in AP photographer Steve Helber's now-famous picture, Long sprayed a blast of fire using a modified aerosol can and a lighter. He told The Root it was his only defense after it was thrown at him earlier in the protests. The picture from Emancipation Park shows a shirtless Long standing in front of an elderly white man who was attending the counterprotest as he holds the flame toward several white supremacist rally attendees. Long told the court he resorted to the makeshift flamethrower only because the police officers were doing nothing to protect the counterprotesters from the right-wing rally.
"The cops were protecting the Nazis instead of the people who live in the city," Long told the court, WVIR-TV reported. "The cops basically just stood in their line and looked at the chaos. The cops were not protecting the people of Charlottesville. They were protecting the outsiders." Long's legal adviser, Malik Shabazz, told the local station that Long "made an ethical decision to stand up against racism and injustice, and sometimes standing up against those decisions you'll be rebuked by the American court system."
On Friday morning, as dozens of protesters gathered outside the courtroom to support Long with chants of "Cops and the Klan go hand in hand," the judge sentenced Long to 360 days in jail, but with 340 days suspended. Long was also given 100 hours of community service and two years of good-behavior probation. WVIR-TV reported that Long thanked his supporters, saying, "It's no sweat. But would I do it again? Hey, you never know." His legal team did not indicate whether they would appeal the judge's Friday ruling. Under Virginia law, inmates with good behavior serve about half of their sentence, so it is possible that Long will be imprisoned for about 10 days.
Black Lives Matter-Charlottesville and other organizers of the Drop the Charges campaign issued a statement saying they were "outraged that Corey Long has been convicted for simply asserting his humanity in the face of white supremacist violence. After August 12, thousands of people across the country celebrated Corey's image as a symbol of resistance to the violent white supremacist incursion on Charlottesville. Now Corey has been convicted by Commonwealth Attorney Joe Platania and the courts of a crime for his brave actions to protect Charlottesville. What hypocrisy."
Long told The Root last year that what he witnessed last August in Charlottesville was "pure hatred." His friend, Charlottesville resident Deandre Harris, was also seen in a viral video from the rallies, being assaulted by several white supremacists in a parking garage.