Cori Bush Faces GOP Backlash Over Security While Pushing Police Defunding: What She Said
Representative Cori Bush, a Missouri Democrat who made headlines this week for her public protest of the end of a COVID-19 eviction moratorium, is facing backlash from some Republicans who say she's a hypocrite for employing a private security detail while advocating for defunding the police.
Controversial Congresswoman Marjorie Taylor Greene called her Democratic colleague a "hypocrite and elitist."
"You don't care about the people, you only care about you," the Georgia Republican wrote on Twitter.
Former South Carolina Governor Nikki Haley, an ally of former President Donald Trump and former ambassador to the United Nations, also blasted Bush on Twitter, racking up hundreds of retweets and likes.
"These Democrats care about their own safety, but not yours," Haley wrote.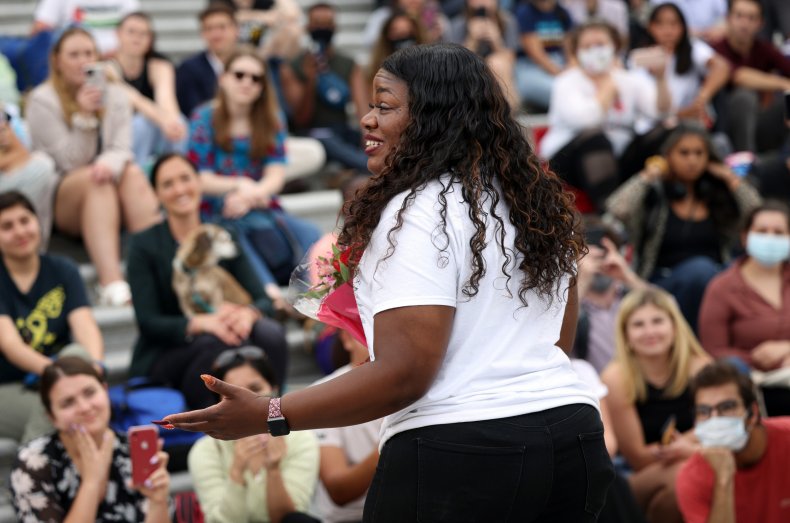 But the 30-second clip circulated by Greene, Haley and other Republicans online is just a fraction of Bush's full comments on whether she is a hypocrite for sharing both positions during a CBS News interview this week.
"Suck it up. Defunding the police has to happen," she said.
Bush, a freshman representative from St. Louis who ousted a 10-term incumbent last year, has reported spending $70,000 in campaign dollars on private security officers this year.
During the CBS News interview, Bush said she'd ask her critics: "You would rather me die? Is that what you want to see? You want to see me die? You know because that could be the alternative."
Bush, who was previously homeless and was on the frontlines of the protests in Ferguson, Missouri after police fatally shot Michael Brown, said she's faced multiple threats against her life from white supremacists—including from police officers.
"Defunding the police and being able to have security is two totally different things," she said in the full interview. "My security is not to keep me safe from the people of St. Louis—it's to keep me safe from racist attempts against my life."
Bush slept on the steps of the U.S. Capitol this week in protest of the end to the eviction ban. President Joe Biden's administration ultimately issued a new moratorium, citing the COVID-19 pandemic, after Congress last week failed to act.
In portions of the video not included in the circulating clip, Bush explained her view that money dedicated to police should be put toward the social safety net and other services for the public.
"Do we pay police to be social workers?" she said.
Bush's office didn't immediately respond to Newsweek's request for comment on the response to her remarks.
White House press secretary Jen Psaki declined to weigh in on the issue in Thursday's press briefing. President Joe Biden doesn't support the "defund the police" movement pushed by some progressives.
"I think we shouldn't lose the forest through the trees here, which is that a member of Congress—an elected official—is concerned that her life is threatened," Psaki said. "That's disturbing that any elected official would have to suffer death threats and fear for their life, so I'm not going to comment of course on their security arrangements."