Cornel West Salutes 'Sister' Alexandria Ocasio-Cortez, Compares 'Brother Bernie Sanders' to Martin Luther King
Philosopher and activist Cornel West has praised 2020 Democratic presidential candidate Bernie Sanders, comparing him to Martin Luther King, and saluted Congresswoman Alexandria Ocasio-Cortez as a "sister."
West, who acted as a surrogate for Sanders in the 2016 presidential race, made the comments to the Intercept's podcast Deconstructed. He told host Mehdi Hasan that he would continue supporting Sanders, because of qualities he said the presidential hopeful shared with iconic civil rights leader Martin Luther King.
"It has to do with the Martin Luther King-like criteria of assessing a candidate," West said. "There's no doubt that my dear brother Bernie stands shoulders above any of the other candidates running in the Democratic primary when it comes to that Martin Luther King-like standards or criteria."
In February, Sanders announced his second bid for the presidency. The independent senator of Vermont, who vied with Hillary Clinton in the 2016 presidential primaries for the Democratic nomination, has placed his new campaign in direct opposition to President Donald Trump.
According to The Washington Post, Sanders called Trump "the most dangerous president in modern American history," while speaking at a campaign rally in Iowa Thursday.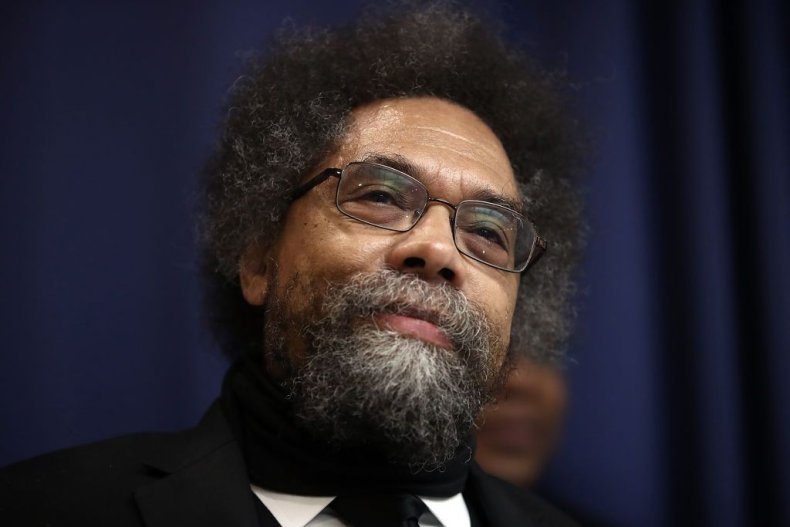 Sanders, whose previous campaign has given him instant name recognition in a crowded Democratic field, is still perceived as unappealing to black voters. In the 2016 primaries Clinton won 86 percent of the black vote in South Carolina with Sanders taking only 14 percent.
"A lot of those liberal critics, as you know, have said for a long time, especially in recent days that he's not good on race issues," Hasan said to West. "What do you say to those liberal critics as someone who has been writing and thinking about race and racism your whole life and yet is a Bernie supporter?" he asked.
West claimed Sanders was an "old-school" shaper of political opinion whose anti-racist credentials did not necessarily appeal to buzzword sensibilities. "It's a matter of his heart. He's an anti-racist in his heart. Two, he's old-school. He's like me. He doesn't know the buzzwords," West said.
"I would just tell my brothers and sisters, but especially my chocolate ones that they shouldn't be blinded by certain kinds of words they're looking for, that in the end, he is a long distance runner in the struggle against white supremacy," he added.
West also commented on a resurgence of democratic socialism in the United States, embodied by figures such as Sanders and Ocasio-Cortez.
"Well, I salute my dear sister AOC and all the others who are fundamentally committed to the lives of poor and working people of all colors here in this country," West said referring to the Democrat Congresswoman by an acronym of her name which has been adopted as a moniker.
"It's a good thing to see right-wing fellow citizens afraid of the word socialism because that word signifies human beings who are fundamentally concerned with the plight and predicament of ordinary people," he added.
Ocasio-Cortez has noted her ideological debt to Sanders and told Rolling Stone Magazine in a February interview that he provided her a sounding board for ideas during her insurgent campaign to win New York's 14th Congressional District against a 10-term incumbent.