Fauci Warns 'January Is Going to Be Terrible' As U.S. COVID Hospitalizations Continue to Soar
Current COVID-19 hospitalizations in the U.S. have surpassed 100,000. The number of people in hospital blew past the previous record level of 60,000 in early November, and has been rising ever since.
Speaking to Newsweek, Dr. Anthony Fauci warned: "January is going to be terrible," with the outbreak expected to reach its worst level yet.
The director of the National Institute of Allergy and Infectious Diseases (NIAID) and member of the White House COVID-19 task force explained: "I think January is going to be terrible because you're going to have the Thanksgiving surge super-imposed upon the Christmas surge. So it's entirely conceivable that January could be the worst."
"At least two to 2.5 weeks, maybe even three, between two and three weeks from when the travel [for Thanksgiving] started, that's when you're going to see the peaks," Fauci noted.
When asked if he anticipates the post-Thanksgiving tallies for cases, deaths and hospitalizations being bad, Fauci told Newsweek: "Unfortunately I do. I hate to say that but it's the truth and the reality. I do see that happening."
Fauci told Newsweek: "The reporting is not accurate for the next few days following a holiday. So what you see is an artificial dip in everything—in cases, in deaths.
"Usually around two weeks later you start to see the increase in cases, which are then followed subsequently by an increase in hospitalizations and followed by an increase in deaths.
"If you and I travel and then go home and have family dinners, you're gonna see infections two to three weeks from there and then a week later you'll see more hospitalizations and then two weeks later you'll see more deaths," Fauci noted.
The recent rise in cases and deaths following Thanksgiving "is probably the result of people doing things indoors two weeks earlier, even pre-dating Thanksgiving, or associated with the travel for Thanksgiving," Fauci explained.
Fauci's warning comes as the total confirmed cases in the U.S. approaches 14.2 million, with at least 276,401 total reported deaths, according to Johns Hopkins University.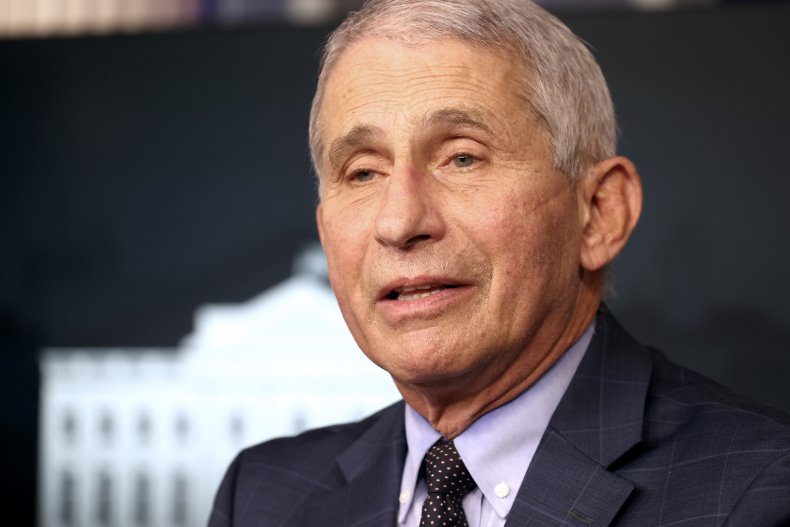 Projections for U.S. cases, deaths, hospitalizations
As of Thursday, 100,667 COVID-19 patients were reported to be hospitalized, according to data compiled by The Atlantic's COVID Tracking Project.
According to forecasts received by the Centers for Disease Control and Prevention (CDC) from 12 modeling groups, "For December 28, the forecasts estimate 2,300 to 23,000 new COVID-19 hospitalizations per day.
"Four national forecasts predict a likely increase in the number of new hospitalizations per day over the next four weeks, one forecast predicts a likely decrease, and four forecasts are uncertain about the trend or predict stable numbers.
"State-level forecasts also show a high degree of variability, which results from multiple factors. Hospitalization forecasts use different sources of data for COVID-19 cases or deaths, with different limitations, and make different assumptions about social distancing," according to the CDC report published Wednesday.
The graphic below, provided by Statista, shows the distribution of COVID-19 deaths among the U.S. population.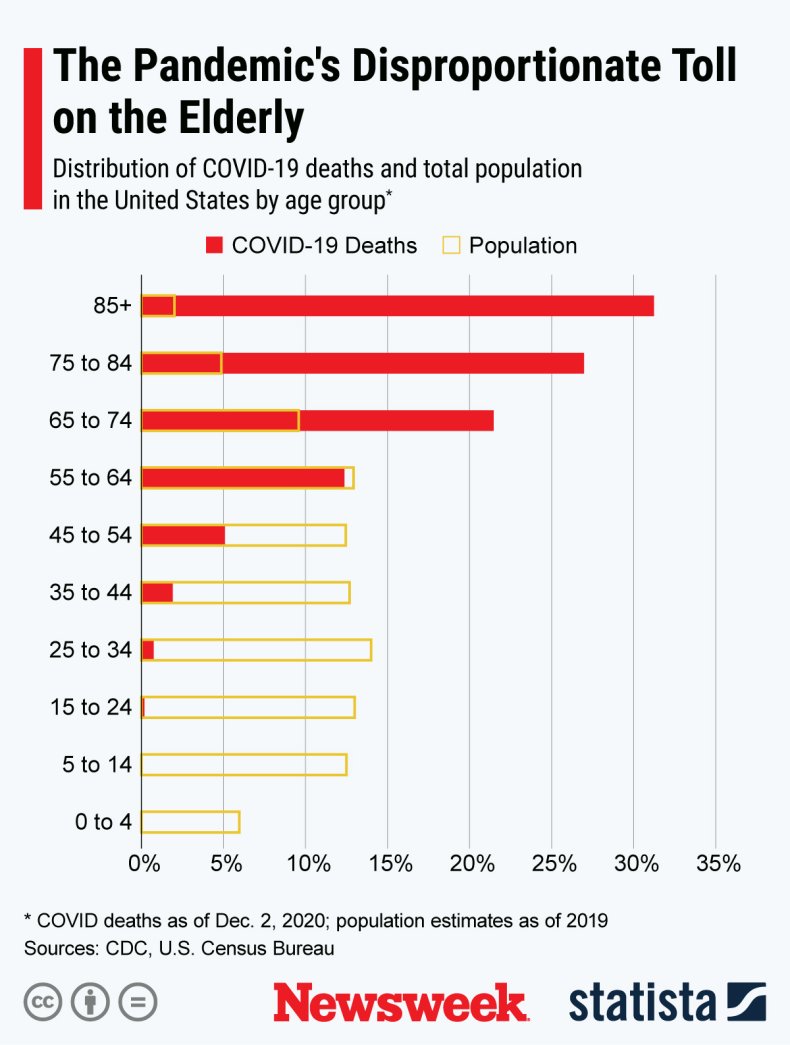 According to the forecasts received this week by the CDC from 25 modeling groups, 690,000 to 1,700,00 new cases will likely be reported during the week ending December 26.
The CDC noted: "Over the last several weeks, more reported cases than expected have fallen outside of the forecasted prediction intervals. This suggests that current forecast prediction intervals may not reflect the full range of future reported case numbers. Forecasts for new cases should be interpreted accordingly.
"The state- and territory-level ensemble forecasts predict that over the next 4 weeks, the number of newly reported deaths per week will likely increase in 23 jurisdictions," the CDC added, noting "trends in numbers of future reported deaths are uncertain or predicted to remain stable in the other states and territories."
The wider picture
The novel coronavirus has infected more than 65.3 million people since it was first reported in Wuhan, China.
More than 1.5 million people have died worldwide and more than 42 million have recovered as of Friday, according to Johns Hopkins University.
The graphic below, produced by Statista, shows the number of current COVID-19 hospitalizations in the U.S.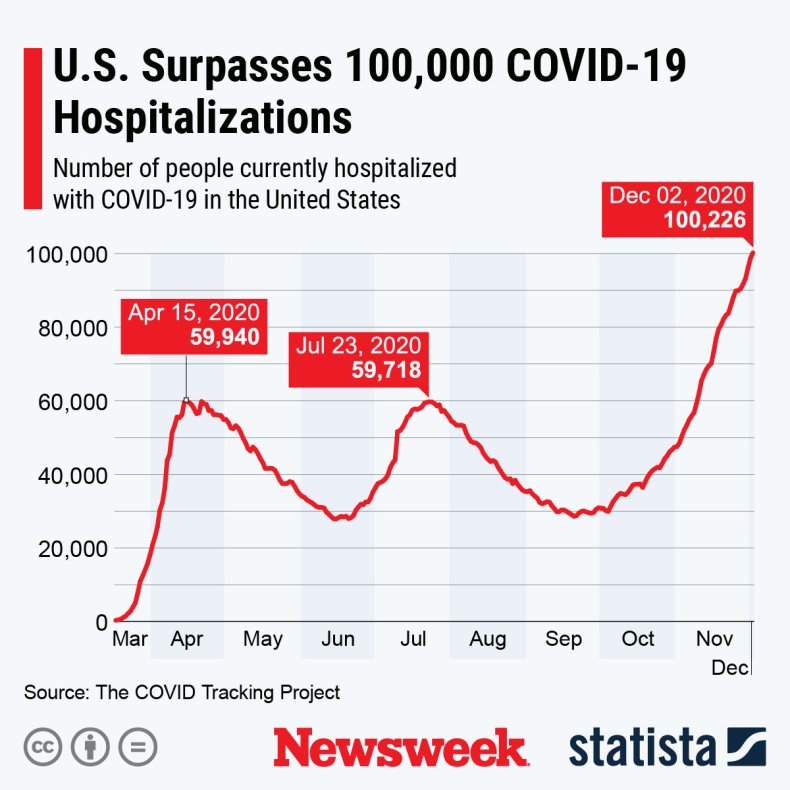 The graphic below, produced by Statista, shows the spread of COVID-19 cases in the U.S.