COVID-19 Patients Carried Coronavirus Antibodies for at Least Two Weeks after Recovering in Small Study in China
People with COVID-19, the disease caused by the new coronavirus, have been found to carry antibodies against the bug for at least two weeks after recovering in a small study.
The study could help answer questions about how long a person recovering from coronavirus has antibodies to fight off repeat infections. At the moment, it is not known how long antibodies last or whether a person can get reinfected.
More research is needed to explore what this means for COVID-19 patients' ability to fight off the virus in the future, the researchers said in their paper published in the journal Immunity.
According to Johns Hopkins University, more than 3.5 million people worldwide have been diagnosed with COVID-19. The U.S. is the country with the most known cases, as shown in the graph by Statista below. As experts told Newsweek last week, it is not yet known whether those who catch the coronavirus are immune in the long term, and this poses obstacles for scientists trying to create vaccines.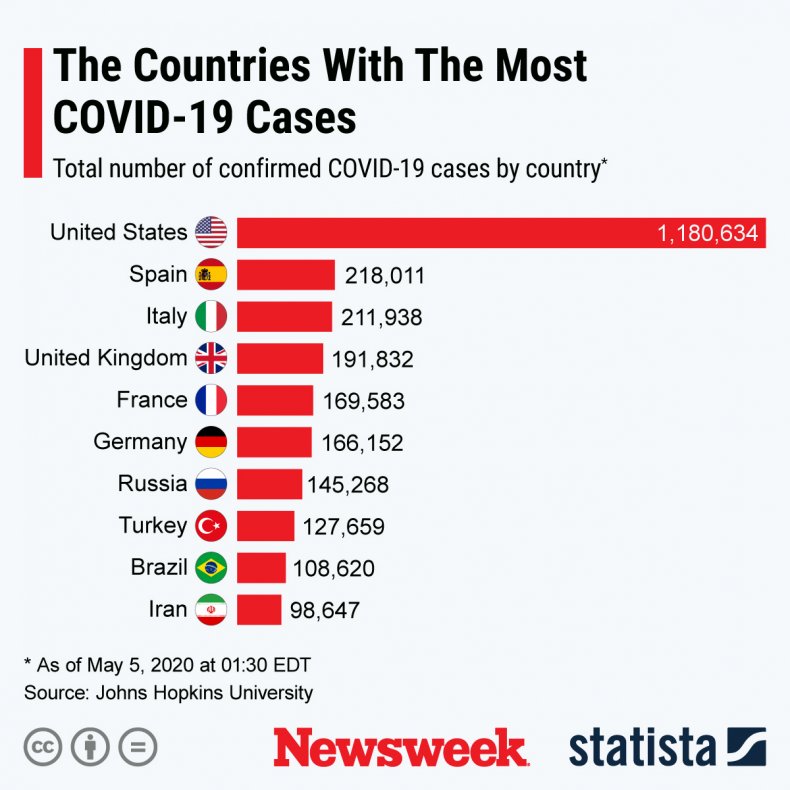 In the latest study, scientists led by Ling Ni from Tsinghua University, Beijing, collected the blood of 14 COVID-19 patients who were discharged from hospital after testing negative for SARS-CoV-2, the scientific name of the coronavirus that causes COVID-19. Eight of the patients were newly discharged and the remaining six left hospital two weeks prior to having their blood collected.
To see if COVID-19 patients have signs of immune response not found in those who had not had the disease, the researchers also used control groups. They assessed blood samples of three healthy people who donated before the COVID-19 pandemic is thought to have started, and three who had been in close contact with the sick patients from the study. They also used blood serum from healthy male donors in the U.S..
The researchers looked at two types of immunity, one involving the creation of antibodies and one centred around specific cells that combat invaders. Signs of both types were detected in the newly discharged patients, suggesting the body uses both arms of the immune system to fight off SARS-CoV-2.
Both the newly discharged patients and those who had been out of hospital for two weeks had antibodies specific to SARS-CoV-2, but not the controls.
The antibodies included those that block the spike protein the virus uses to invade our cells. As such, the team think a vaccine targeting this is worthy of investigation.
Peter Hotez, dean of the National School of Tropical Medicine at Baylor College of Medicine in Houston and co-director of the Texas Children's Hospital Center for Vaccine Development, and colleagues are exploring such a vaccine.
The team said that COVID-19 patients appear to maintain levels of one type of antibody at least two weeks after being clear of SARS-CoV-2. In addition, the scientists took antibodies from the patients, and found 13 of them neutralized a mocked up version of the SARS-CoV-2 virus in a lab.
"These findings suggest that most patients post discharge have serum neutralizing SARS-CoV-2 infection," they said.
The work echoes the findings of a separate study showing that blood serum of patients appears to block SARS-CoV-2 from invading cells, according to the researchers.
But they acknowledged their work needs to be confirmed in a larger group of COVID-19 patients. However, they believe the paper provides a launchpad for investigating whether those who catch SARS-CoV-2 become immune in the long term, and has implications for developing a vaccine.
Centers for Disease Control and Prevention Advice on Using Face Coverings to Slow Spread of COVID-19
CDC recommends wearing a cloth face covering in public where social distancing measures are difficult to maintain.
A simple cloth face covering can help slow the spread of the virus by those infected and by those who do not exhibit symptoms.
Cloth face coverings can be fashioned from household items. Guides are offered by the CDC. (https://www.cdc.gov/coronavirus/2019-ncov/prevent-getting-sick/diy-cloth-face-coverings.html)
Cloth face coverings should be washed regularly. A washing machine will suffice.
Practice safe removal of face coverings by not touching eyes, nose, and mouth, and wash hands immediately after removing the covering.
World Health Organization advice for avoiding spread of coronavirus disease (COVID-19)
Hygiene advice
Clean hands frequently with soap and water, or alcohol-based hand rub.
Wash hands after coughing or sneezing; when caring for the sick; before, during and after food preparation; before eating; after using the toilet; when hands are visibly dirty; and after handling animals or waste.
Maintain at least 1 meter (3 feet) distance from anyone who is coughing or sneezing.
Avoid touching your hands, nose and mouth. Do not spit in public.
Cover your mouth and nose with a tissue or bent elbow when coughing or sneezing. Discard the tissue immediately and clean your hands.
Medical advice
Avoid close contact with others if you have any symptoms.
Stay at home if you feel unwell, even with mild symptoms such as headache and runny nose, to avoid potential spread of the disease to medical facilities and other people.
If you develop serious symptoms (fever, cough, difficulty breathing) seek medical care early and contact local health authorities in advance.
Note any recent contact with others and travel details to provide to authorities who can trace and prevent spread of the disease.
Stay up to date on COVID-19 developments issued by health authorities and follow their guidance.
Mask and glove usage
Healthy individuals only need to wear a mask if taking care of a sick person.
Wear a mask if you are coughing or sneezing.
Masks are effective when used in combination with frequent hand cleaning.
Do not touch the mask while wearing it. Clean hands if you touch the mask.
Learn how to properly put on, remove and dispose of masks. Clean hands after disposing of the mask.
Do not reuse single-use masks.
Regularly washing bare hands is more effective against catching COVID-19 than wearing rubber gloves.
The COVID-19 virus can still be picked up on rubber gloves and transmitted by touching your face.