California's COVID Cases to Hit 2 Million As Hospitals Running Out of Beds
Total confirmed coronavirus cases in California have surpassed 1,930,700. The total case count could soar to over two million on Tuesday, while the state is projected to run out of hospital beds by New Year's Eve, according to the latest forecasts by the Institute for Health Metrics and Evaluation (IHME) at the University of Washington.
Around 90,130 new infections are projected for December 22, according to the IHME, which would raise the state's total case tally to over 2,020,800.
Tuesday's projected figure could be reached even with "rapid vaccine rollout," which would see vaccine distribution scaled up over 45 days across the state, according to the IHME.
The IHME also predicts that on New Year's Eve, the number of hospital beds needed (projected to be around 27,195 beds) will surpass the number of beds available (26,654).
The number of current COVID-19 hospitalizations has been rising sharply since early November, reaching 18,359 on Monday, according to data compiled by The Atlantic's COVID Tracking Project.
New cases have been climbing for weeks across California. The state's latest seven-day average of cases (44,782) and latest seven-day average of deaths (248) each hit another record high on Monday, according to data compiled by Worldometer.
The average case count has been rising sharply from mid-November and has been at a record level since November 19 when it hit 10,468, surpassing the previous record of 10,261 set on July 25.
The average death toll has also been increasing on a steep incline since mid-November. The figure has been at a record level since December 9, when it reached 146, surpassing the previous record high of 142 set on August 6, according to Worldometer.
Earlier this month California Gov. Gavin Newsom announced a "Regional Stay-At-Home Order," which requires residents to stay at home for at least three weeks in regions where the order is in place.
The new order is triggered when intensive care unit (ICU) capacity drops below 15 percent in any given region among the five being tracked by state health officials.
Areas where the regional lockdown order was due to expire soon are likely to remain in place for longer as cases continue to surge across the state.
"Based on those current trend lines, we'll need to extend that stay-at-home order," Newsom said during a virtual press briefing delivered from his home where he is in quarantine for the second time in a month after an employee tested positive for the virus.
According to a Monday tweet from the California Department of Public Health, the state's latest ICU capacities by region are as follows:
Bay Area: 13.7 percent
Greater Sacramento: 16.2 percent
Northern California: 28.7 percent
San Joaquin Valley: 0 percent
Southern California: 0 percent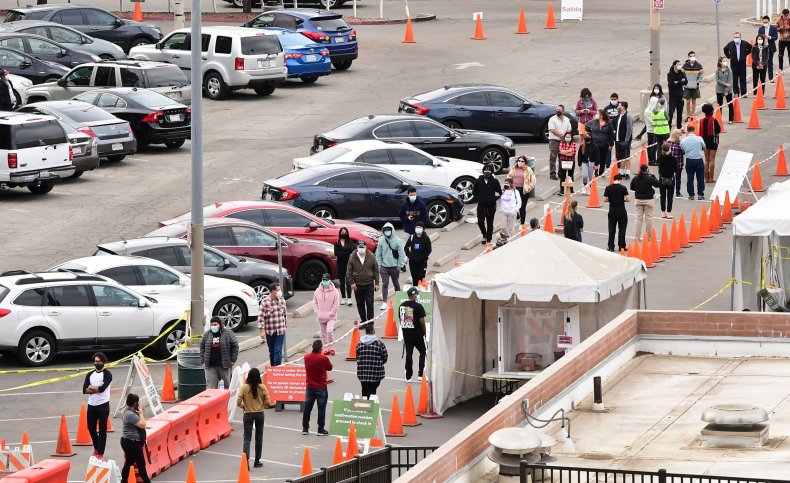 The wider picture
The novel coronavirus has infected more than 77.3 million people, including over 18 million in the U.S., since it was first reported in Wuhan, China.
More than 1.7 million people have died worldwide and over 43.6 million have recovered as of Tuesday, according to Johns Hopkins University.
The graphic below, provided by Statista, shows the countries with the highest COVID-19 death tolls.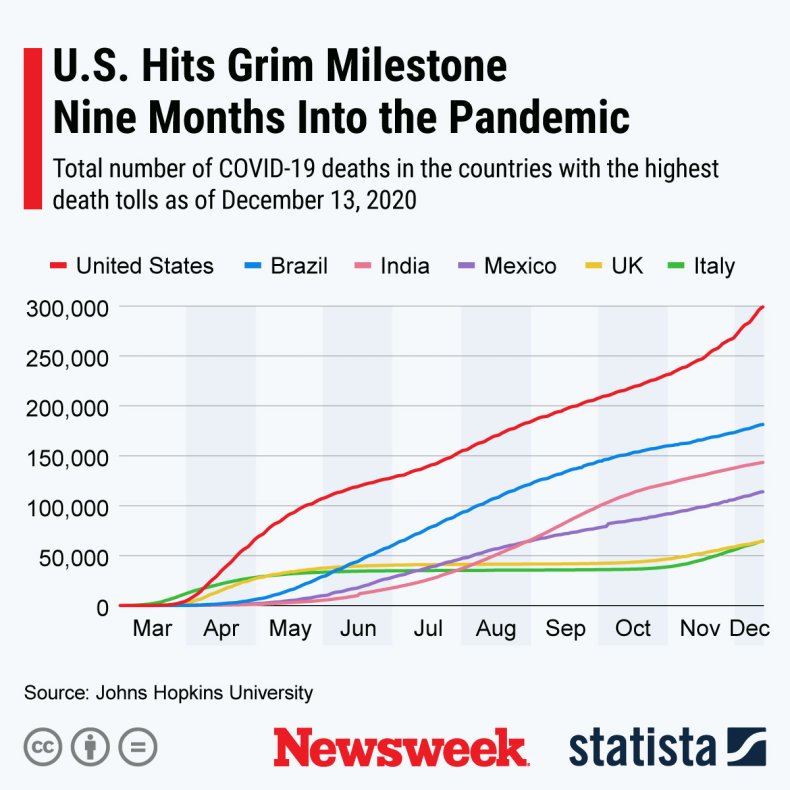 The graphic below, provided by Statista, shows the percentage of adults in the U.S. who would get a COVID-19 vaccine.