Videos Show Navy Captain Brett Crozier's Crew Cheering Him Off Ship After He Was Relieved for Sounding Alarm On COVID-19
Videos have emerged showing Capt. Brett Crozier being applauded and cheered as he leaves the USS Theodore Roosevelt after being relieved of his position for expressing concerns about the spread of coronavirus on his ship.
The clips, which have been posted in social media, show hundreds of sailors chanting "Captain Crozier" as he exits the aircraft vessel, which is docked in Guam.
"That's how you send out one of the greatest captains you ever had," a voice can be heard in one clip. "The GOAT [greatest of all time], the man for the people."
Thomas Modly, acting secretary of the Navy, confirmed that Crozier had been relieved of his captaincy of the Theodore Roosevelt after writing a memo to officials asking for help in isolating a majority of the nearly 5,000-strong crew following an outbreak of COVID-19 onboard.
Modly said Crozier showed poor judgment after using a "non-secure, unclassified" medium to write the memo to his immediate chain of command, which included an additional 20 or 30 recipients.
"This will require a political solution but it is the right thing to do," Crozier wrote.
"We are not at war. Sailors do not need to die. If we do not act now, we are failing to properly take care of our most trusted asset—our Sailors."
The memo was then leaked to the press and published by the San Francisco Chronicle. While Modly did not accuse Crozier of leaking the email himself, he said the captain "did not take care to ensure that it couldn't be leaked," noting the Chronicle is his hometown paper.
"I did not come to this decision lightly," Modly added. "I have no doubt in my mind that Captain Crozier did what he thought was in the best interests of the safety and well-being of his crew. Unfortunately, it did the opposite."
Modly said he had lost confidence in Crozier's ability to lead the ship following the leak, and that his message caused unnecessary panic among the families of sailors and marines.
"It raised concerns about the operational capabilities and operational security of the ship that could have emboldened our adversaries to seek advantage, and it undermined the chain of command who had been moving and adjusting as rapidly as possible to get him the help he needed," Modly added.
After the letter was published in the press, around 1,000 sailors were removed from the Theodore Roosevelt. A total of 114 crew have since tested positive for COVID-19.
Modly denied that this was in response to the letter and steps were already in place to protect the remaining crew members on board the ship.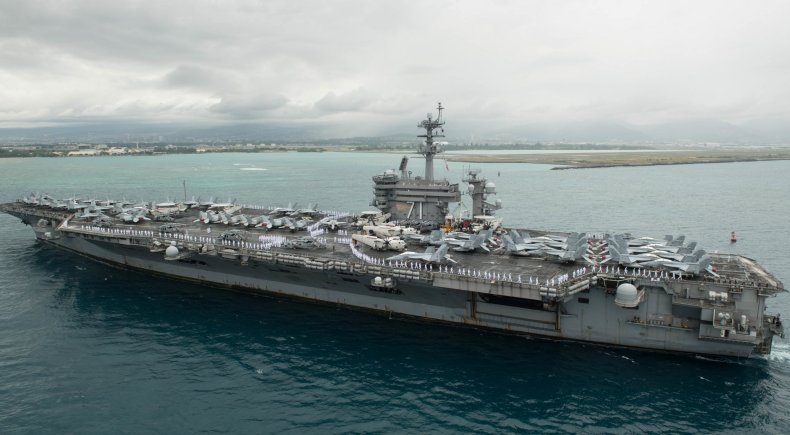 Elsewhere, an online petition demanding the reinstatement of Crozier has now attracted more than 65,000 signatures.
"His crime was asking for help regarding the safety of his crew when a COVID-19 outbreak," a description on the change.org petition reads.
"His actions possibly saved many lives. Although he was fired, his plan to safely remove crew members was still implemented. He is a hero who should be rewarded."
There are now more than 245,000 confirmed cases of COVID-19 in the U.S., the highest figure in the world according to Johns Hopkins University. There have been more than 6,000 fatalities, with a total of 9,228 people managing to recover from the virus.
The graph, provided by Statista, shows the number of coronavirus cases confirmed worldwide as of April 2.