Coronavirus Cases Among Veterans Have Doubled Since Start of June
On Thursday, officials from the U.S. Department of Veterans Affairs (VA) reported that the number of patients in the VA's 132 nationwide medical facilities has doubled from 1,390 at the start of June to 2,815 currently.
While the increases are mostly because of new COVID-19 outbreaks in states like Florida and Texas, VA officials have said the surge in cases haven't put too much pressure on VA medical facilities.
The current rate of hospitalization for veterans is around 24 percent, according to Military Times. However, the VA hasn't released specific numbers about the number of COVID-19 patients recuperating at home as opposed to hospitals.
Three VA medical facilities each in the states of California, Florida and Texas have reported case increases of anywhere from 35 to 87. Two VA medical sites each in Arizona and South Carolina have also reported more than 50 cases. Combined, the VA facilities in those five states have the highest COVID-19 infection numbers as of June 25.
According to VA statistics, 15 VA medical centers have added 20 or more COVID-19 patients over the last 10 days. Over the last 100 days, 1,560 VA patients have died due to COVID-19, and the number of deaths in June has been 30 percent higher than the previous month.
"All VA medical centers are taking precautions and considering the unique circumstances of their state and local markets," VA press secretary Christina Noel said in mid-June.
Since military veterans tend to be older, they are at a greater risk for experiencing more severe COVID-19 symptoms and even death.
"VA has put in place rigorous safety measures at all of its facilities, including employee and Veteran COVID-19 screening, physical distancing and appropriate personal protective equipment such as face coverings," Noel continued.
She added that the VA is also trying to "maximize the personalized virtual care options of telehealth, phone consults and wellness checks."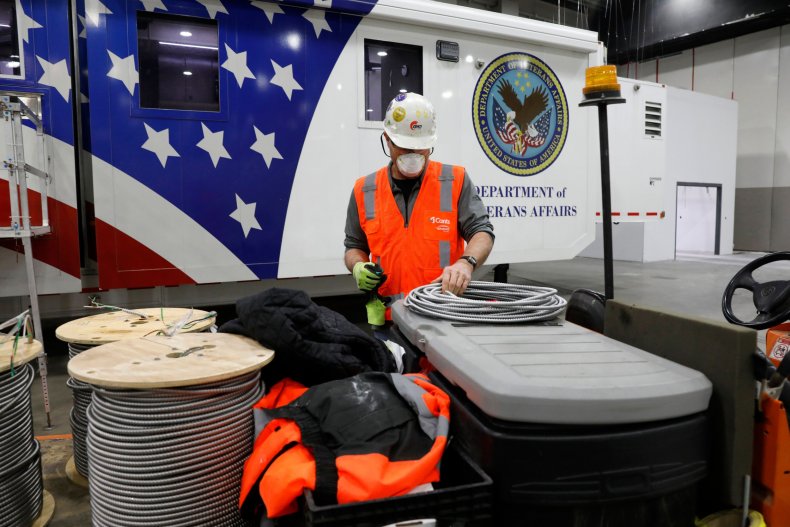 On May 6, a memo from the U.S. Military Entrance Processing Command (MEPCOM) said that the U.S. military would stop recruiting applicants who had previously tested positive for COVID-19.
The memo was intended as an "interim guidance" and its ban applied uniquely applies to coronavirus survivors while allowing applicants with histories of other viral, non-chronic illnesses to enter the military.
The following day, the military updated its guidance to only disqualify recruits who were hospitalized due to coronavirus. However, the guidance treats all hospitalizations equally regardless of whether it involved a short stay after an emergency room visit or any degree of more-involved care.
The guidance also doesn't disqualify servicemembers who are currently active, but it accounts for the fact that very little about the virus's long-term effects or how it might affect military readiness.
While the Pentagon keeps secret the number of coronavirus cases in the military, April 28 data from the Defense Department indicates over 6,500 coronavirus cases at more than 150 bases in every state in the United States, except Iowa, Indiana, Minnesota and Montana.
As of May 5, Military Times reported that the COVID-19 hospitalization rate is 50 times higher in the military than in the overall U.S. population, something that could be partly explained by the fact that 100 percent of military members have health insurance coverage and are thus more willing to visit a hospital with symptoms.