Coronavirus Outbreak on Quarantined Cruise Ship Accounts for Around a Third of All Confirmed Cases Outside China
Around a third of all people diagnosed with the deadly new coronavirus outside of mainland China are on board a cruise ship quarantined off the coast of Japan, figures show.
The total number of people diagnosed with the bug known as 2019-nCoV while on the Diamond Princess cruise ship, docked at the port city of Yokohama south of Tokyo, has reached 135, a Princess Cruises spokesperson told Newsweek.
The spokesperson said a total of 69 on the ship tested positive last week, with a further 66 confirmed by the Japanese Ministry of Health overnight on Monday.
Of the 66 new cases, four people were Australian, 45 Japanese, 3 from the Philippines, 11 from the U.S., as well as one each from Canada, the U.K. and Ukraine.
The Japanese authorities are still testing hundreds more passengers on board the ship, which is carrying 2,666 passengers and 1,045 crew members, CNN reported.
Calculations by Newsweek based on the latest figure and cases documented in a dashboard updated by Johns Hopkins University show those sick on the ship make up around a third of confirmed cases outside of mainland China.
The dashboard shows, at the time of writing, 376 confirmed cases outside of mainland China, which does not include the newest cases to emerge on the Diamond Princess cruise ship on Monday.
According to CNN, the ship's captain Stefano Ravera said: "It was not unexpected, the additional cases, involving individuals exposed prior to the start of the quarantine."
Chief Cabinet Secretary Yoshihide Suga told a press conference on Monday: "We are considering testing, if possible, all those over 80 years old who are in ill health," Japan Times reported.
The patients are among the over 40,500 2019-nCoV cases confirmed since late last year when health officials became aware of workers falling ill at a wholesale seafood market in the central Chinese city of Wuhan, Hubei.
The virus has spread to over 25 countries and territories, including the U.S. and Japan. But—as shown in the infographic by Statista below—it is not known to have reached Africa or South America.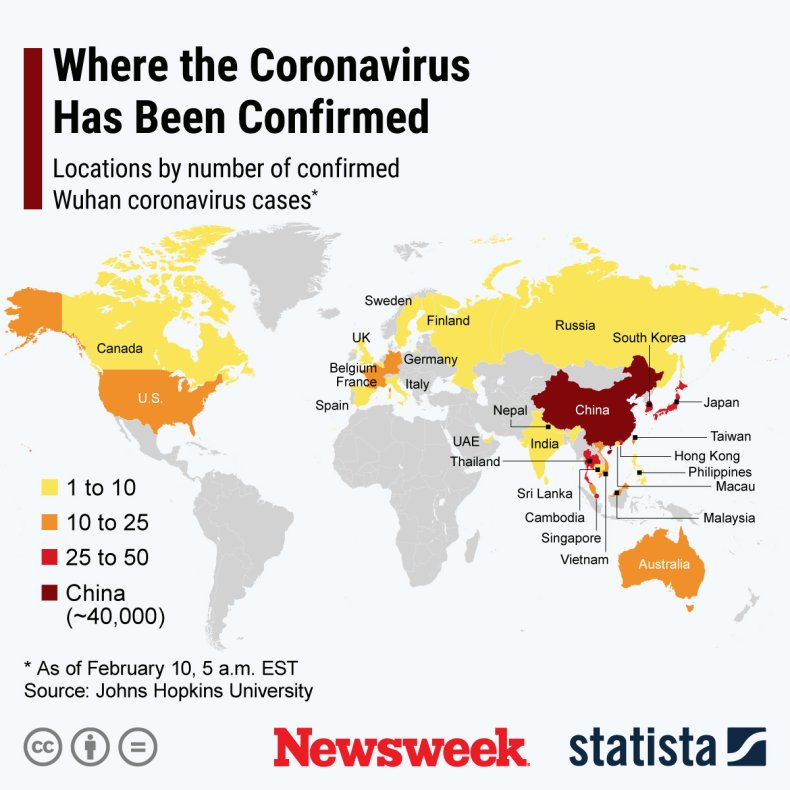 A total of 910 people have died, all but two of them in mainland China, with Hubei province hardest hit. The World Health Organization has declared the situation a public health emergency of international concern.
On Saturday, February 1, an elderly passenger from Hong Kong tested positive for 2019-nCoV six days after he disembarked from the ship. This resulted in the isolation of those on the ship in an attempt to stop the spread of the virus.
The spokesperson for Princess Cruises told Newsweek on Monday that plans announced last week to quarantine those on board the ship for 14 days until February 19 remain in place "unless there are any unforeseen developments." It is thought to take between two and 14 days for symptoms of 2019-nCoV to appear after a person is first infected.
"We are following guidance from the Japan Ministry of Health on plans for disembarkation protocols to provide medical care for these new cases," the spokesperson said.
The operator "continues to look for the most effective ways to help keep guests healthy, which includes mental health," the spokesperson added. That includes telephone access to trained English and Japanese-speaking counsellors for guests.
Passengers also have complimentary internet and telephone access, "a large selection" of in-room movies in multiple languages, and more live TV channels than before. Staff have also provided games, puzzles, and trivia to guest's rooms, as well as newspapers in 30 languages, and access to fitness and exercise videos.
On Sunday, Princess Cruises said in a statement on its website: "Because of the extraordinary circumstances onboard Diamond Princess, Princess Cruises will refund the full cruise fare for all guests including air travel, hotel, ground transportation, pre-paid shore excursions, gratuities and other items. In addition, guests will not be charged for any onboard incidental charges during the additional time onboard."
Passengers will also receive a cruise credit equal to the fare paid for the voyage, which ended February 4.
This article has been updated with comment from a Princess Cruises spokesperson.