As Coronavirus Cases Spike, Here's Where Masks Are Now Required
Eleven states now require every resident to wear a face covering while in public to help limit the spread of coronavirus, as the number of infections continues to surge across the country — with California becoming the latest addition Thursday.
The Golden State has now joined Connecticut, Delaware, Illinois, Maine, Massachusetts, Michigan, New Jersey, New Mexico, New York and Rhode Island as well as Washington, D.C. in the growing list of places that mandate the use of masks in public spaces where social distancing is not possible, according to data published by #Masks4All.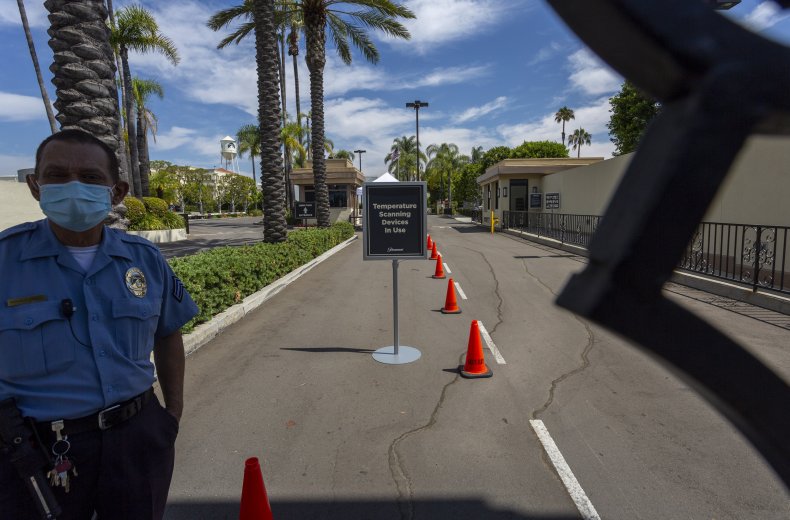 California Governor Gavin Newsom said in a public statement Thursday that there are too many people in California with their faces uncovered, putting any progress the state has made with battling the virus at risk.
"California's strategy to restart the economy and get people back to work will only be successful if people act safely and follow health recommendations," Newsom said. "That means wearing a face covering, washing your hands and practicing physical distancing."
The decision is a sharp change in policy for the state, which previously recommended that its residents and employees wear a face covering while outside of their homes.
"Employers should train and encourage workers to wear the face covering of their choice voluntarily while at work," according to a May 13 safety and health guidance document from California's department of industrial relations.
Smaller localities within the state, such as Orange County, had made their own mandates for wearing face coverings, despite receiving backlash from residents.
Dr. Nichole Quick, health director for Orange County, resigned June 8 after receiving multiple threats over her requirement for residents to wear masks in public, The Los Angeles Times reported.
As coronavirus cases continue to rise in multiple states across the country — most of which have issued no mask requirement — the true effectiveness of wearing face coverings to combat the virus's spread remains under debate.
A German study released this month concluded that the use of "face masks reduce the daily growth rate of reported infections by around 40%."
Coronavirus is spread primarily through airborne respiratory droplets. A June 16 study conducted by the University of Nicosia in Cyprus found that while masks reduce airborne droplet transmission, many droplets will still spread during repeated cough cycles.
"The use of a mask does not provide complete protection, and social distancing remains important during a pandemic," the study reported.
The U.S. Centers for Disease Control and Prevention (CDC) continues to recommend the use of cloth face coverings to help reduce community-based transmission of the virus, according to its website.
For now, requiring the use of masks in public remains up to individual states, counties or cities as they begin reopening after months-long shutdowns.
The graphic below, provided by Statista, shows the mask-wearing rate in some of the world's major nations.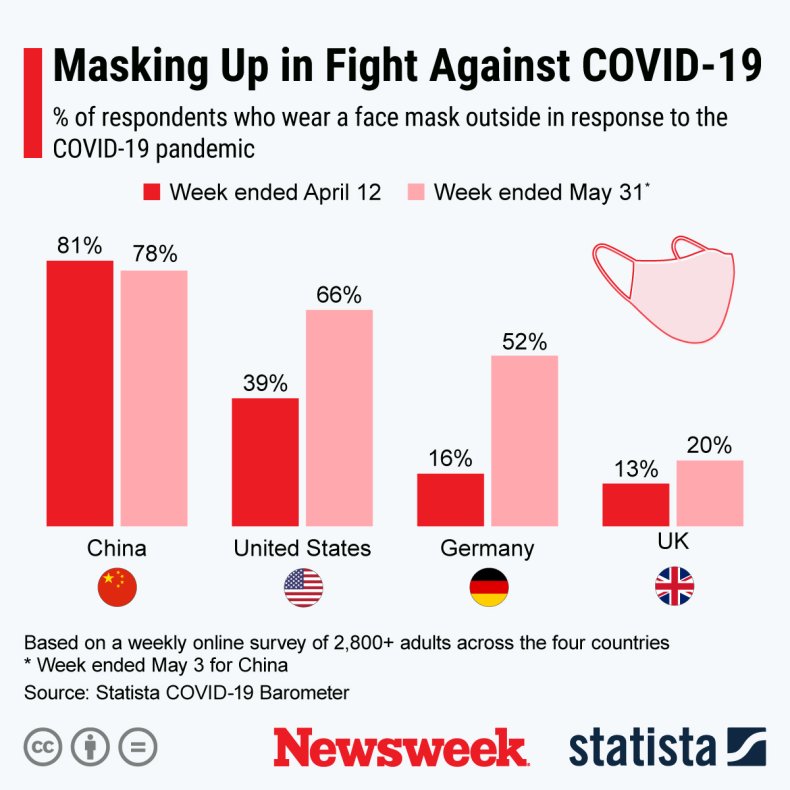 This article has been updated with a graphic from Statista.