At Least 18 U.S. States Report Increasing Coronavirus Cases After Reopening
More than one-third of all U.S. states saw upticks in cases of the novel coronavirus over the last two weeks, as economic reopening strategies progress nationwide and people return to public spaces. Officials in some states, like Florida and California, have attributed rising diagnosis counts to expanded testing capabilities. Others have pointed to concurrent increases in hospital admissions related to the virus as evidence of a link between reopening and heightened transmission.
Health officials in at least 18 states—California, Nevada, New Mexico, Arizona, Arkansas, Texas, Oklahoma, Oregon, North Carolina, South Carolina, Florida, Alabama, Alaska, Hawaii, Utah, Georgia, Wyoming and Washington—have reported recent increases in virus diagnoses amid reopening. Most also confirmed their highest weekly average jump in cases during during the first seven days of June, with several reporting record-high daily increases since the beginning of the month. Arizona's total number of confirmed virus cases nearly doubled during that first week, while Florida's rose by about 15 percent.
Florida reported new record increases in daily case counts on Thursday, Friday and Saturday. The latest update from Florida's Department of Health showed 2,016 additional cases were reported on Sunday, down from 2,581 on Saturday. Sunday's figure remains higher than those reported on all other days throughout the pandemic before Saturday.
North Carolina and Arizona both reported record increases in daily case counts on Friday, with 1,768 new diagnosis confirmed in the former state and 1,540 in the latter. Figures reported by North Carolina and Arizona's health departments on Saturday and Sunday fell below Friday's spike, though only marginally. Arizona's stay-at-home order expired on May 15, though some businesses reopened earlier, local outlets reported.
In Texas, daily diagnoses peaked on Wednesday, with 2,504 new cases. All three states reported rising hospital admission numbers related to the virus over the last few days, with Texas' statewide total climbing to 2,242 on Saturday, its highest to date.
Hospitalizations in North Carolina also reached a new high on Saturday, with 823 admissions, following previous records reported on Monday, Tuesday, Wednesday and Thursday. Similar to comments from health officials in Arizona last week, North Carolina Governor Roy Cooper acknowledged a relationship between reopening procedures and heightened transmission statistics.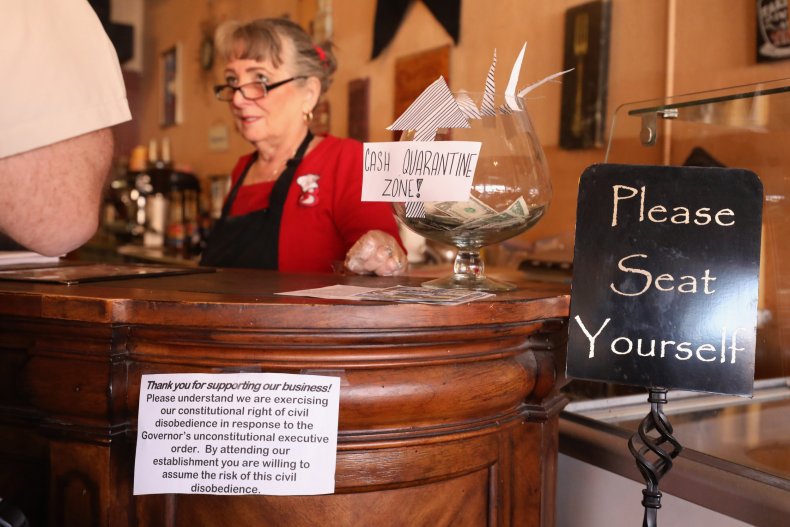 "The high number of new cases is not just related to more testing," Cooper said on Friday. "These numbers show the disease is spreading, and that more people need hospital care."
In contrast to the spike in cases throughout parts of the country, New York reported its lowest daily fatality toll since the start of the pandemic on Sunday, following its previous daily low, reported on Saturday. Virus-related hospitalizations reached a significant low on Sunday as well. New York Governor Andrew Cuomo said statewide patient admissions fell to 1,657, lower than they were on any given day after March 20.
As New York City nears the end of its first week with preliminary restrictions lifted, Cuomo urged residents to continue wearing face masks and practicing social distancing, citing upward outbreak trends in other states where regions reopened earlier.
National Institute of Allergy and Infectious Diseases Director Dr. Anthony Fauci addressed upward trending outbreak curves in U.S. states during an interview with CNN on Friday. He said that while higher case counts alone could reflect expanded testing efforts, higher hospitalization numbers are "a surefire sign that you're in a situation where you're going in the wrong direction" in terms of relaxed restrictions.
Newsweek reached out to the Arizona Department of Health Services and North Carolina Department of Health and Human Services for comments, but did not receive replies in time for publication.