Texas Sets a New Record for Coronavirus Hospitalizations as Businesses Continue to Reopen
Hospitalizations for the novel coronavirus reached a new high in Texas on Saturday, after the state set and surpassed record patient admission numbers throughout last week.
Latest data published by the Texas Department of State Health Services (DSHS) confirmed 2,242 people were hospitalized with the respiratory illness on Saturday afternoon, an increase from 2,166 people hospitalized on Friday.
Friday's virus hospitalization figure was Texas' highest to date when DSHS reported it, surpassing previous admission records reported consecutively on Monday, Tuesday and Wednesday. Hospitalization numbers reported last Sunday, June 7, only fell below Texas' initial peak of 1,888 admissions—reported about one month earlier, on May 5—by 10 patients. Texas hospitals saw consistent increases in daily patient admissions related to the virus after Memorial Day. Statewide hospitalizations have increased by close to 50 percent since then.
Texas health officials also reported a sizable jump in new virus cases on Saturday, with 2,331 confirmed diagnoses. That number approached it highest single-day increase in cases, 2,504 positive tests, reported on Wednesday. Texas' case positivity ratio, as DSHS notes on the state's COVID-19 dashboard, is about 7.2 percent.
Texas has identified 12,458 new virus cases over the last seven days. On Tuesday, a report from The Washington Post listed Texas as one of 14 states to report its highest weekly average increase in diagnoses. According to DSHS data, fewer cases were confirmed throughout the first week of June than they were throughout the second.
According to Johns Hopkins University's tracker, the state confirmed 86,915 diagnoses since the start of the pandemic as of Sunday morning, in addition to 1,971 deaths and 56,535 recoveries. Texas' overall case count is the nation's sixth-highest total, behind New York, New Jersey, California, Illinois and Massachusetts.
Newsweek reached out to the Texas DSHS for comments, but did not receive a reply in time for publication.
Last week's spike in new cases and hospitalizations across Texas came as businesses entered Phase III of Governor Greg Abbott's economic reopening plan. After terminating the state's stay-at-home order at the end of April, Abbott first launched the reopening plan in early May, allowing restaurants, bars, retailers and most other establishments to resume services over the course of the month.
Phase III became effective on June 3, expanding occupancy limits for businesses already operating and allowing amusement parks to open with regulations in place. Additional restrictions lifted on Friday, when guidelines permitted restaurants in counties with fewer than 10 virus cases to broaden capacity limits to 75 percent.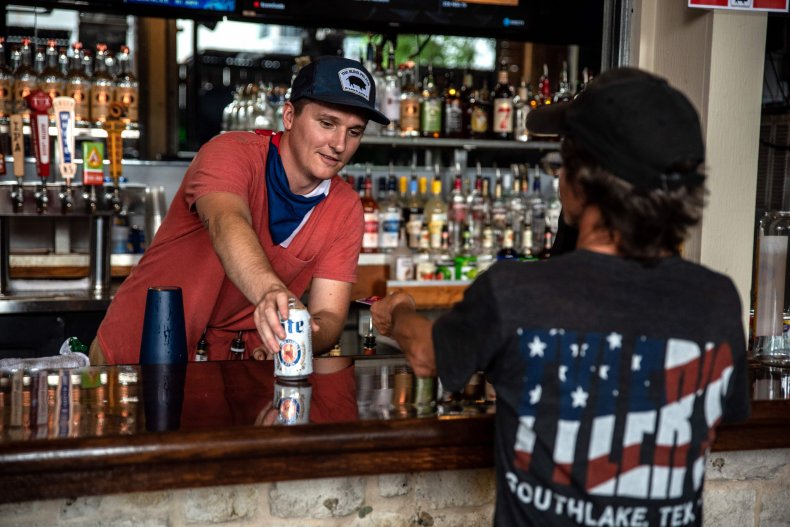 Health officials in San Antonio told CBS Austin on Friday that the region was "entering a second wave" in terms of its outbreak trajectory. In response to increasing case counts, Texas Judge Nelson Wolff issued a letter to Abbott on Friday asking the governor to allow local jurisdictions to enforce face mask requirements. Abbott addressed the letter in comments to a local news station Friday afternoon.
"Judge Wolff and I have a philosophical difference," Abbott told News 4 San Antonio. "He believes in government mandates, I believe in individual responsibility. Every interview that I've had on TV, I've talked about the individual responsibility to wear a face guard to make sure you don't either transmit COVID-19 or that you don't get it and it's up to every individual in this state to make sure that we slow the spread of COVID-19."