Texas Sees Slight Decrease in Coronavirus Hospitalizations After Record-Setting Week
Hospitalizations for COVID-19 decreased slightly in Texas on Thursday, after health officials confirmed three consecutive days of record-high admissions earlier this week.
Data published by the Texas Department of State Health Services (DSHS) Thursday afternoon showed 2,008 people are hospitalized with the respiratory illness, down from 2,153 hospitalizations reported on Wednesday. The latest hospitalization tally in Texas remains higher than it was on any other day throughout the pandemic before this past Tuesday.
Wednesday's hospital admissions figure was the highest recorded in Texas since the onset of the virus outbreak. The state saw increasing daily hospitalization numbers after Saturday, with sharp spikes Monday, Tuesday and Wednesday. On Monday, 1,935 people were hospitalized, followed by 2,056 on Tuesday.
Daily hospitalization numbers previously peaked on May 5, with 1,888 patients. Admissions had fallen to 1,511 by Memorial Day, when they started to increase again. Statewide hospitalizations have increased 32 percent since then.
As of Thursday, 80,866 people have tested positive for the coronavirus in Texas, according to Johns Hopkins University's tracker. Of them, more than 1,900 have died, while 52,499 have recovered.
Texas also confirmed its highest single-day increase in virus cases on Wednesday, with 2,504 new diagnoses, according to the DSHS. Cases more than doubled between Monday and Tuesday, from 638 reported Monday to 1,637 reported Tuesday. The health department confirmed more than 1,100 new cases on Thursday. Its latest data with regard to diagnostic testing, updated Tuesday, said the overall case-positivity ratio in Texas was almost 7 percent, higher than rates reported in many other states.
Texas was one of 14 states to hit their highest seven-day average of virus cases earlier this week, days after Governor Greg Abbott announced on June 3 guidelines for the state's third reopening phase. The guidelines, effective immediately, allowed almost all businesses to operate at 50 percent capacity, with few exceptions. On Friday, restaurants will be permitted to increase their capacities to 75 percent.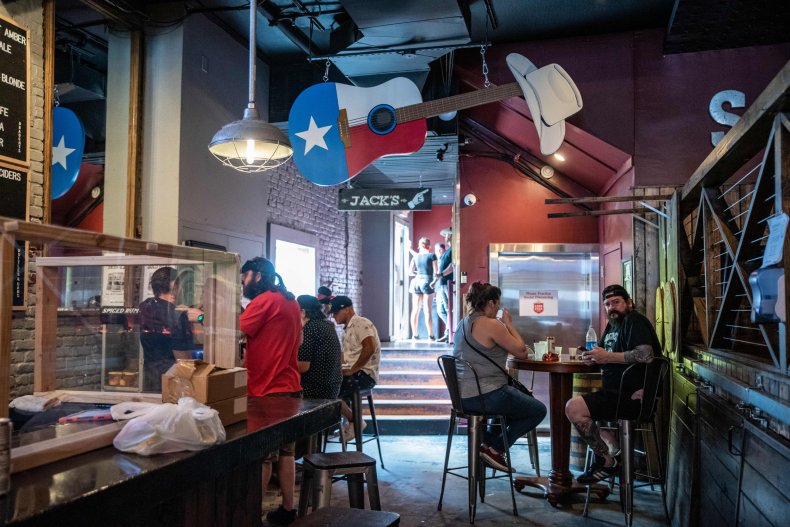 The state began reopening businesses a month ago, when Abbott's stay-at-home order expired at the end of April. Abbott issued one of the shortest orders by state leaders in the country, even though Texas is the nation's second-largest state.
"The people of Texas continue to prove that we can safely and responsibly open our state for business while containing COVID-19 and keeping our state safe," Abbott said in a statement. He added that rising cases could be attributed to "isolated hot spots in nursing homes, jails and meat-packing plants."
On Monday, Abbott announced the state would expand testing in "underserved and minority communities that have been disproportionately impacted by the virus."
Newsweek reached out to Abbott for comment but did not hear back before publication.