New York's Coronavirus Deaths Hit New Low, While Other States Struggle to Control Outbreaks
As outbreak curves climb in a number of U.S. states, New York reported its lowest single-day fatality toll since the start of the novel coronavirus pandemic on Saturday.
Governor Andrew Cuomo discussed the latest virus figures during his most recent news briefing, saying 32 additional deaths were reported between Thursday and Friday. The figure was similar to others reported by state health officials recently, marking a significant downturn from those confirmed during the peak of New York's virus outbreak in May. For weeks, Cuomo confirmed hundreds of deaths and thousands of new cases each day.
Updates from the New York State Department of Health 916 people tested positive for the virus on Friday, compared to almost 70,000 who tested negative. The health department's data shows a considerable decline in New York's outbreak curve after April, with a consistent downward trend continuing through May and June. Due to its initial surge in cases, as well as related hospitalizations and deaths, Cuomo adopted a conservative reopening plan that allowed state regions to resume business operations and return to public spaces in phases. New York City, where most of the state's cases were diagnosed, entered phase one on Monday.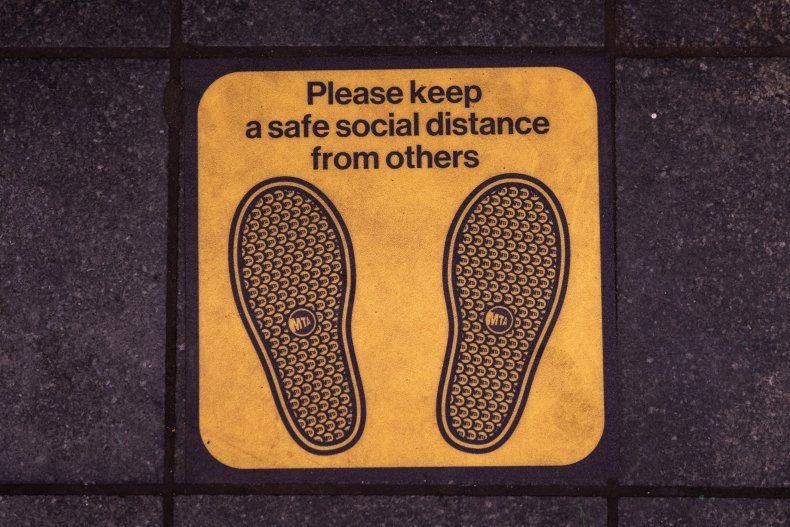 Although health authorities have debated whether increasing case counts in other parts of the U.S. have resulted from early reopening procedures or expanded testing capacities, a handful of states that reopened last month recently saw surges in daily diagnosis reports.
Florida confirmed a new record increase in virus cases on Saturday, with 2,581 diagnoses, according to the Miami Herald. The latest daily total surpassed Florida's previous single-day highs of 1,698 and 1,902 new cases, confirmed this past Thursday and Friday. Florida has ramped up testing in recent weeks, after Governor Ron DeSantis issued guidelines for a range of businesses to reopen statewide under the Phase 1 of the state's plan, effected May 18.
Increasing case counts also reached new heights in North Carolina and Arizona, while California's daily diagnosis records approached its May 30 peak, reporting between 2,000 and 4,000 new cases per day. Another 3,660 people tested positive for the virus across California on Friday, according to public health officials' Saturday update. The latest data followed similar numbers reported in updates shared Thursday and Friday.
North Carolina confirmed its largest jump in cases on Friday, as did Arizona. Both states have seen upward trends in virus-related hospitalizations as well, prompting leaders to express concern about ongoing transmission amid reopening practices.
"The high number of new cases is not just related to more testing," said North Carolina Governor Roy Cooper on Friday. "These numbers show the disease is spreading, and that more people need hospital care."
North Carolina's hospitalization figures reached a new high on Saturday, with 823 patients currently admitted to hospitals across the state for virus-related medical issued, the Department of Health and Human Services (DHHS) reported. North Carolina previously reported its highest statewide hospital admission numbers since the start of the outbreak on Monday, Tuesday and Thursday. The health department confirmed 1,427 new cases on Saturday, lower than Friday's addition of 1,768 but higher than single-day diagnosis counts reported on any other day throughout the pandemic.
Arizona's Department of Health Services confirmed 1,540 new virus cases on Saturday, about 100 fewer than Friday's record figure. Georgia, one of the first U.S. states to begin reopening toward the end of April, reported about 1,000 new virus cases on Saturday. The latest number is among the highest single-day diagnosis increases reported by state health officials and follows several days of similar reports.
Newsweek reached out to the Arizona Department of Health Services, Florida Department of Health and North Carolina Department of Health and Human Services for comments about increasing case counts, but did not receive replies in time for publication.
Updated 8:57 PM ET, with a revised headline.