Over a Month After Reopening, Florida Reports Highest Daily Increase in Coronavirus Cases Since Outbreak Began
Florida reported on Saturday another record high in the number of new coronavirus cases, more than a month after the state began reopening in the midst of the pandemic.
Miami's local NBC affiliate reported that the 2,581 additional cases set a new single-day high for the state. Besides the new cases, 48 more deaths were confirmed, according to WFLA.
The more than 2,500 new cases were the third record-high day in a row. Previous new cases reported on Thursday were 1,698 and 1,902 on Friday.
With the new cases, WFLA reported that Florida's total number of coronavirus cases has come to 73,552. The number of deaths have increased to 2,925, and there have been 11,874 hospitalizations.
The new cases come less than a month after Florida entered its full Phase 1 towards reopening on May 18. In a tweet from mid-May, Florida Governor Ron DeSantis shared guidelines for businesses that may reopen in Phase 1--including gyms, food and retail establishments at half-capacity, barber shops, and more. The statewide stay at home order ended on May 4.
On June 5, Universal Orlando Resort reopened with limited capacity, according to CNN.
Newsweek reached out to DeSantis' press email for comment, but did not receive a response in time for publication. The Florida Department of Health (DOH) did not respond to Newsweek's questions about the new cases in time for publication.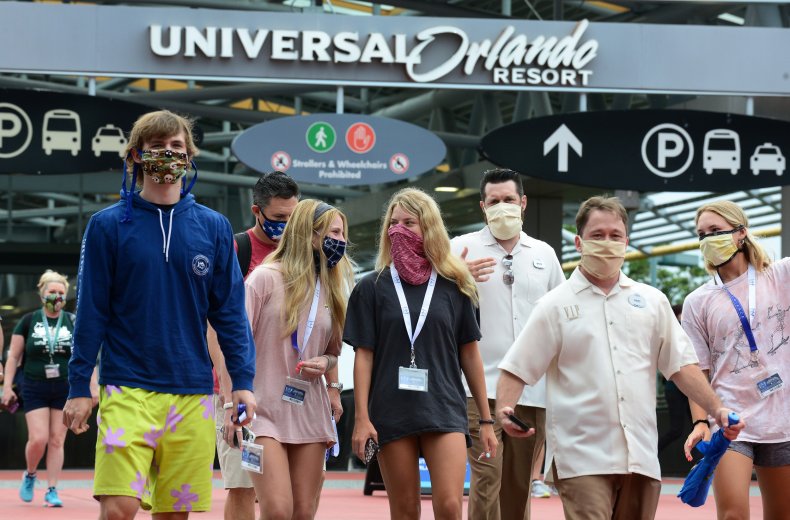 A press release from the DOH on Friday noted that the state had begun Phase 2 reopening beginning on June 5. The weekly press release outlines steps taken by the state to respond to the COVID-19 pandemic. The update detailed DeSantis' plans for distributing and allocating funds received through the CARES Act.
Other updates included the Florida Division of Emergency Management (FDEM) teaming up with Home Depot and Quest Diagnostics to make three testing sites available. It also outlined various pieces of personal protective equipment that the FDEM has given to health care workers and first responders, including masks, gloves, face shields, and more.
As previously reported, the DOH pointed toward more accessibility for testing in terms for the jump up in numbers. "Currently, we have thirty drive-thru and walk-in test sites throughout the state, at no charge to the individual, in areas that range from urban to rural communities in an effort to increase accessibility," a DOH spokesperson told Newsweek on Friday. "We fully anticipate that the success of this effort to seek out COVID positive individuals will be seen in higher numbers which, if treated early, can be beneficial not only in treating the patient but helping control the spread of the virus."