Coronavirus Cases Throughout the World Have Now Surpassed 4 Million, With the U.S. Leading in the Number of Deaths
More than 4 million cases of the novel coronavirus have now been diagnosed worldwide, according to Johns Hopkins University. The education and research institution, which updates its digital tracker cataloging global COVID-19 figures at least twice daily, initially reported the number on Saturday, totaling individual case counts from 187 countries and regions across the globe confronting ramifications of the pandemic. The tracker indicated that at least 50,000 additional cases were identified by Sunday morning.
More than 50 percent of cases detected since the virus first emerged last December were currently active on Sunday, the university's statistics showed. Of roughly 4.05 million people who contracted the illness overall, about 1.38 million had recovered, while nearly 280,000 had died. Those calculations suggested close to 2.4 million people were still infected worldwide, with the United States reporting the highest incidence of cases as well as resulting fatalities.
The U.S. became the new coronavirus pandemic's global epicenter at the end of March, when the number of cases confirmed nationwide surpassed those separately confirmed by Italy and China, which had previously reported the world's highest- and second-highest case counts. At the time, at least 92,000 people had tested positive for the disease across a handful of U.S. states, more than 1,200 of whom had died.
As Newsweek reported on March 27, the U.S. had recently seen a surge in diagnoses, having confirmed more than 50,000 positive cases over the three-week period following its 100th diagnosis. The data, originally published by The Financial Times, pointed to a forthcoming outbreak curve more severe than those experienced in any other affected country.
The U.S. reported the world's highest number of deaths due to the virus several weeks later, in mid-April, and continues to report more fatalities than any nation worldwide. As of Sunday morning, more than 1.3 million cases of the new coronavirus had been confirmed, with at least 78,855 deaths and 212,534 recoveries, according to Johns Hopkins University's tracker. New York has experienced the gravest outbreak compared to any U.S. state. About 25 percent of cases diagnosed nationwide have been confirmed in New York, as have more than 30 percent of deaths.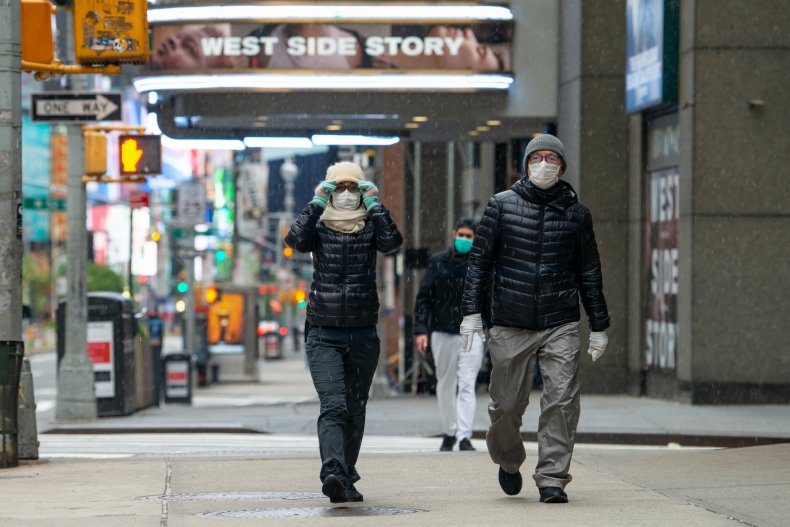 Though U.S. cases and subsequent fatalities account for roughly one-third of global totals in both respects, additional analysis included in the university's online coronavirus resource center has noted that the country's observed case-fatality ratio is lower than others that have experienced significant outbreaks. The populations of those countries—like the United Kingdom, Italy, Spain, France, Belgium and Germany—are much smaller than that of the U.S.
Government officials across the globe, as well as within the U.S., have responded to downward trends in new diagnoses, hospitalizations and deaths related to the new coronavirus recorded in recent weeks. Many national and local administrations have begun to lift stay-at-home orders and non-essential business closures imposed at the pandemic's onset, or intend to do so in the coming weeks. Several U.S. states have launched reopening procedures—although those hardest hit, for the most part, remain closed.