Are Cruise Ships Cancelled Due to Coronavirus? Latest News For Royal Caribbean, Carnival, Crystal Cruises
Several American cruise lines, including Royal Caribbean, Carnival and Crystal Cruises, have announced cruise cancellations and introduced precautionary measures following the outbreak of the coronavirus.
The virus, which was first identified in Wuhan, China, has killed 170 people in China. Eighty-two cases have been recorded in 18 countries outside China, according to the latest report by the World Health Organization (WHO) on Thursday. At least five cases have been reported in the U.S., the U.S. Centers for Disease Control (CDC) confirmed at a press conference on Tuesday.
Royal Caribbean has canceled several sailings on its Spectrum of the Seas ship, which is based in Shanghai, that were scheduled to depart on January 31, February 4 and 8.
"As has been widely reported, China has moved aggressively to contain the spread of the virus. As a result of these measures, and after consultation with national and local health authorities, the company has cancelled three sailings through Feb 8th, on the high yielding Spectrum of the Seas," the company said in a statement. Its the Royal Caribbean ship homeported in China.
"We are working with our guests to provide full refunds for the cancellation. The health and safety of our guests and crew is our primary concern, and we continue to work with the World Health Organization, the Centers for Disease Control, and government health authorities to monitor the situation," the company said in the statement.
The March 21 sailing of Spectrum of the Seas is currently scheduled to depart from Shanghai as planned. The company will be monitoring any developments relating to the coronavirus and "We'll notify impacted travel partners and guests immediately if any changes are made," the company said on Tuesday in a post on its official Twitter account.
The company has also confirmed that any guests or crew members who have traveled to the Hubei province, which is home to Wuhan, will be denied boarding across its entire fleet.
The company also stated that any guests who have transited through other parts of China within the past few days "will receive secondary medical screenings to determine sailing eligibility. We have temporarily postponed the return of crew members who reside in China," the statement confirmed.
Royal Caribbean's Seabourn Ovation cruise ship has also canceled its visit to Xiamen, China, which was scheduled for February 3 and instead will include a visit to Sandakan, Malaysia on February 10.
Crystal Cruises hasn't announced any cruise cancellations but has issued several preventative measures in view of the ongoing outbreak of the virus, including denying anyone who has traveled to the Hubei province within the past few days from boarding any of its cruise ships.
The cruise line will also screen all passengers at the pier before boarding "for body temperatures of 100.4 degrees Fahrenheit or higher and/or showing signs of respiratory issues. If guests are determined unwell to travel, they will receive a full refund of their cruise fare, if they do not have insurance," the company explained in a statement.
The company has also updated its pre-boarding public health questionnaire to include questions concerning the coronavirus, the statement notes.
Carnival has not announced any changes to its cruise itineraries but precautionary measures, including passenger screenings, may be introduced following its discussion with the WHO.
"Our medical experts are in touch with the U.S. Centers for Disease Control and the World Health Organization about any recommended screenings, monitoring and protocols for our ships, which may include temperature and questionnaire screening for cruises in certain geographies, questionnaires for residents and travelers visiting certain areas, and illness screening for cases presenting to our medical centers with fever and respiratory illness while onboard," the company said in a statement.
Earlier today, thousands of passengers were reported to be trapped on a cruise ship from Costa Cruises, which is a subsidiary of Carnival, after two passengers were suspected of having contracted the coronavirus.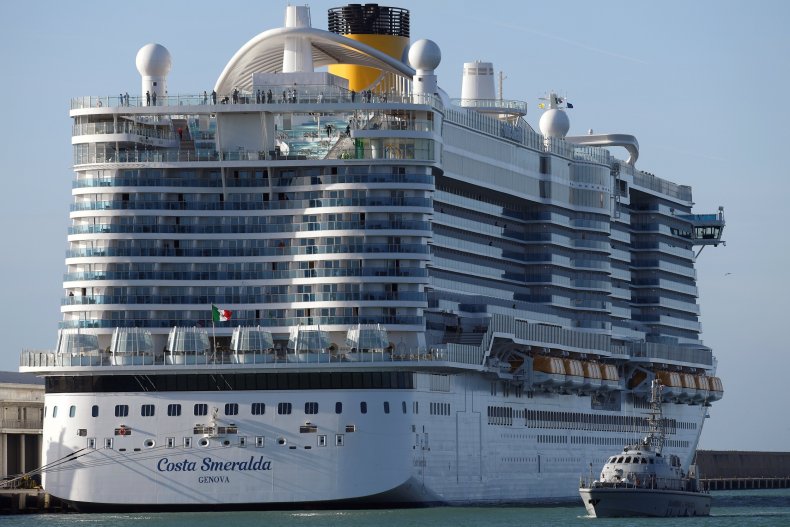 The ongoing coronavirus outbreak has caused ripples of fear across the globe, including in the U.S., where several major airlines have suspended flights to China.
The WHO is currently in discussion about whether the outbreak should be categorized as an international public health crisis. The WHO's International Health Regulations Emergency Committee is expected to meet today to decide whether to declare an international public health emergency.
The U.S. Department of State on Monday raised its travel advisory for China to Level 3, advising people to "reconsider travel to China", while its advisory for the Hubei province remains at Level 4, with travelers being told, "Do not travel to Hubei province," according to the State Department advisory.