Flights to China on U.S. airlines, including United, Delta Air Lines and American Airlines, have been temporarily suspended, with those affected being offered travel waivers to rebook their flights without a fee.
The latest cancellations come after the U.S. State Department raised its travel warning level to Level 4, the highest possible, advising U.S. citizens not to travel to China in view of the ongoing coronavirus outbreak which was first identified in Wuhan in the Hubei province.
At least 11 cases of the virus have been confirmed in the U.S., with 146 cases confirmed outside of China in 23 countries, according to the latest report by the World Health Organization (WHO), which declared the virus a global public health emergency on Thursday.
"More cases are likely to be identified in the coming days, including more cases in the United States. It's also likely that person-to-person spread will continue to occur, including in the United States," the U.S. Centers for Disease Control (CDC) warns.
On Friday, the Department of Health and Human Services declared a public health emergency in the U.S. and announced that all foreign nationals who have traveled to China within the last 14 days will be denied entry into the country.
American Airlines has announced it would be suspending flights to and from mainland China through March 27. Customers affected by the cancellations will be contacted directly to accommodate their needs, while the carrier will "continue to evaluate the schedule for March 28 and beyond and make any adjustments as necessary," the airline confirmed in a statement.
Those on American Airlines flights booked for Beijing (airport code PEK) or Shanghai (PVG) can change their flight without a fee if they purchased the ticket before January 24 and were scheduled to fly between January 24 and March 27 and are able to travel through May 31.
For travelers booked on Hong Kong flights (HKG) with American Airlines, the flight change fee will be waived for those who bought a ticket by January 28, were scheduled to fly between January 28 and February 29, and can travel through March 31. See the American Airlines website for the full terms and conditions for its travel waivers.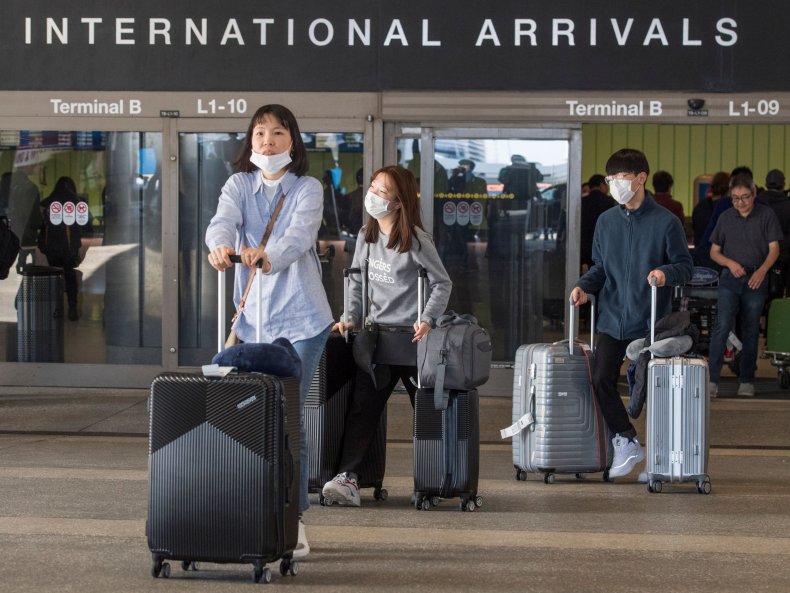 Delta also announced it will be suspending flights to China from February 6 through April 30 following coronavirus concerns, with its final return flight from China scheduled for February 5. Those who are affected by the latest cancellations are advised to see the "My Trips" section of the Delta website to rebook their flights for after April 30, request a refund or contact Delta directly to discuss other options.
Those who have flights booked to Beijing (PEK) and Shanghai (PVG) through February 5 are able to access travel waivers, which have been extended to April 30, the airline confirms on its website.
"CDC will start screening all passengers with China in their journey at quarantine stations throughout the U.S. - including all of Delta's flights from China - which is believed to capture 90% of all China arrivals into the U.S.," Delta notes.
"The airline will continue to monitor the situation closely and may make additional adjustments as the situation continues to evolve," it added.
United also confirmed it would be suspending flights to Beijing, Chengdu, and Shanghai from February 5 to March 28 following the government's decision to raise its travel advisory and the continued decrease in demand for flights to China, the airline confirmed in a statement.
"We'll continue to operate one daily flight between San Francisco and Hong Kong. Customers traveling to and from China will need to complete additional health screenings upon arrival and departure, and customers flying to the U.S. after visiting mainland China in the past 14 days will be subject to restrictions including possible denied entry," United warns on its website.
United has extended its travel waivers for passengers scheduled to travel to various cities in China, including Wuhan.
The waiver for Wuhan is valid for flights originally scheduled to take place between January 22 and March 29, while waivers for travel to Beijing (PEK), Chengdu Shuangliu International Airport (CTU) and Shanghai (PVG) are valid for flights scheduled between January 24 and March 31. Waivers for United flights to Hong Kong (HKG) are valid for flights scheduled between January 28 and March 31.
"Refunds are allowed for unflown flights, even for nonrefundable tickets," for flights to Wuhan, Beijing, Chengdu and Shanghai, according to the United website, but the original ticket must have been purchased by January 21 for Wuhan and by January 23 for Beijing, Chengdu and Shanghai, the airline notes.
Customers can submit refund requests through a form at the airline's website. Other terms and conditions apply for the latest travel waivers. See the United website for full details on each affected route.
The U.S. Transportation Security Administration (TSA) also issued new regulations on Sunday requiring airline staff to ask passengers on all flights from abroad heading to the U.S. before boarding whether they have traveled to mainland China within the last 14 days, CNBC reports.
Airlines warned all travelers on U.S.-bound flights to arrive at the airport earlier than usual to allow time for the additional screening, which is likely to cause delays at check-in desks/gates and will apply also to those who have traveled on an indirect flight from China.
The ongoing threat of the coronavirus has caused waves of fear across the globe including in the U.S., which last week was reported to have been considering a ban on all flights to China, according to USA Today.
Talks were reported to have been ongoing at the White House but officials have reportedly decided against the suspension of flights for the time being, according to Reuters.
Speaking to Newsweek, a spokesperson for the International Air Transport Association (IATA) said last week: "We've not had any dialogue with the White House on [the potential ban of U.S. flights to China]."
"China has stopped international traffic to/from Wuhan as a containment measure. Previous experience with disease outbreaks shows that the blanket stopping of flights hampers the ability of the WHO and other NGOs to deal with the crisis, and can greatly worsen the impact of the outbreak on the affected country," the spokesperson added.
The IATA is "closely monitoring developments" on the coronavirus and is "actively engaged with the World Health Organization (WHO) Secretariat, ICAO [International Civil Aviation Organization] and the US Centers for Disease Control," the group states.
"Airlines are prepared to work with public health authorities when there are outbreaks of communicable diseases with well-developed standards and best practices. IATA will provide further updates as appropriate," it added.
Newsweek has contacted the White House, the U.S. Department of Health and Human Services and the CDC for further comment on the potential ban on flights to China.
The U.S. government has also warned travelers that "In the event that the situation [the virus outbreak] deteriorates further, the ability of the U.S. Embassy and Consulates to provide assistance to U.S. nationals within China may be limited," as all non-emergency U.S. personnel and their family members were ordered to leave the province on January 23.
"Travelers should be prepared for the possibility of travel restrictions with little or no advance notice," the U.S. State Department adds.
This article has been updated with the latest information from American Airlines, Delta Air Lines, United, the U.S. State Department, the U.S. Department of Health and Human Services and the World Health Organization.