Colorado's 'Unprecedented' 1600% Surge in Unemployment Applications Crashes Labor Department Website
A sudden surge in unemployment applications described by officials as "unprecedented" crashed Colorado's labor department website as the coronavirus pandemic takes its toll on the American economy, which is facing a deep recession.
The state's labor department said in a statement on Tuesday that its website struggled to cope with the demand placed upon it as newly laid-off workers went online to submit their applications for unemployment support.
According to the statement, the number of unemployment claims rose from 400 on March 7 to more than 6,800 on March 17. That equates to a 1,600 percent increase in ten days. The department said it is responding by "implementing system maintenance" to accommodate the heavy demand.
"Even during the Great Recession, we didn't see this surge of applicants in such a short period of time," Cher Haavind, a spokeswoman for the department, told local station KDVR. "It's unprecedented."
In its statement, Colorado's labor department said it is "encouraging workers who are experiencing a temporary or permanent reduction in hours or wages to consider part-time employment in other industries seeing an increase in demand for goods or services, such as delivery, logistics, transportation, healthcare or retail such as grocery stores and warehouses."
"The department plans to work with these industries directly over the coming days to identify opportunities to match workers who are unemployed with hiring employers," it added.
New York state experienced a similar website crash on Monday when its labor department was overwhelmed by jobless benefit claims. Deanna Cohen, a spokeswoman for the department, told The New York Times they were seeing "a spike in volume that is comparable to post 9/11."
The online systems for unemployment claims in Oregon and Kentucky also experienced problems because of a sharp spike in usage, The Register-Guard and WDRB reported.
The U.S. Department of Labour will report its weekly unemployment claims data on Thursday morning. The figures may show the first signs of major trouble for the labor market as firms lay off staff because of the strains placed on them by measures to combat the coronavirus outbreak.
Kevin Hassett, former chairman of Trump's Council of Economic Advisers, told CNN Business he thinks the job losses in April could be as large as a million and "one of the biggest negative jobs numbers that we've ever seen."
Demand in the economy is dissolving as the federal government advises Americans to stay home and limit their social contact. In response to the emerging economic crisis, the White House and Congress are in talks about a $1 trillion stimulus package.
The package under discussion includes writing checks to American households and cash support for businesses struggling to survive the sudden shock.
David Wilcox, nonresident senior fellow at the Peterson Institute for International Economics and a former director of the Federal Reserve's Division of Research and Statistics, told Newsweek it is "a much more precarious situation than it should be."
For households who lose their income because of job losses "it's a financial catastrophe," Wilcox said.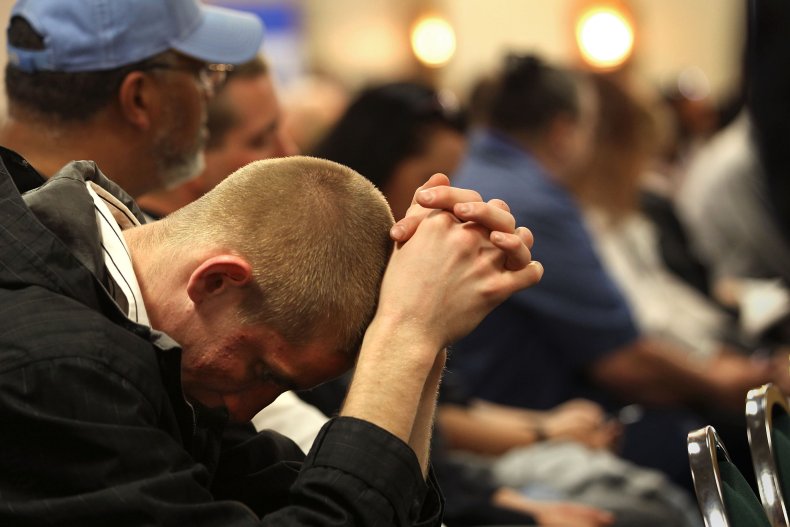 This article was updated with more background information.