Coronavirus Could Be Here 'Permanently,' Says Top Adviser to U.K. Government
The novel coronavirus may be at the stage where it circulates in human populations "permanently," according to a scientist advising the U.K. government on its COVID-19 response.
Dr. Jeremy Farrar, a member of the U.K. government's Scientific Advisory Group for Emergencies, told reporters at a media briefing on Wednesday, "I believe this is now an endemic human infection which will continue to circulate in human populations for many, many years to come if not permanently."
In his opening remarks at the press conference held by the U.K.-based research charity the Wellcome Trust, of which he is the director, the clinician and infectious disease researcher said "it is likely that this is here with the human race for the future."
Since the coronavirus started sickening people in the central Chinese city of Wuhan, Hubei province, late last year, 183,454 have died of COVID-19 in more than 2.6 million confirmed cases, according to Johns Hopkins University. Over 713,537 people are known to have survived. As shown in the graph by Statista below, the U.S. has the most reported cases.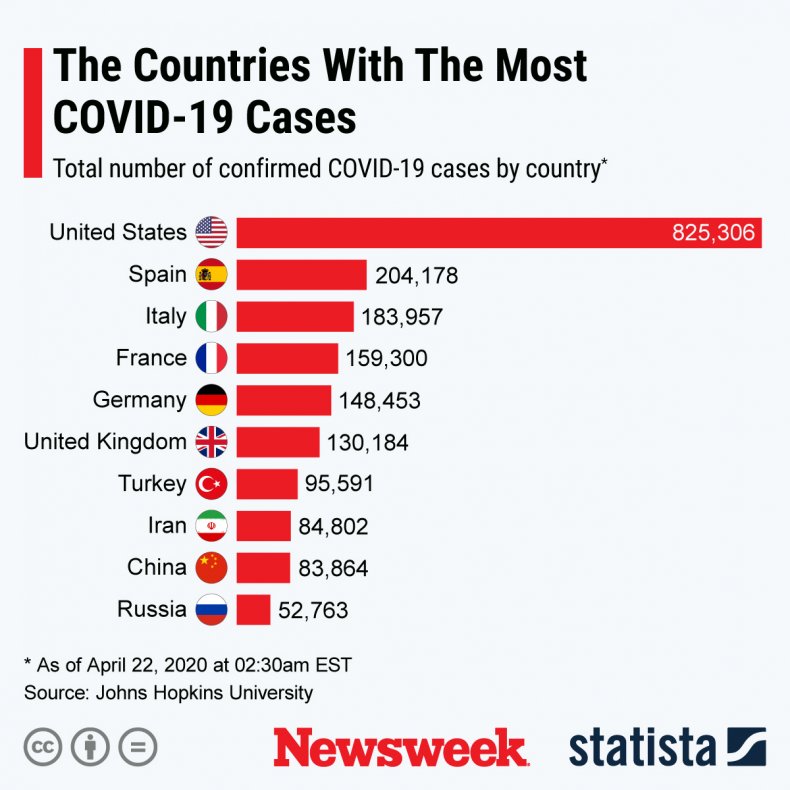 Scientists are now racing to create specific treatments for COVID-19, the disease caused by the novel coronavirus, and a vaccine to protect against the virus. Farrar said science has "moved forward enormously" in the decades since he started working on infectious diseases, and indicated that it is impressive there are already more than 100 vaccine candidates in development 100 days after the coronavirus first came to attention.
Commenting on how to move past the lockdowns and social distancing measures in place in many parts of the world, Farrar said, "We have to have new tests, we have to have drugs to treat this infection because it will come back and there will be people that get sick, and critically we need to develop vaccines so that we can prevent what I think we should assume are inevitable future waves."
The bug is what is known as an RNA virus, which refers to how its genetic material is carried. These types of viruses are known to mutate frequently. Although the coronavirus doesn't appear to have changed significantly since the start of the pandemic, there are fears it still could in the future. This raises questions about vaccine development.
Asked by Newsweek whether a coronavirus vaccine would have to be updated periodically, as done yearly for the flu, Farrar said, "We don't know. We're 120 days into a novel human infection here and obviously it's an RNA virus so it will change."
Arguing that the bug's potential to mutate has been exaggerated in some reports, Farrar said, "We don't see changes in the proteins that make up what will drive vaccine development or an immune response. Whether it goes like flu and we need multiple vaccines every few years, we don't know yet.
"But let's be clear, if we have a vaccine that gave much of the world protection for 12 months, or two years, that would be a massive breakthrough."
Such a vaccine would "buy us critical time with the world better protected than we are today, so that would be success as we see it at the moment," said Farrar.
Responding to Farrar's comments, scientists told Newsweek it might be too earlier to know if the virus will be endemic for the foreseeable future.
Amanda M. Simanek, associate professor of epidemiology at the Joseph J. Zilber School of Public Health, University of Wisconsin-Milwaukee, explained that "endemic" simply means an infection is regularly present at a certain level in a particular area.
And diseases can be endemic in different ways, said Dr. Andrew Brouwer, assistant research scientist in the Department of Epidemiology at the University of Michigan, "from widespread seasonal outbreaks, to intermittent spreading through people whose immunity has waned, to a common but mostly childhood disease, among others." Chicken pox, for instance, is an example of an endemic disease.
Simanek said she agrees with Farrar the virus will "become essentially an endemic infection" in areas with outbreaks until a sufficient proportion of the population have been infected and what is known as herd immunity is achieved. Likely upward of 60 to 70 percent of a population would need to catch the virus for this to happen, she said.
"In areas that have already experienced a first wave of infection and have successfully suppressed transmission through social distancing and other strategies, efforts will transition to ongoing containment of new outbreaks, essentially maintaining an endemic level of infection that is considered manageable until a vaccine is available," said Simanek.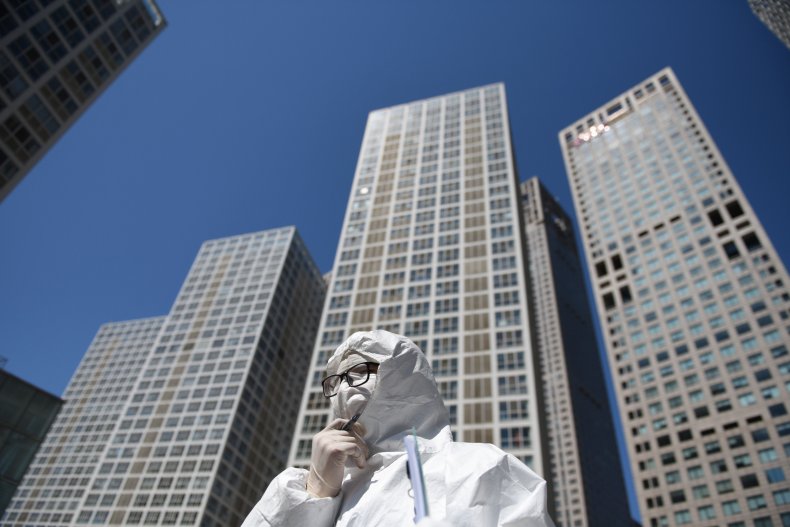 She said, "Given the vast majority of the global population has yet to encounter this novel pathogen, however, even in areas in which outbreaks have already occurred and suppression has been successful, and most definitely in regions where the virus has not yet spread, epidemic-level outbreaks that outpace hospital capacity, will continue to be possible."
The characteristics of the virus, including that it is deadlier than the flu but not so much so that it limits its ability to spread, and the fact that humans are susceptible to it 'it was inevitable that this virus would circulate widely and incidence will likely now continue to ebb and surge across the globe, in some capacity for the foreseeable future."
Brouwer said, "It is still too early to know for sure whether SARS-CoV-2 will become endemic, but, given what we know about coronaviruses, it is quite possible."
He said, "It's hard to predict exactly which form endemicity [it] would take, because it depends on a complex interplay of the immune response, mutation of the virus, birth rates, and vaccine effectiveness and distribution.
"The biggest factor for whether this virus becomes endemic or is eradicated is how effective and long-lasting our natural or vaccine-induced immunity is. Our best guess based on other coronaviruses is that immunity will wane over a relatively long period of time. Even if our immune responses don't prevent future infections, they may lessen the severity of disease," Brouwer said.
Michael Skinner, reader in virology at Imperial College London, meanwhile argued the virus endemic or epidemic is "largely a matter of semantics."
"The scientific definitions are loose enough to make it difficult, and not particularly helpful or important, to decide whether it has already made the transition in what is a fast-moving and geographically-heterogeneous situation. We are where we are," Skinner told Newsweek.
"We tend to regard 'endemic' diseases as just being the opposite of 'epidemic' diseases, which are by their nature much more eye-catching (as we see now)," Skinner said. "So which would you, or the reader, choose?"
Centers for Disease Control and Prevention Advice on Using Face Coverings to Slow Spread of COVID-19
CDC recommends wearing a cloth face covering in public where social distancing measures are difficult to maintain.
A simple cloth face covering can help slow the spread of the virus by those infected and by those who do not exhibit symptoms.
Cloth face coverings can be fashioned from household items. Guides are offered by the CDC. (https://www.cdc.gov/coronavirus/2019-ncov/prevent-getting-sick/diy-cloth-face-coverings.html)
Cloth face coverings should be washed regularly. A washing machine will suffice.
Practice safe removal of face coverings by not touching eyes, nose, and mouth, and wash hands immediately after removing the covering.
World Health Organization advice for avoiding spread of coronavirus disease (COVID-19)
Hygiene advice
Clean hands frequently with soap and water, or alcohol-based hand rub.
Wash hands after coughing or sneezing; when caring for the sick; before, during and after food preparation; before eating; after using the toilet; when hands are visibly dirty; and after handling animals or waste.
Maintain at least 1 meter (3 feet) distance from anyone who is coughing or sneezing.
Avoid touching your hands, nose and mouth. Do not spit in public.
Cover your mouth and nose with a tissue or bent elbow when coughing or sneezing. Discard the tissue immediately and clean your hands.
Medical advice
Avoid close contact with others if you have any symptoms.
Stay at home if you feel unwell, even with mild symptoms such as headache and runny nose, to avoid potential spread of the disease to medical facilities and other people.
If you develop serious symptoms (fever, cough, difficulty breathing) seek medical care early and contact local health authorities in advance.
Note any recent contact with others and travel details to provide to authorities who can trace and prevent spread of the disease.
Stay up to date on COVID-19 developments issued by health authorities and follow their guidance.
Mask and glove usage
Healthy individuals only need to wear a mask if taking care of a sick person.
Wear a mask if you are coughing or sneezing.
Masks are effective when used in combination with frequent hand cleaning.
Do not touch the mask while wearing it. Clean hands if you touch the mask.
Learn how to properly put on, remove and dispose of masks. Clean hands after disposing of the mask.
Do not reuse single-use masks.
Regularly washing bare hands is more effective against catching COVID-19 than wearing rubber gloves.
The COVID-19 virus can still be picked up on rubber gloves and transmitted by touching your face.