Coronavirus Could Spread Through Pipes in Buildings, Officials Fear
Over 100residents have been evacuated from an apartment building in Hong Kong after two people fell ill with the deadly new coronavirus, stoking fears 2019-nCoV could be spread through pipes.
Hong Kong's Centre for Health Protection said the two sick people lived on separate floors at Hong Mei House on the Cheung Hong Estate in the New Territories area of Hong Kong,The New York Times reported.
Residents were removed from the building after an unsealed pipe was found in the bathroom of one of the patients. The unnamed 62-year-old woman lives 10 floors below an occupant who fell ill before her.
Sophia Chan, Hong Kong's health secretary, said four additional tenants living in three separate units had developed coronavirus symptoms.The symptoms of 2019-nCoVinclude a fever, dry cough, shortness of breath, and trouble breathing. Residents were removed from a total of 23 units.
According to the AFP news agency, health officials dressed in masks and white overalls arrived at the 35-story apartment block, home to 3,000 people, in the early hours of Tuesday morning. The 35 flats were linked by the same drainage system.
The residents were relocated as a precautionary measure, AFP reported officials saying. Wong Ka-hing of the Centre for Health Protection told journalists: "We are not sure what was the exact route of transmission.
"It could still be through the usual method of droplets or contact."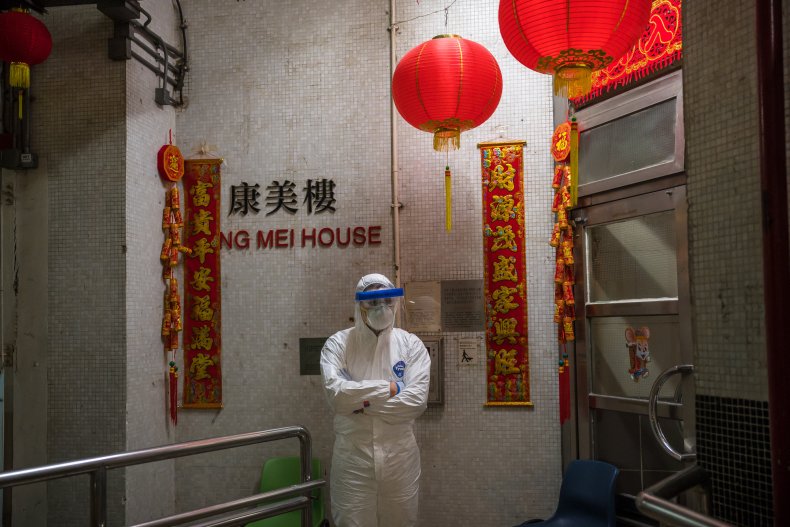 One resident who identified herself only as Chan told the news agency: "Of course I'm scared.
"I live with my son, daughter-in-law, grandchildren and my husband. We seldom go out already because we don't have enough masks. I don't allow my grandchildren to play in the hallway. Now we can't even stay at home."
Hong Kong's government has launched an investigation into the pipes in the building, The Guardian reported.
The incident has echoes of the 2003 outbreak of SARS, also a form of coronavirus, where 42 residents died after 329 occupants of a housing estate in the city caught the bug through faulty piping.
However, The New York Times reported that Frank Chan, Hong Kong's secretary for transport and housing, said the 2019-nCoV cases at Hong Mei House weren't comparable as the pipes were outside the building during the SARS outbreak, and that virus was airborne. As 2019-nCoV is so new,the routes of transmission are as yet unknown.
The new coronavirus first came to the attention of the authorities late last year when workers at a wholesale seafood market in the central Chinese city of Wuhan, Hubei started falling ill. Since then,it has killed 1,018 people in 43,112 cases including 42 in Hong Kong.The virus has spread to over 25 countries and territories, including the U.S., as shown in the infographic below by Statista. It has not been reported in Africa or South America.