Coronavirus Could Spread in U.S. Because People May Be Put Off by Cost of Testing and Treatment, Doctor Warns
A doctor has told Newsweek he is "very worried" that the cost of healthcare in the U.S. will stand in the way of people seeking treatment for the deadly new coronavirus.
Asked if he is concerned that medical bills may be prohibitive to some people, and if this could in turn help the new coronavirus spread, Dr. Karan Chhabra of the University of Michigan Institute for Healthcare Policy and Innovation said: "I'm very worried that people will hesitate to get tested and treated due to cost."
Chhabra, an expert in the affordability of healthcare and a resident at Brigham and Women's Hospital, warned: "This is most likely to happen to the uninsured and the 'underinsured'—people who have insurance, but are in such weak plans that they're not actually protected from their healthcare costs."
Chhabra asked in a tweet over the weekend: "If I'm uninsured or underinsured, why would I risk going broke to get tested for COVID19? Safer to stay home (or even go to work) & hope for the best. Policymakers need to align incentives for people to do the right thing."
Newsweek subscription offers >
According to a U.S. Census Bureau report published in November last year, 27.5 million people did not have health insurance at any point during 2018. A similarly worrying 2019 report by the Kaiser Family Foundation showed 26 percent of adults in the U.S. had put off or postponed getting the health care they needed due to the cost.
Newsweek subscription offers >
The U.S. Centers for Disease Control and Prevention found that in 2018 some 14.2 percent of individuals in the U.S. were in families struggling to pay medical bills, with uninsured people under the age of 65 more likely than those with Medicaid or private coverage to face such issues.
Chhabra told Newsweek: "Patients with high-deductible health plans, [where the monthly premium is lower but individuals must pay more costs before the insurance company pays its share] especially the short-term 'junk' plans that the Trump administration has actually expanded, are particularly vulnerable" to avoiding seeking professional help over COVID-19.
Following criticism over problems with lab tests for COVID-19 in the U.S. which prompted the health secretary to announce that a further 75,000 people can be screened by the CDC for free, Chhabra said that, for instance, if healthcare workers can't access lab tests patients may be billed $1,000—or more depending on their insurance plans—if CT scans are used instead.
"Given how high patients' deductibles are getting, this early in the year they may be expected [to pay] the full amount. But this very much depends on their insurance plan," he said.
Uninsured or out-of-network patients diagnosed with COVID-19 could then go on to pay $1,151 if they have a high severity and threat ER visit, dropping to $443 to those who are insured according to data obtained by Business Insider from the healthcare cost database FAIR Health.
A 40 minute outpatient visit could cost $327 for the uninsured or out-of-network, or $161 for the insured, with a flu test setting patients back $43 or $16 respectively.
Chhabra pointed to the case of a man in Miami who said his insurance company sent him a claim for $3,270, after he was tested for the flu amid fears he had coronavirus.
Osmel Martinez Azcue came down with flu-like symptoms after returning to Miami from a work trip in China last month, The Miami Herald reported. He alerted staff at the hospital that he feared he had coronavirus, but first asked for a flu test.
Officials at Jackson Memorial Hospital told The Miami Herald that Azcue is expected to pay $1,400, but the patient said he was required to provide three years of documentation to prove the condition wasn't linked to a pre-existing condition.
The case of a man and his daughter detailed in The New York Times similarly shows the costs that can be incurred for suspected COVID-19 patients. Frank Wucinski, from Pennsylvania, and his 3-year-old daughter Annabel accepted an offer from the U.S. government to be repatriated from Wuhan, the epicentre of the COVID-19 outbreak.
They were quarantined for two weeks at Marine Corps Station Miramar near San Diego, which included two mandatory stops at an isolation ward at a children's hospital. Both father and daughter have tested negative for the COVID-19 virus. But Wucinski later received bills of $3,918 for radiology, an ambulance, and hospital doctors, which the health benefits with his job in China don't cover.
Wucinski told The New York Times: "I assumed it was all being paid for."
The U.S. Centers for Disease Control and Prevention has the power to detain, medically examine, or conditionally release individuals and wildlife suspected of carrying a communicable disease. However, Lawrence Gostin, a professor of global health law at Georgetown University told The New York Times the "there is no uniform practice" for who pays.
However, Jonathan Gruber, professor of economics at MIT and an expert in access to health care and health care outcomes, told Newsweek he was not worried that the cost of healthcare might stop people seeking help for COVID-19. He said screening for conditions such as COVID-19 is free or inexpensive for most Americans if they visit a doctor, not a hospital, under the Affordable Care Act, and the out-of-pocket limit is $6,900.
"This guy's mistake was going to the hospital," Gruber said of Azcue. "The test would be cheap or free at doctors office or clinic."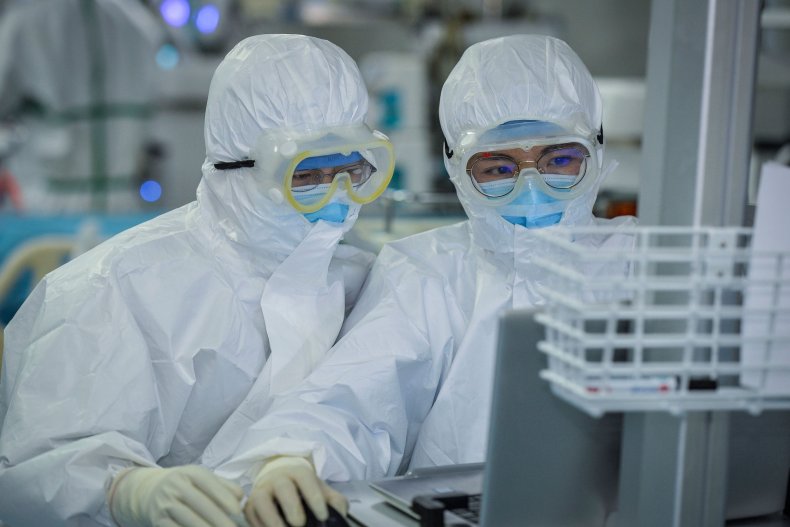 Coronavirus Could Spread in U.S. Because People May Be Put Off by Cost of Testing and Treatment, Doctor Warns | Health