U.S. Coronavirus Response and Testing Kit Problems Present a 'Colossal Failure,' Warns Doctor
A doctor has described the U.S. response to the outbreak of the deadly new coronavirus as a "colossal failure" after a COVID-19 case in California highlighted problems with testing.
Infectious disease doctor Dr. Matthew McCarthy made the comments on MSNBC's The Last Word after it emerged the first COVID-19 patient in the U.S. believed to have caught the virus in the community wasn't tested immediately for it because she didn't fit certain criteria—she hadn't been to China and hadn't been in contact with an infected person.
McCarthy said: "What we're seeing is just a colossal failure. The CDC [Centers for Disease Control and Prevention] created tests, sent them to all 50 states and then after they arrived they said 'oh wait a minute the tests are flawed don't use them.' And we have been beating the drum begging for new tests for weeks."
During a news conference on Thursday, California Gov. Gavin Newsom said the state has "just a few hundred testing kits and that's surveillance testing as well as diagnostic testing. That's simply inadequate to do justice to the kind of testing that is required to address this issue head-on."
This came on top of existing problems earlier this month that meant testing kits weren't performing as expected, according to Dr. Nancy Messonnier, who directs the CDC's National Center for Immunization and Respiratory Diseases.
Referring to John Garamendi, congressman for California's 3rd Congressional District—which includes Sacramento County where the patient was being treated—McCarthy said: "And you see what's happening in the congressman's district. Patient's lives are at risk. This woman is clinging to life because doctors wanted to test her and they couldn't."
On Thursday, the CDC said it would expand its requirements for who could be tested for COVID-19, which has killed over 2,800 people in over 83,000 cases, predominantly in mainland China. So far, 60 cases have been confirmed in the U.S, as show in the map by Statista below. The director of the national public health institute, Dr. Robert Redfield, told a House of Representatives subcommittee on Thursday: "We revised our case definition for persons under investigation and today that has been posted along with a new health advisory.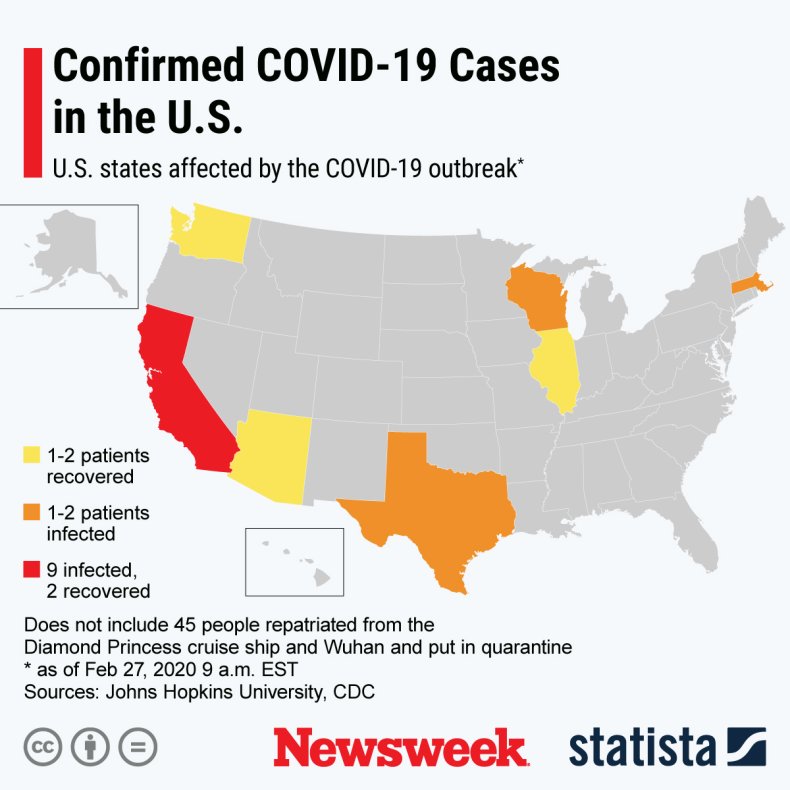 "When a clinician or public health individual suspects coronavirus then we should be able to get a test for coronavirus," he said.
McCarthy also called on Vice President Mike Pence to show leadership over the outbreak⁠—after President Donald Trump appointed him to lead the White House Coronavirus Task Force⁠—and expressed concern over reports that the White House wants to control messaging by health officials and scientists on COVID-19. A number of unidentified officials told the New York Times the White House asked government health officials and scientists to coordinate with Pence's office when making public statements about the virus.
"Trump created a chain of command and now this is Mike Pence's job. And Americans are going to live or die based on the decisions he makes," McCarthy said.
He went on: "The first decision he made today, which was to censor government experts, people like [NIAID director] Tony Fauci, this was a colossal error. We need to be hearing from scientists and we need to be hearing from doctors standing at podiums, unfiltered, telling us the truth about what's really happening.
"Patients across the country and around the world are at risk because we don't know the full scope of the problem. This is something that the whole world is watching. And I'll say that Donald Trump appointed Mike Pence the leader here, well we need some leadership."
In regards to the faulty tests, on Thursday, health secretary Alex Azar Secretary said in an opening statement to the House Ways and Means Committee that "at least 40 public health laboratories should now be able to test using modified existing CDC test kits.
"In addition, a newly manufactured CDC test can be sent to 93 public health labs as soon as Monday, and there is a privately manufactured test based on the new CDC test that can be sent to those same labs as soon as tomorrow, pending FDA clearance," he said.
However, Association of Public Health Laboratories CEO Scott Becker told BuzzFeed News the estimate doesn't account for the days it will take to ensure the reconfigured tests give valid results.
"This is not like flipping a switch," Becker said. "These labs have to make absolutely certain that these tests are accurate and safe for the public."
This article has been updated with a map.