The first patient in the U.S. to catch the new coronavirus without a known link to the outbreak's epicenter or another sick person wasn't tested for the deadly disease known as COVID-19 for days.
The individual from Solano County who was diagnosed with COVID-19 on Wednesday is being treated in Sacramento County, the California Department of Public Health said. The U.S. Centers for Disease Control and Prevention (CDC) said this could mark the first example of what is known as community spread in the U.S.—where a patient gets sick despite having no known exposure to the bug through travel or close contact with an infected individual.
The CDC explained in a statement: "Community spread means spread of an illness for which the source of infection is unknown. It's also possible, however, that the patient may have been exposed to a returned traveler who was infected."
An internal memo from UC Davis Health—which runs the hospital where the patient is being treated—sent on Wednesday and obtained by The Sacramento Bee, reportedly stated the patient was moved to UC Davis Medical Center on February 19.
UC Davis Medical Center later told CBS San Francisco the patient was transferred there from another Northern California hospital on February 19. The patient was already intubated, on a ventilator and put under droplet protection orders due to an "undiagnosed and suspected viral condition."
A number of employees who came into contact with the patient were asked to isolate themselves "out of abundance of caution," The Sacramento Bee reported citing the memo from David Lubarsky, vice chancellor of Human Health Sciences and CEO of UC Davis Health, and Brad Simmons, interim CEO and chief operating officer for UC Davis Medical Center.
The institution shared the letter it sent to UC Davis Health employees on its website, which didn't include the date of February 19 reported.
The letter stated the patient arrived "with a suspected viral infection" and care teams had taken "proper" precautions to prevent the spread of infection. It was not clear which hospital the patient had originally come from.
"Upon admission, our team asked public health officials if this case could be COVID-19. We requested COVID-19 testing by the CDC, since neither Sacramento County nor the California Department of Public Health is doing testing for coronavirus at this time. Since the patient did not fit the existing CDC criteria for COVID-19, a test was not immediately administered. UC Davis Health does not control the testing process," the letter read. Currently, positive COVID-19 test results must be confirmed by the CDC headquarters in Atlanta.
According to the letter, the CDC ordered the patient be tested for COVID-19 on Sunday, February 23. "The patient was put on airborne precautions and strict contact precautions, because of our concerns about the patient's condition. Today the CDC confirmed the patient's test was positive," the memo stated.
"This is not the first COVID-19 patient we have treated, and because of the precautions we have had in place since this patient's arrival, we believe there has been minimal potential for exposure here at UC Davis Medical Center," it went on.
The facility is handling the disease in the same way as it would others that require "airborne precautions and monitoring," such as TB or pertussis, it said.
As such, a "small number" of employees have been asked to stay at home and monitor their temperature.
"As we regularly handle patients with infectious diseases, we have robust infection control protocols in place to handle this patient and others with more frequently seen infectious diseases," the statement read.
UC Davis did not immediately respond to a request for comment from Newsweek.
Dr. Dean Blumberg, a UC Davis infectious disease expert, told CBS San Francisco: "There are probably other cases out there in the community that we don't know about."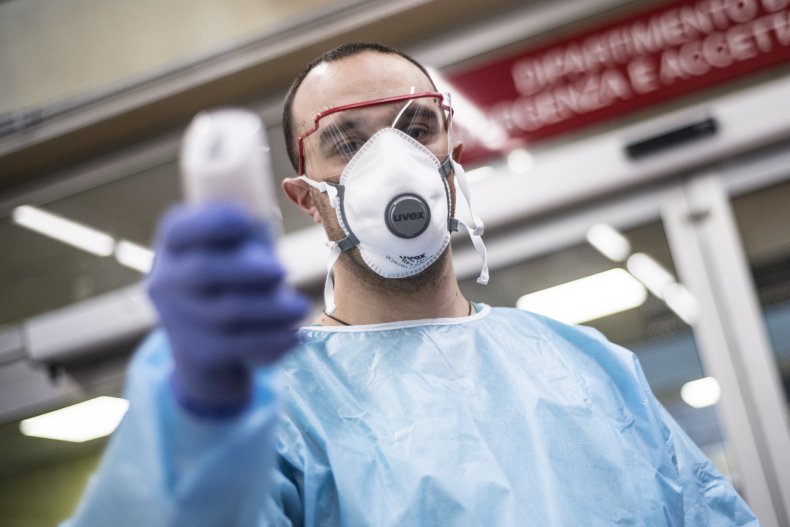 John Garamendi, congressman for California's 3rd Congressional District which includes Sacramento County, urged members of the public to take steps to protect themselves against COVID-19.
"I am aware of reports that a Solano County resident has tested positive for COVID-19 strain of Coronavirus. I am in close contact with the U.S. Centers for Disease Control and the State of California and will pass along any updates as they become available," he tweeted on Wednesday.
"We all have the responsibility to protect ourselves and others by washing our hands and carrying out procedures to avoid infecting ourselves and others. Please monitor CDC's website and Facebook for further information."
On Tuesday, Dr. Nancy Messonnier, director of the National Center of Immunization and Respiratory Diseases, told reporters of the prospect of a COVID-19 outbreak in the U.S.: "it's not so much of a question of if this will happen anymore but rather more a question of exactly when this will happen.
"We are asking the American public to work with us to prepare in the expectation that this could be bad," she said.
Appearing to contradict Messonnier, President Donald Trump told reporters on Wednesday that he did not feel it was inevitable that COVID-19 would spread in the U.S..
The U.S. now has 60 confirmed cases of COVID-19, which has killed over 2,800 people worldwide, predominantly in the province in mainland China where it is thought to have emerged. Of the 82,168 known cases, 78,497 have been in mainland China. As shown in the map by Statista below, the virus has spread to over 40 countries and territories, with hotspots in Italy, South Korea, and Iran.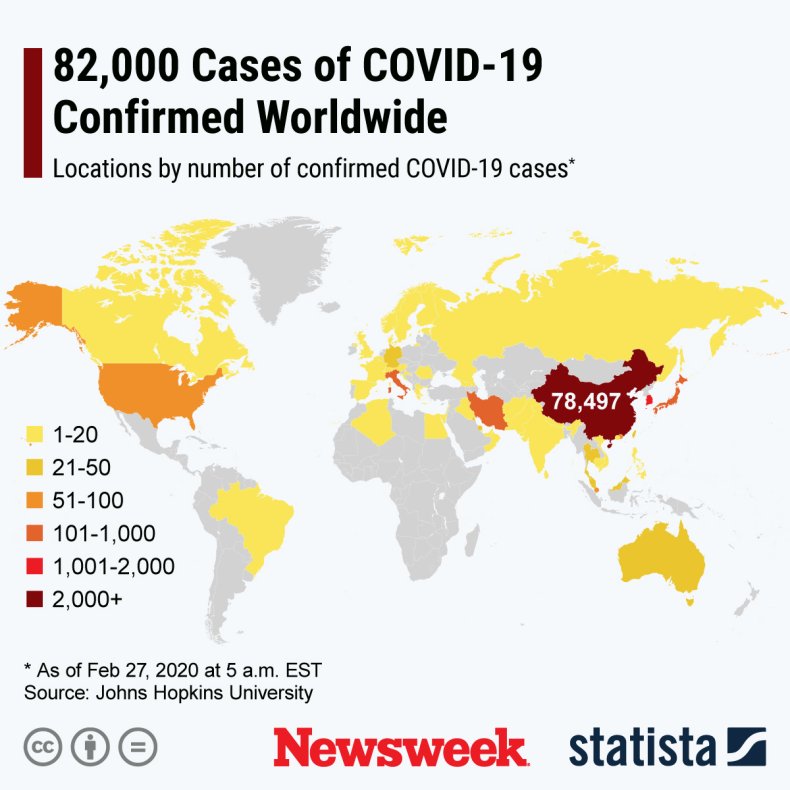 The map in this article has been updated.
Uncommon Knowledge
Newsweek is committed to challenging conventional wisdom and finding connections in the search for common ground.
Newsweek is committed to challenging conventional wisdom and finding connections in the search for common ground.
About the writer
Kashmira Gander is Deputy Science Editor at Newsweek. Her interests include health, gender, LGBTQIA+ issues, human rights, subcultures, music, and lifestyle. Her work has also been published in the The Independent, The Independent on Sunday, The i Newspaper, the London Evening Standard and International Business Times UK.