Keyword combinations about COVID-19 have been censored on China's most popular chat app since the beginning of the outbreak last December, analysis has revealed.
Terms critical of China's government, information tied to the spread of the disease and references to the official handling of the situation have all been included in a keyword blacklist imposed on the mobile software, researchers from the University of Toronto's Citizen Lab have revealed.
COVID-19, which is a respiratory disease caused by a new form of coronavirus, has now resulted in more than 93,000 confirmed infections and 3,100 deaths globally.
Citizen Lab found 516 WeChat keyword combinations linked to COVID-19 had been censored. Live-streaming service YY had also been limiting the spread of news.
"Our findings show that information on COVID-19 is being tightly controlled on Chinese social media," the researchers wrote in the report published Tuesday, which spanned between January 1 and February 15. "Censorship of COVID-19 content started at early stages of the outbreak and continued to expand blocking a wide range of speech, from criticism of the government to officially sanctioned facts and information."
China is known to maintain a very tight grip on how citizens can use the internet, and it relies on a network of surveillance systems and big data to stifle dissent and monitor content.
WeChat appears to censor user messages in China based on whether they contain combinations of blacklisted terms. Citizen Lab translated those combinations into English for its latest report.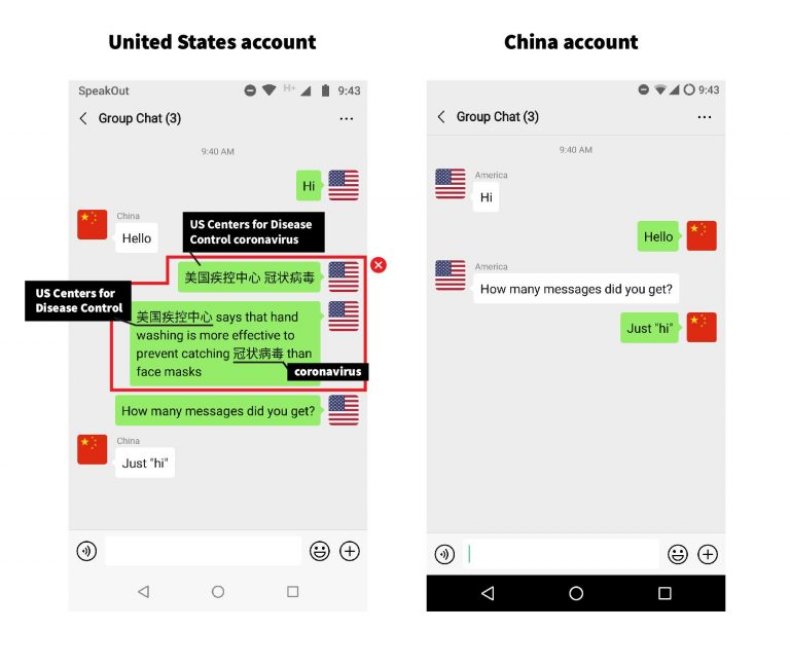 Researchers said the scope of WeChat censorship expanded further last month, as COVID-19 was spreading across the world, causing a rising death toll and economic disruption.
The blacklist was designed to silence references to Dr. Li Wenliang, who died from the virus after trying to share early warnings about the outbreak, Citizen Lab said. Before his death, Li was accused by police of "making false comments" they claimed had "severely disturbed the social order."
A total of 19 censored keyword combinations were about the medical professional, whose death fueled a wave of public backlash against the authorities on social media.
More than 190 keyword combinations referenced China's leadership—the majority about Xi Jinping. Analysis said at least 130 terms referenced government policies and its handling of the disease.
"At least one Chinese social media platform began blocking COVID-19 content three weeks before [the] official announcement, which strongly suggests that social media companies came under government pressure to censor information at early stages of the outbreak," the team wrote.
---
Keyword WeChat combinations censored about leadership:
Xi Jinping goes to Wuhan
Epidemic + Pneumonia + Xi Jinping + Central
Xi Jinping + Epidemic spread
Keyword WeChat combinations censored about policy:
Criticize China + During two annual meetings + Cover-up
Wuhan + CCP + Crisis + Beijing
Communist Party + Pneumonia + Demonstrate + Rule
Lockdown of a city + Military
US Centers for Disease Control + Coronavirus
Keyword WeChat combinations censored about speculation:
Wuhan pneumonia epidemic out of control
Death case + Pneumonia + Death toll
Poisonous City + Wuhan
Wuhan + Infection + Tens of thousands
---
WeChat, owned by Tencent, has more than one billion monthly active users. It censors content server-side, meaning messages are essentially judged as they pass through a company server. Tencent, one of the world's biggest tech companies, has been contacted for comment.
Discussing potential reasons for the blacklist, Citizen Lab said content may have been restricted to help officials "control the narrative" and "manage public sentiment."
It stated: "Since the outbreak, government officials and Party leaders have been stressing the importance of 'public opinion guidance' and 'leadership over news and propaganda."
"Limiting the dissemination of speculative information about the disease may be an attempt to reduce public fear, for example," the researchers continued.
"On the other hand, censoring keywords critical of central leadership and government actors may be an effort to avoid embarrassment and maintain a positive image of the government."
The latest health and safety information about the COVID-19 outbreak is available online via the U.S. Centers for Disease Control and Prevention (CDC) and the World Health Organization (WHO).