COVID Outbreak on Ferry Leaves Nearly 400 People Stranded
Six crew members tested positive for COVID-19 on a Stena Line ferry traveling to Belfast, Northern Ireland, leaving the ship's 322 passengers and all 53 workers stranded overnight on Tuesday.
They were held on board near the town of Birkenhead, on the bank of the River Mersey, just opposite the city of Liverpool, in northwest England.
A spokesperson for the ferry company said: "Stena Line can confirm that six members of the crew of the Stena Edda have tested positive for COVID-19 last night. In line with our safety protocols we alerted the Port Health Authorities, who advised us to hold the vessel in Birkenhead as a precaution."
The crew members who tested positive were reported to be "doing well, with only mild symptoms," while 15 close contacts were identified and were reported to be self-isolating.
"Stena Line is liaising closely with public health authorities on this matter who have advised us that we should disembark the vessel in Birkenhead," the spokesperson said.
All crew members are being tested for the virus, while all passengers have disembarked the ship and will travel to Belfast on another ferry, according to the cruise line.
"The welfare of our passengers and crew is paramount at this time. The passengers are being catered for and we will assist them with alternative travel arrangements," the Stena Line spokesperson added.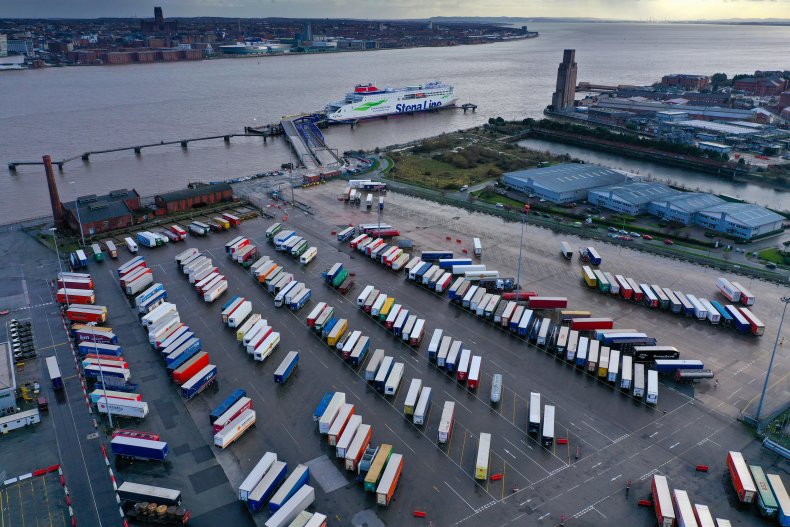 Several COVID-19 outbreaks have been reported on cruises since the earlier stages of the pandemic. Among the first was aboard the Diamond Princess vessel from Princess Cruises in February, which was quarantined at sea in Japan at the time.
The ship was carrying a total of 3,711 people, including 2,666 passengers and 1,045 crew members. A total of 696 COVID-19 cases were reported from this ship, as of March 8, according to the U.S. Centers for Disease Control and Prevention (CDC).
Last month, a cruise passenger tested positive aboard a SeaDream Yacht Club vessel, which embarked on the first Caribbean sailing since cruises were paused due to the pandemic.
The ship was understood to have 53 passengers, including 37 Americans, and 66 crew members. The vessel was docked at Union Island and visited St. Vincent, Canouan and the Tobago Cays.
Back in March, the CDC issued a No Sail Order for cruise ships effective from March 14, which suspended cruise operations in the U.S. The order was expanded through late September and in late October, the CDC issued a "Framework for Conditional Sailing Order," stating it would "take a phased approach to resuming cruise passenger operations in U.S. waters."
In a statement released in late November, the CDC advised: "Outbreaks of infectious diseases can happen on cruise ships because people spend time close together and with travelers from many countries. The current scientific evidence suggests that cruise ships pose a greater risk of COVID-19 transmission than other settings because of the high population density onboard ships, which are typically more densely populated than cities or most other living situations.
"While this is one contributing factor, CDC's surveillance data show that drastically decreasing population onboard without additional mitigation measures does not end transmission.
"Other factors likely contributing to onboard transmission are crew living and working in close quarters in a partially enclosed environment where social distancing may prove challenging, even with a limited number of people," the CDC added.
The wider picture
The novel coronavirus has infected more than 73.6 million people, including over 16.7 million in the U.S., since it was first reported in Wuhan, China.
More than 1.6 million people have died worldwide and over 41.7 million have recovered as of Wednesday, according to John Hopkins University.
The graphic below, provided by Statista, shows the countries with the highest COVID-19 death tolls.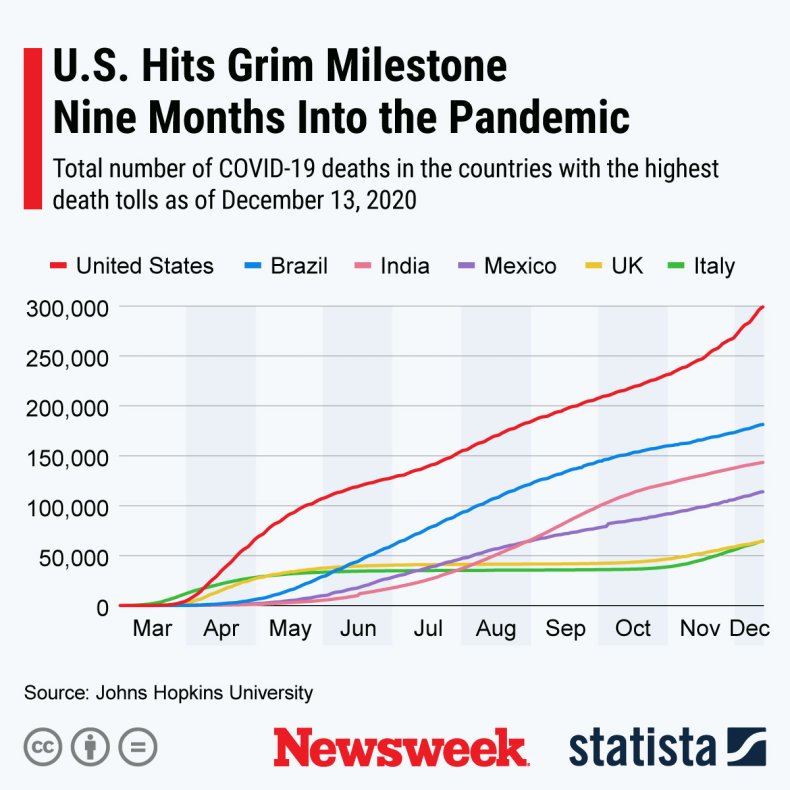 The graphic below, provided by Statista, shows countries with the most COVID-19 cases.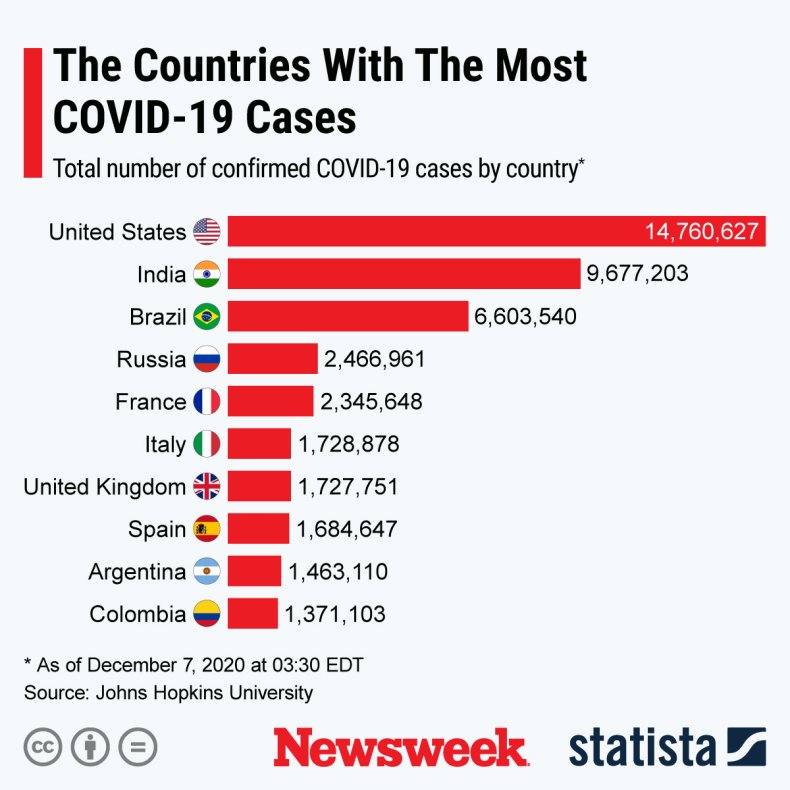 Correction: A previous version of this story said the outbreak took place on a cruise ship.