U.S. Coronavirus Deaths Projected to Be Higher Than Soldiers Killed Fighting in WW2
The U.S. novel coronavirus death toll is predicted to hit 295,011 by December 1, according to the latest projection by the Institute for Health Metrics and Evaluation (IHME) at the University of Washington.
The projected U.S. death toll is larger than the number of Americans who died fighting during the Second World War, which claimed the lives of 291,557 U.S. soldiers, according to the U.S. Department of Veteran Affairs.
The projected death count is nearly double the country's current death toll, which stands at 160,104, according to the latest report Friday by Johns Hopkins University.
Total COVID-19 fatalities are predicted to reach 295,011 if mandates, such as social distancing requirements and other restrictions, are reimposed for six weeks whenever the daily death toll hits eight per one million people (0.8 per 100,000 people), according to the IHME.
The death count is expected to climb to 391,723 if mandates are eased and not reintroduced at any point, marking a projected death toll that is 33 percent higher than it would be if restrictions were issued, according to the IHME.
However, the institute notes with "95 percent mask usage in public in every location," and with mandates reissued for six weeks when daily deaths reach eight per million people, the U.S. death count is predicted to be at 228,271 by December 1.
Average daily new deaths in the country have been climbing since around late March. The seven-day rolling average of daily new deaths rose on a sharper incline from March 21 to April 21, when the average peaked at 2,256. From then, the figure mostly declined until July 5, when it dipped to a low of 521, according to data compiled by Worldometer.
For the rest of July, the seven-day average of daily new fatalities increased every day through August 2, when it reached 1,129. It dropped to 1,070 by August 6, according to Worldometer.
As of Friday, 27 states have reported 1,000 or more COVID-19 deaths to date. The U.S. has the 10th highest death rate in the world, reporting 48.37 deaths per 100,000 people, overtaking that of Canada, Mexico and Brazil in the Americas as well as France and The Netherlands in Europe, according to data compiled by Johns Hopkins University.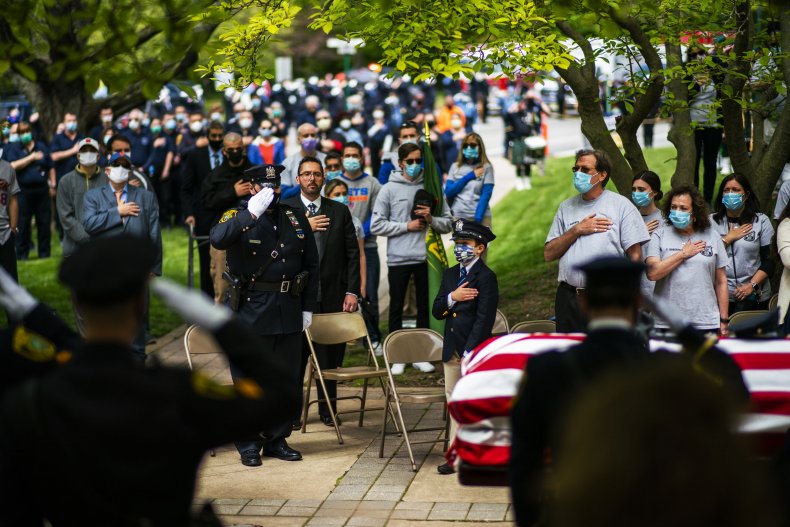 More than 19.1 million people globally have been infected since the virus was first reported in Wuhan, China, including more than 4.8 million in the U.S. More than 11.5 million globally have reportedly recovered from infection, while over 715,100 have died, as of Friday.
The graphics below, provided by Statista, illustrate the spread of COVID-19 cases in the U.S.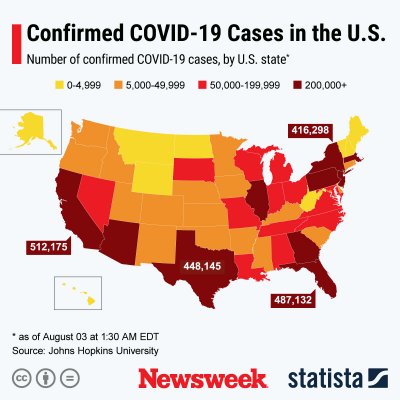 The graphic below, provided by Statista, illustrates the countries with the most COVID-19 cases.