Coronavirus Death Rate Could Be Way Lower Than Previously Thought, Scientists Say
The death rate of the new coronavirus may be lower than previously thought, according to one of the latest studies on the COVID-19 pandemic.
Since an outbreak started in China in late 2019, 800,000 plus cases of COVID-19 have been confirmed, over 39,000 people have died, and more than 172,600 have recovered according to Johns Hopkins University and indicated in the Statista map below.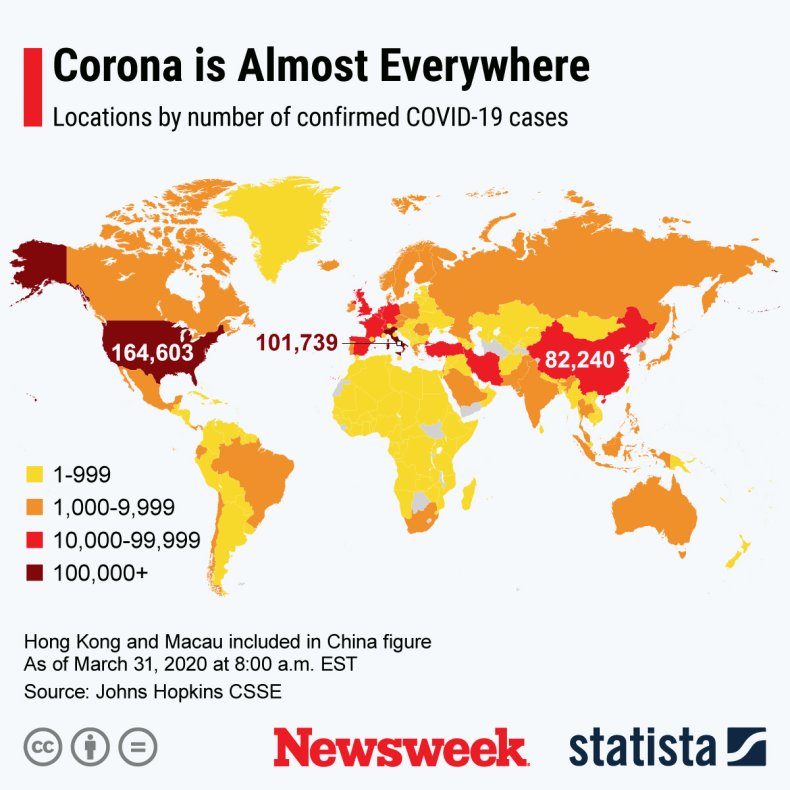 The authors of the paper published in the journal The Lancet Infectious Disease put what is known as the case fatality ratio of COVID-19 in China as 1.38 percent. "Estimates of case fatality ratio from international cases stratified by age were consistent with those from China," the team wrote.
The case fatality ratio is calculated by dividing the number of deaths by the total number of people infected to find case fatality rates, and comparing two outcomes to arrive at one number. For instance, the case fatality rate of any given disease would be 10 percent if 100 people die out of 1,000 people infected by any given disease.
As such, the death rate of a disease is changeable, and depends on a variety of factors. These include the location of an outbreak, the health status of the infected person, and how much data has been accurately collected on the cases and deaths caused by the disease.
The infection fatality ratio, or portion of all those infected and accounting for unreported cases who die, is thought to be 0.66 percent.
The team also estimated that, on average, people are either discharged from hospital 24.7 days after their symptoms appear, or die after 17.8 days.
As shown in previous studies, the team said: "These early estimates give an indication of the fatality ratio across the spectrum of COVID-19 disease and show a strong age gradient in risk of death." For newborn babies to nine-year-olds, the rate was 0.0016 percent, but spiked to 7.8 percent in those aged 80 and above.
The paper showed similar associations between age and hospitalization. While no patients aged 0 to 9 and 0.04 percent of 10 to 19-year-olds had symptoms serious enough to need hospital treatment, the percentage hit 11.8 for those in their 60s; 16.6 percent in their 70s, and 18.4 percent for those 80 and over.
The researchers looked at a range of data, including 3,665 cases from mainland China, to estimate rates of hospitalization, and on 24 people who died of COVID-19 in mainland China and 165 people who recovered outside of China to arrive at the average time it takes a person to die or be discharged from hospital. Based on 70,117 patients from mainland China and 1,334 that were international, they estimated the case fatality ratio.
Past studies cited by the authors found death rates can range from 2 percent to 8 percent, and estimate an infection fatality ratio of between 0.2 and 1.6 percent, which can be as high as 8 to 36 percent in those aged 80 and over. But, the authors explained, previous research had not adjusted for those without the disease.
Earlier this month, the World Health Organization's director-general told a media briefing on COVID-19 that globally "about 3.4 percent of reported COVID-19 cases have died. By comparison, seasonal flu generally kills far fewer than 1 percent of those infected." In contrast, Ebola has had a fatality rate between 25 percent to 90 percent depending on the outbreak; while SARS and MERS—also part of the large coronavirus family of viruses that now includes COVID-19's bug—have mortality rates of around 10 percent and 35 percent, respectively.
Professor Azra Ghani, chair in infectious disease epidemiology at Imperial College London, said in a statement: "Our estimates can be applied to any country to inform decisions around the best containment policies for COVID-19.
"There might be outlying cases that get a lot of media attention, but our analysis very clearly shows that at aged 50 and over, hospitalization is much more likely than in those under 50, and a greater proportion of cases are likely to be fatal."
World Health Organization advice for avoiding spread of coronavirus disease (COVID-19)
Hygiene advice
Clean hands frequently with soap and water, or alcohol-based hand rub.
Wash hands after coughing or sneezing; when caring for the sick; before, during and after food preparation; before eating; after using the toilet; when hands are visibly dirty; and after handling animals or waste.
Maintain at least 1 meter (3 feet) distance from anyone who is coughing or sneezing.
Avoid touching your hands, nose and mouth. Do not spit in public.
Cover your mouth and nose with a tissue or bent elbow when coughing or sneezing. Discard the tissue immediately and clean your hands.
Medical advice
Avoid close contact with others if you have any symptoms.
Stay at home if you feel unwell, even with mild symptoms such as headache and runny nose, to avoid potential spread of the disease to medical facilities and other people.
If you develop serious symptoms (fever, cough, difficulty breathing) seek medical care early and contact local health authorities in advance.
Note any recent contact with others and travel details to provide to authorities who can trace and prevent spread of the disease.
Stay up to date on COVID-19 developments issued by health authorities and follow their guidance.
Mask and glove usage
Healthy individuals only need to wear a mask if taking care of a sick person.
Wear a mask if you are coughing or sneezing.
Masks are effective when used in combination with frequent hand cleaning.
Do not touch the mask while wearing it. Clean hands if you touch the mask.
Learn how to properly put on, remove and dispose of masks. Clean hands after disposing of the mask.
Do not reuse single-use masks.
Regularly washing bare hands is more effective against catching COVID-19 than wearing rubber gloves.
The COVID-19 virus can still be picked up on rubber gloves and transmitted by touching your face.