Coronavirus Deaths Set to Spike in Coming Weeks Following Surge in Post-lockdown Cases, Experts Warn
The U.S. may be hit by a spike in COVID-19 deaths in the coming weeks, health experts told Newsweek, as over a dozen states have seen cases surge in recent days.
As the country's first wave of its COVID-19 outbreak continues, cases have been increasing in 27 states over the past 14 days. This has been largely in the south and west, according to CovidExitStrategy.org, a tracking website run by public health and crisis experts. For instance, Hawaii, Arizona, and Florida, have seen their 14-day trend of COVID-19 cases rise by 456, 147 and 129 percent, respectively.
On Sunday, the Washington Post reported the average daily number of new known coronavirus infections had climbed in 21 states compared with the previous week. And calculations by Reuters showed similar patterns, with Alabama reporting a record number of new cases on Sunday for the fourth day in a row, while Alaska, Arizona, Arkansas, California, Florida, North Carolina, Oklahoma and South Carolina had record numbers of new cases over the past three days.
A number of state health officials have tied the spikes to Memorial Day celebrations in late May, Reuters reported. In Texas, hospitalizations rose by 42 percent between Memorial Day weekend and June 10, according to data from the Texas Department of State Health Services. That day, 2,153 people were reported to be hospitalized with COVID-19.
It remains to be seen whether locations where cases are surging will reach a crisis point in terms of hospital capacity, Amanda M. Simanek, associate professor in epidemiology at the Joseph J. Zilber School of Public Health, University of Wisconsin-Milwaukee, told Newsweek.
The virus has killed almost 116,000 people in the U.S., according to Johns Hopkins University. Six months into the COVID-19 pandemic, the U.S. is by far the country with the most known cases of the disease caused by the coronavirus, as the Statista infographics below show.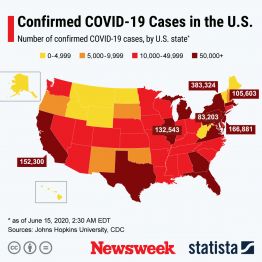 Helen Jenkins, an infectious disease epidemiologist at Boston University School of Public Health, told Newsweek: "I think that we are still fairly early on in this pandemic and so far, we have seen the virus spread very quickly and efficiently in settings where local characteristics facilitate that, for example large cities which are densely populated and have heavily used public transit systems."
New York state, for example, has been particularly badly affected so far, with more than 383,000 confirmed cases, followed by New Jersey at almost 167,000.
"It will take longer for the virus to spread among populations that rely more on cars and are in less densely populated areas," she said. "So I think that we are seeing the effect of this slow spread and it is part of the first wave."
The easing or lack of lockdown measures in these states, some of which were lifted in April, May and June, depending on the location, may have also played a role, health experts said. As outbreaks started to improve in states hit hard early on, such as New York, New Jersey and Washington, the national trends started to look better, Peter Drobac, a physician and specialist in infectious diseases and public health at the Saïd Business School at the University of Oxford, U.K., told Newsweek.
"That gave the illusion that the situation was improving everywhere," he said. "But in reality, the virus was just starting to take hold in much of the country. Early shelter-in-place orders and social distancing delayed the spread somewhat. Unfortunately, many states began to reopen their economies just as new infections were starting to tick up. We are just beginning to see the consequences."
Simanek said many states eased lockdown measures before they had met the right criteria, including by building up the necessary infrastructure. That includes testing and contact tracing capabilities, which she said are "the primary means by which to prevent new cases from leading to wide-scale outbreaks."
The academics told Newsweek they expect death counts to follow the same rising pattern, as it takes time for those who fall sick to become seriously ill and die.
"Across the country, the number of COVID-19 deaths has continued to decline slowly, but we can expect that to change," Drobac said. "With many states seeing sharp increases in new cases and hospitalizations, we can expect to see deaths increase over the next few weeks."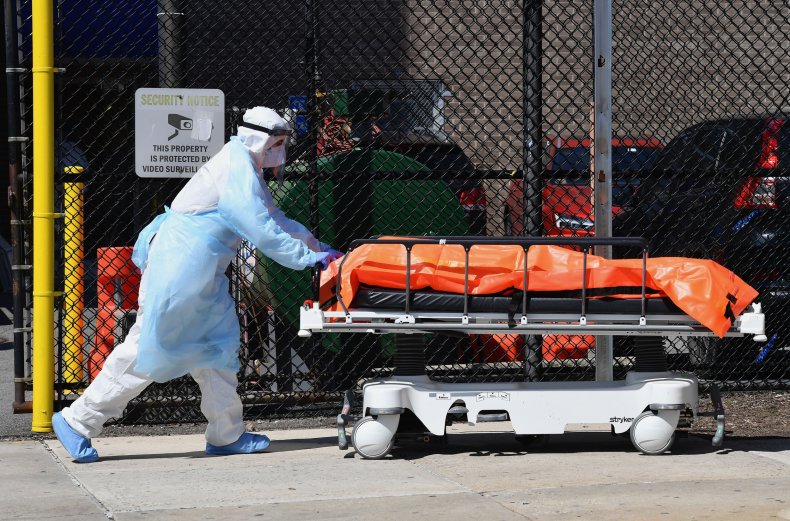 Jenkins said increases in deaths tend to take place around a month after an increase in cases. In the U.S., this means more deaths may not be seen for another couple of weeks. The lag partly depends on when the virus affects the older population in a location, particularly in nursing homes which have been hard-hit in the pandemic, she said.
"The lag time between infections and deaths means that we need to act now—rather than wait for the deaths to start to rise—in those places to reduce transmission and save more lives," said Jenkins.
Some have suggested that the coronavirus is not worsening in the U.S., but rather that as more people are being tested and therefore more cases being counted, adding to the total count. But this argument is not supported by evidence, said Drobac.
What is known as the test positivity rate—the percentage of all tests that come back positive—is a useful indicator of whether trends in reported cases accurately reflect true infection rates, he said. "If your epidemic is under control and the number of cases is flat or decreasing, the test positivity rate will decline as you do more testing. We like to see test positivity rates below 5 percent and ideally much lower than that."
Drobac pointed to Arizona, where social distancing measures have been eased. New cases have spiked by almost 200 percent in the past two weeks and the test positivity rate is nearly 15 percent and rising, according to Drobac. On Friday, there was a record high of new COVID-19 cases in the state at 1,654, and in hospitalizations on Thursday at 1,336, AZ Central reported.
"That suggests that community spread is intensifying, and that a lot of cases are being missed. Alarming increases in hospitalization rates there only underscore the peril," he said.
"I'm extremely concerned that too little is being done to slow the spread of the virus in states where we're seeing surges. Political leaders are waving it away as a statistical anomaly. Many testing, contact tracing and isolation programs are still weak or non-existent. People are tired, anxious, insecure. Local governments are headed towards fiscal cliffs.
"And yet, this is just the beginning of the pandemic."