Donald Trump COVID Update—What President's Physician Has Said About His Condition
President Donald Trump is doing "extremely well" and reported no symptoms on Tuesday following his return to the White House, according to Dr. Sean Conley, the president's physician.
Conley said in a memorandum published Tuesday: "He [Trump] had a restful first night at home and today [Tuesday] he reports no symptoms. Vital signs and physical exam remain stable, with an ambulatory oxygen saturation level of 95 to 97 percent. Overall he continues to do extremely well, I will provide updates as we know more."
Though Trump "may not entirely be out of the woods yet," Conley said at a Monday press briefing, "the president has continued to improve."
Oxygen levels and lung condition
"It's been more than 72 hours since his last fever, oxygen levels, including ambulatory saturations and his work of breathing, are all normal," Conley said Monday.
The president had two episodes where his oxygen levels dropped. For both episodes, "he received a little bit of oxygen and recovered immediately," Conley said.
The oxygen "wasn't required. He wasn't short of breath. He wasn't looking ill. It was more of us trying to anticipate needs and see how he'd respond. In both cases, he came right off. He didn't need it for very long at all," Conley said.
When a reporter at the press briefing Monday asked Conley whether there are concerns about potential worsening or reversal of the president's condition, Conley said: "That's why we remain cautiously optimistic and on guard because we're in a bit of unchartered territory when it comes to a patient that received the therapies he has so early in the course."
When questioned whether Conley had seen any evidence of pneumonia or any inflammation in Trump's lungs, he replied: "We've done routine standard imaging, I'm just not at liberty to discuss.
"There are HIPAA [Health Insurance Portability and Accountability Act] rules and regulations that restrict me in sharing certain things for his safety and his own health and reasons," Conley replied when asked to confirm whether he is actively not disclosing what the president's lung scans showed.
What medication is Trump taking?
Trump has been treated with the steroid drug dexamethasone and the antiviral drug remdesivir. Dexamethasone and remdesivir are both used for COVID-19 patients who require supplemental oxygen, according to the National Institutes of Health (NIH).
When Conley was asked the Monday briefing why Trump began dexamethasone treatment, he said: "We had discussed that as a team and elected to start it [dexamethasone treatment] early in case that persisted or worsened. The potential risks and side effects, we all discussed. We looked at the data and decided that we'd rather, push ahead on it then hold and risk the opposite."
Conley also said: "He [Trump] has not been on any fever-reducing medications for over 72 hours."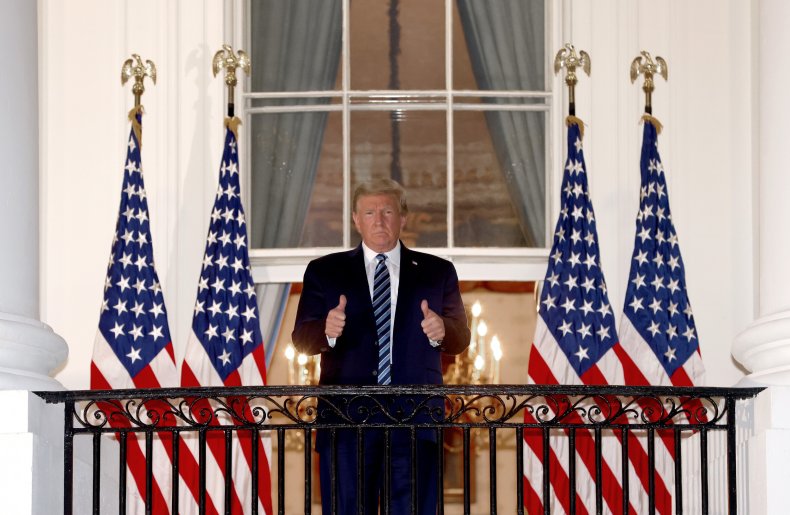 Other organ functions/symptoms
When a reporter asked Monday about the president's heart, liver and kidney function, Conley said: "It's all normal right now. I would say he appeared to be a little dehydrated Friday. He was able to just drink and recover from that. Yeah, everything looks great."
When asked whether Trump had any muscles aches or lost his sense of taste and smell, Conley noted Monday: "Even the slight cough that he used to have, he doesn't really complain of at all. He hasn't ever complained of muscle aches. Yeah, he's up and back to his old self, predominantly."
How long will Trump be 'most likely to shed live virus'?
Before Trump resumes campaigning in the country, Conley said: "The big first thing that we need to do is that there is no evidence of live virus still present that he could possibly transmit to others, and that's what the infectious disease experts and some of our partners, military, civilian entities doing some of these advanced diagnostics just to see, as soon as we can identify that routinely.
"We talk about a 10-day window, CDC [Center for Disease Control and Prevention] guidelines, but we're checking him more routinely than just waiting 10 days. There's a possibility it's earlier than that. There's a chance that it's a little bit later, but we will know as soon as possible. Then we will look at him clinically. How are you feeling? How are you doing?" he said.
When a reporter asked how long the president will be actively shedding the virus, Conley noted: "I believe there was even an accounting by Dr. [Anthony] Fauci referencing a five day, the first five days of illness that people are most likely to shed live virus. There's a reason there's the 10 days. It's because most people, by that time, after seven days, most folks don't have culturable live virus. They put it to 10, just to give some extra space. It's never 100 percent between everybody, so we'll see. I'm not going to put a specific number, but we look at that window is all I will say."
The wider picture
The novel coronavirus has infected more than 35.8 million people across the globe since it was first reported in Wuhan, China, including over 7.5 million in the U.S. More than a million have died following infection, while more than 24.9 million have reportedly recovered as of Wednesday, according to Johns Hopkins University.
The graphic below, provided by Statista, illustrates U.S. states with the most COVID-19 cases.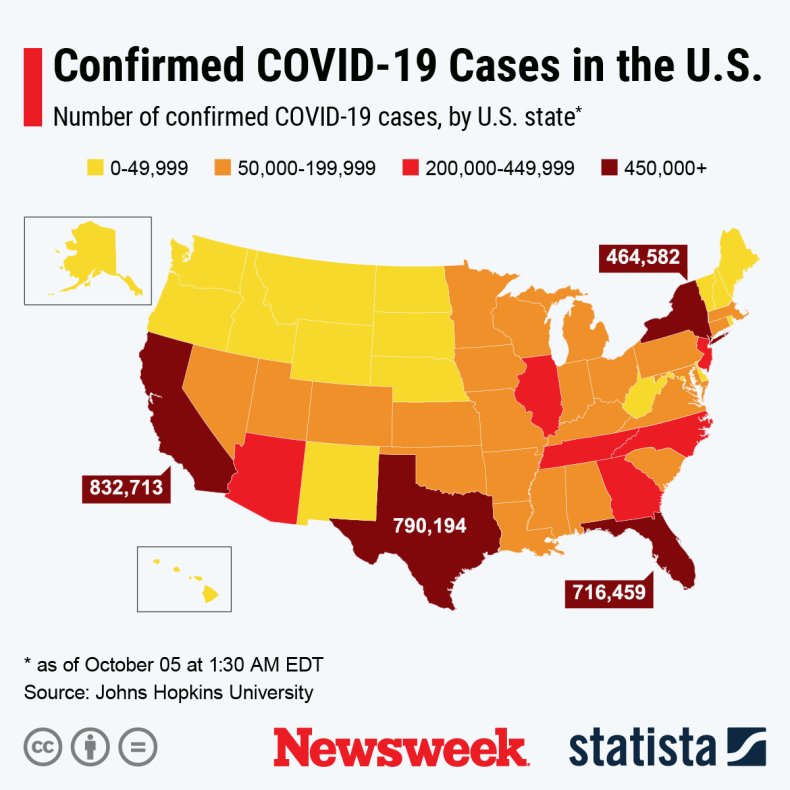 The graphic below, provided by Statista, illustrates a survey of U.S. adults concerned about catching COVID-19.