Biden Leads Trump by 17-Points Over Handling of COVID-19 Pandemic
More voters in the U.S. trust Democratic presidential candidate Joe Biden than President Donald Trump to handle the coronavirus outbreak, according to a new nationwide poll conducted by ABC News and The Washington Post.
The poll showed 55 percent of respondents trust Biden more to handle the COVID-19 pandemic, compared with 38 percent who trust Trump more with the matter.
The telephone poll was conducted in English and Spanish among a random national sample of 879 registered voters, including 725 likely voters, from October 6 to 9.
"In the aftermath of his own COVID-19 diagnosis, two-thirds of registered voters say Trump failed to take appropriate precautions against the virus, 62 percent distrust what he says about it and, eight months since its arrival in the , just 21 percent say it's under control," according to a report of the poll results released Sunday.
The poll indicated 58 percent respondents disapprove of how the president handled the pandemic, a figure which remained "essentially steady since July," the report noted.
A new high of 73 percent of respondents were "worried they or an immediate family member might catch the coronavirus (or say it's already happened)," the report said.
"Worry about the virus remains a significant independent predictor of support for Biden over Trump," the report stated.
However, "nearly twice as many registered voters say the economy is the single most important issue in their vote, 29 percent, as pick the pandemic, 15 percent," the report added.
The margin of error among registered voters for the latest poll was 3.5 points and four points among likely voters.
Among the registered voters, 32 percent were Democrats, 29 percent were Republicans and 34 percent were independents.
Among the likely voters, 35 percent were Democrats, 30 percent were Republicans and 30 percent were independents.
The survey was produced for ABC News by Langer Research Associates of New York, with sampling and data collection by Abt Associates of Rockville, Maryland.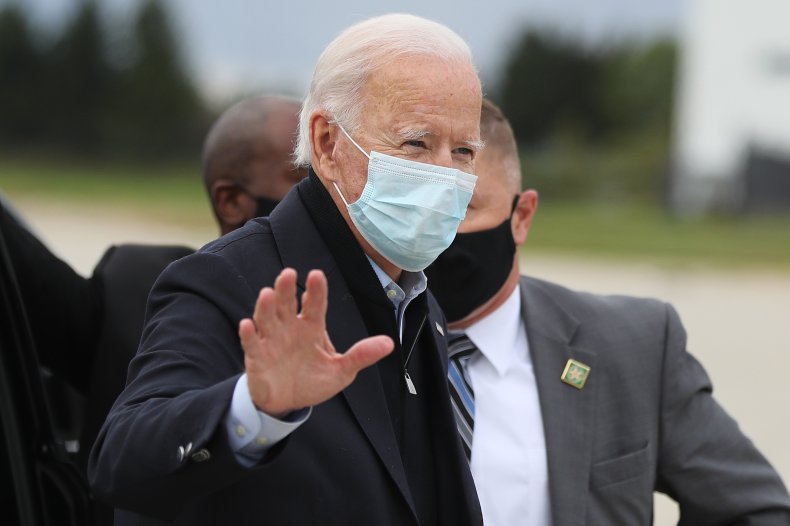 The latest survey follows a recent Baldwin Wallace University Great Lakes poll of likely voters conducted online between September 30 and October 8, which showed Biden to be leading Trump in three of four battleground states.
More respondents said they would vote for Biden than Trump in Michigan, Pennsylvania and Wisconsin if the election was held at the time of the poll, while Trump had the advantage in Ohio, as of Friday.
The poll also showed the former vice president had a higher level of public figure approval than Trump, with around 46 to 51 percent of respondents in each state indicating they had a favorable opinion of Biden. Around 42 to 44 percent in each had a favorable opinion of the president.
Following a recent poll conducted by New Jersey's Monmouth University Polling Institute from September 30 to October 4 with 500 Pennsylvania registered voters, Biden was reported to have a 12-point lead over Trump in Pennsylvania, which is expected to be a key battleground state.
"Overall, 52 percent of Pennsylvania voters trust Biden more to handle the coronavirus pandemic and just 32 percent give the edge to Trump on this issue," according to a report of the poll results published Tuesday.
The wider picture
The novel coronavirus has infected more than 37.2 million people across the globe since it was first reported in Wuhan, China, including over 7.7 million in the U.S. Globally, more than a million have died following infection, while more than 25.9 million have reportedly recovered as of Sunday, according to Johns Hopkins University.
The graphic below, produced by Statista, illustrates a survey of U.S. adults concerned about catching COVID-19.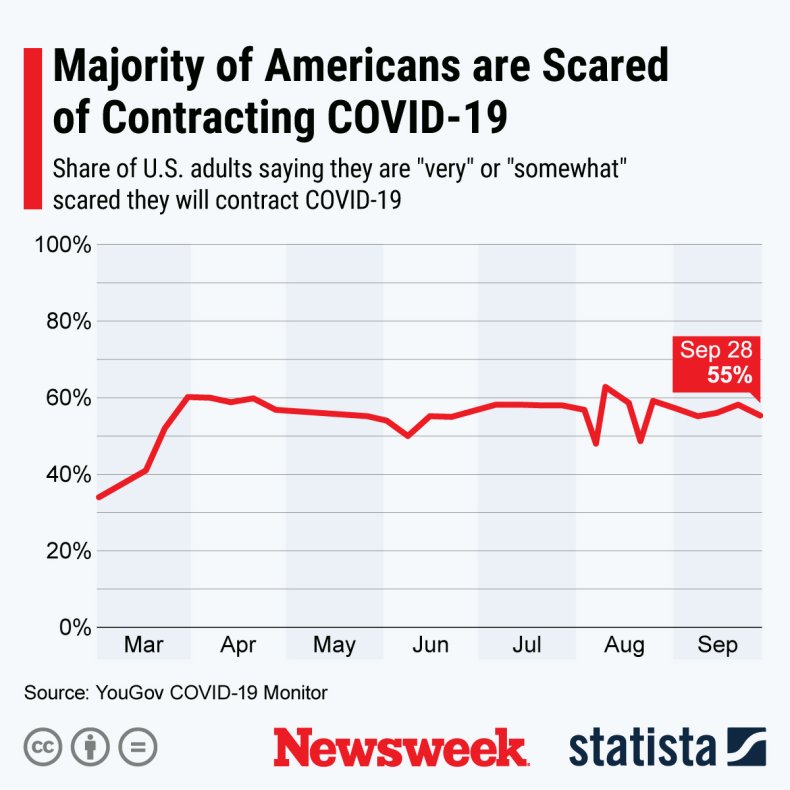 The graphic below, also provided by Statista, illustrates the spread of COVID-19 among U.S. states.