Child With Autism Removed From School After Staff Presume Coughing Tic Is Coronavirus Symptom
An autistic child in Florida was sent home from his school in Jacksonville after staff presumed his coughing tic was a symptom of COVID-19 infection.
Autism is a "neurodevelopmental disorder characterized by social and cognitive impairments, communication difficulties and repetitive behaviors," the National Autism Association explains.
The 12-year-old boy was reported to have certain tics related to his autism, his mother Brieanna Martinez, told Florida's First Coast News. They include coughing, which is also among the symptoms of COVID-19.
When Martinez received a call from Oceanway Middle School saying that her son Juleus showed signs of COVID-19, she assumed his tics had been mistaken for symptoms of the virus.
"I get a phone call very early, about 10 a.m. [local time], that I need to come pick him up, that he's showing signs of COVID[-19]," Martinez said.
As she made her way to the school, Martinez reportedly explained to school staff that her son has certain tics due to his autistic condition.
"The clearing of the throat, his coughing, it's just something that he does when he's anxious or overwhelmed," she said.
"They [the school] know his tics, they know what he does, and it was just really frustrating to have to go to the school and deal with it when I know it's not COVID[-19] related," she noted.
Juleus told to First Coast News: "It was a little cough... just normal... to clear my throat.
"All the students just screamed and just run away from me... like they think I'm infected.
"The whole classroom and the classmates started screaming and laughing. And this girl said, 'I don't want to get COVID!' And I just said, 'I don't have the virus.' It made me sad," he explained.
As students became vocal around Juleus, they were told by a teacher to move away from him as he was sent out of the room.
Juleus said he was evaluated by nurses and placed in a containment room before his mother arrived.
"It totally broke my heart...it gave me so much stress...I thought I was in trouble," Juleus recalled in tears in a video captured by his mother.
Duval County Public Schools, the school district under which Oceanway Middle School falls, told First Coast News: "In situations where a child is sent home with COVID-19 symptoms, the child would be allowed to return with written documentation from a licensed medical provider that the symptoms were caused by a condition other than COVID-19. If one of the symptoms was fever, the child would also need to be fever-free for 24 hours.
"For privacy reasons, we can't address this individual family's situation in the media, but school leadership has been in continual communication with the parties involved to address her concerns and explain the solution.
"And the solution is both simple and in the best interest of safety for all involved. In cases such as these, fever-free and an appropriate note from the doctor is all that is needed to return to school," the school district confirmed.
The principal of Oceanway Middle School reportedly suggested Juleus resume his coursework through online learning and he was sent home with a laptop, according to Martinez, who is attempting to enroll her son in another school.
She noted: "It really broke my heart that he was treated that way. That the teacher didn't step in and calm the other students that were picking on him.
"Nobody, adult-wise, stepped in and let the kids know he's different. Not every student is cookie-cutter when it comes to dealing with what's going on right now with COVID.
"He [Juleus] just has such a kind heart and is so forgiving of all situations that he can really look past things that happen. And he's just ready to move forward from it because he loves school. He loves learning," Martinez noted.
Speaking to Newsweek, the president of the Autism Society of Florida, Stacey Hoaglund, said: "I have no words for the atrocity that this is to our children and families. Given that schools are likely to require every child with a runny nose, tummy ache, sneeze or cough to prove that they are COVID-free, we suspect that our children will be lost in an incredible maze of panic.
"Kids with autism commonly have behaviors such as this boy's. I would guess that it's written into his education plan (IEP), and I hope that this mother exercises her full rights under the law when it comes to identifying how her son should have been treated. From the report, it seems that this boy was bullied without protection from his teacher, and that confidentiality of his condition may have been broken," Hoaglund added.
Speaking to Newsweek, the president of the National Autism Association, Wendy Fournier, said: "In my opinion, the [school] staff should be doing all they can to accommodate this student and understand that this is just a part of his medical condition, nothing more.
"I'd also suggest the parents look into an ADA [Americans with Disabilities Act] violation in this case and consider filing a due process case against the school district. This student is legally entitled to a fair and appropriate education," Fournier said.
Newsweek has contacted Duval County Public Schools and the Florida Department of Education for comment.
This article has been updated with comment from the National Autism Association and Autism Society of Florida.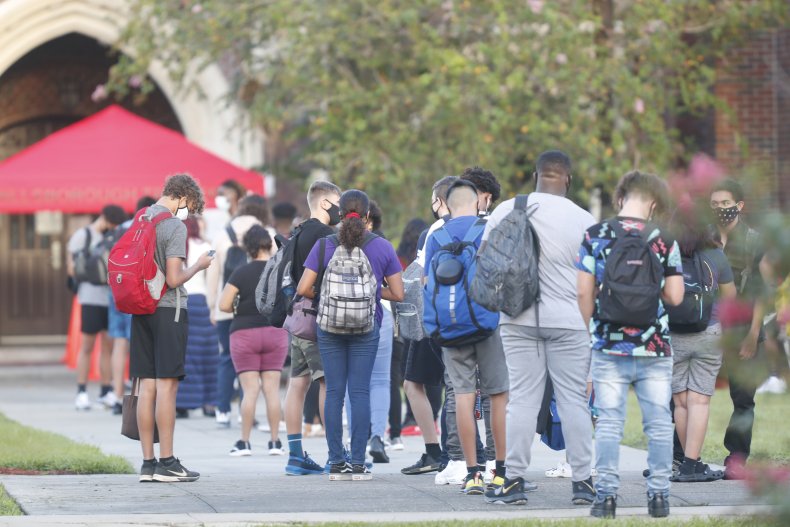 Autism spectrum disorder (ASD) "is a developmental disability that can cause significant social, communication and behavioral challenges," the Center for Disease Control and Prevention explains.
A person with ASD may show a range of symptoms including but not limited to "intense self-stimulatory behaviors such as hand-flapping, under-react to pain and over-react to sounds, have very good gross motor skills, and have weaknesses in fine motor skills. These symptoms may vary widely from person to person," the CDC notes.
Last month, nearly 9,000 children in Florida were reported to have been diagnosed with COVID-19 in two weeks as schools reopened.
Confirmed cases in Florida have surpassed 693,000, as of Friday, according to the latest report from Johns Hopkins University (JHU).
Average daily new cases in Florida remained flat from late March to early June before rising sharply through July 12, when it peaked at 12,761. The average daily case count has been declining since mid-July, according to data compiled by JHU.
The wider picture
The novel coronavirus has infected over 32.2 million people across the globe since it was first reported in Wuhan, China, including over 6.9 million in the U.S. More than 983,900 have died following infection, while over 22.2 million have reportedly recovered as of Friday, according to JHU.
The graphic below, provided by Statista, illustrates U.S. states with the most COVID-19 cases.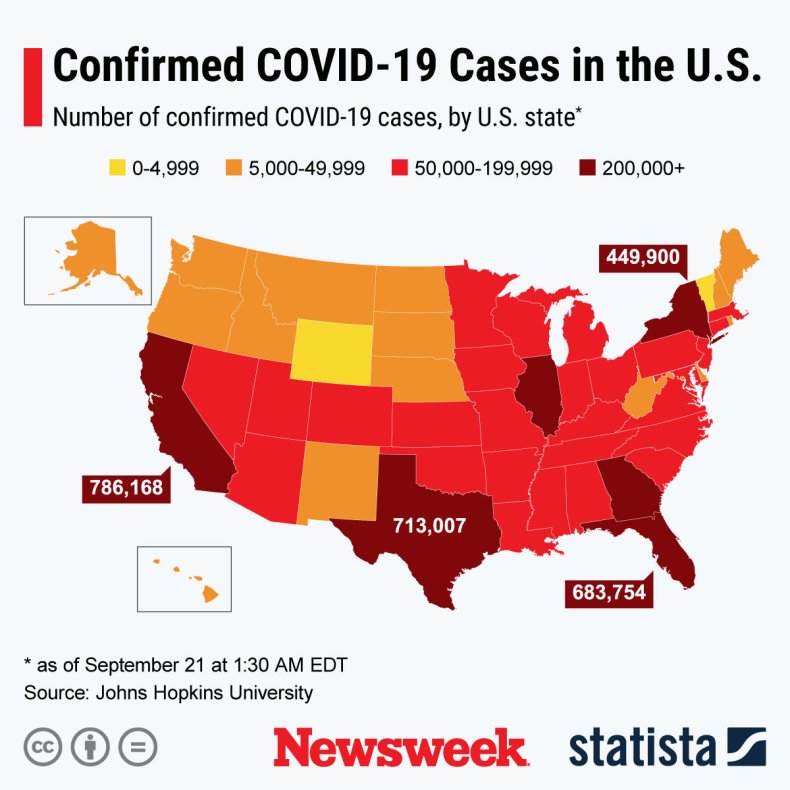 The below graphic, also provided by Statista, illustrates the percentage of Americans who do or don't want COVID-19 restrictions to be relaxed in the country.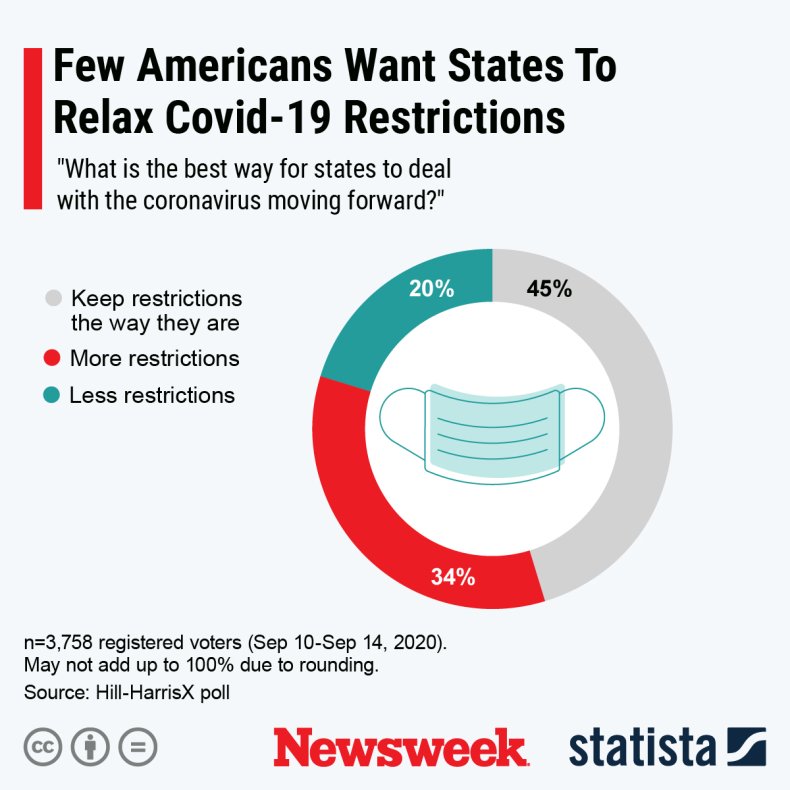 The graphics below, also provided by Statista, illustrate the spread of COVID-19 cases in counties across the globe.