Thousands of people in Florida appear to be ignoring calls to self isolate and distance themselves from others to help control the coronavirus outbreak by going to the city's beaches en masse.
Videos and photos posted on social media by local news sites and residents show large crowds of people on the sands and in the ocean at Clearwater Beach, West Florida, despite repeated calls from officials for people to avoid large crowds to help protect against the virus.
One beach goer told WFTS she was not put off by the idea of going to the beach along with thousands of others despite being a senior and having autoimmune diseases.
"I really think as long as I'm very safe and I wash my hands constantly, I will be safe and my family will be safe," said Tricia Wood.
Another expressed his surprise that the beach is still open to the public while other areas of Florida have closed theirs and implemented other restrictions.
"We were supposed to go to Disney, actually, the day they closed it," Chuck Smithson, who was visiting Clearwater Beach with his family, told WTSP.
"I'm shocked the beaches aren't shut down. I mean we need something to do, other than sit inside, but I'm shocked the beaches aren't shut down," he said.
According to WFTS, Clearwater officials discussed whether or not to close the beach or impose any other restrictions or curfews on Monday, but did not come to a final decision.
The city of Clearwater has been contacted for comment.
Another video posted on Twitter also showed large droves of people at Fort Lauderdale Beach amid the outbreak. However, the video is believed to have been recorded before the city closed its beaches as part of its plans to control the spread of COVID-19.
Mayor Dean Trantalis confirmed that Fort Lauderdale will close the dry sand portion of the city's public beach from Harbor Drive north to Oakland Park Boulevard until April 12 as people head to the city for Spring Break.
In addition, the city's bars and restaurants will be forced to shut at 10 p.m. and all public gatherings of more than 250 people will be prohibited, with some exceptions such as schools, hospitals and grocery stores.
Bars and restaurants have also been told not to operate at more than 50 percent of their usually allowed capacity.
"Closing our beaches decreases the amount of public safety resources needed to interact with the high-density Spring Break population," Trantalis said in a statement.
"That reduces exposure for our police and first responders so they can continue to carry out their important life-saving duties should the situation become more widespread. It also increases social distancing, a key deterrent to the spread of the virus.
"We must do everything possible to minimize crowds. Unfortunately, our beaches must be part of our plan. I want to be clear that this is not an overreaction, but a way for us to help stop further cases of coronavirus in our community. We must all do our part to save lives, and that includes protecting our residents, visitors and first responders."
Other cities such as Miami Beach and Palm Beach County have also announced similar restrictions on beaches and large gatherings also over fears coronavirus could spread over Spring Break.
"Across the globe, governments are encouraging social distance as a means to break this pandemic. I appreciate that this poses an incredible economic hardship to so many who have invested in our hospitality industry, but we are past the point where we can encourage or sponsor large crowds," Miami Beach Mayor Dan Gelber said.
"To the extent that anyone can declare Spring Break over, it is over this year."
There have been 160 confirmed cases of COVID-19 in Florida and five fatalities, according to Johns Hopkins University.
Nationally, there are 4,661 confirmed cases of the coronavirus, with 85 deaths. A total of 17 people have managed to recover from the virus in the U.S.
This graph, provided by Statista, shows the confirmed cases of COVID-19 around the world, as of March 16.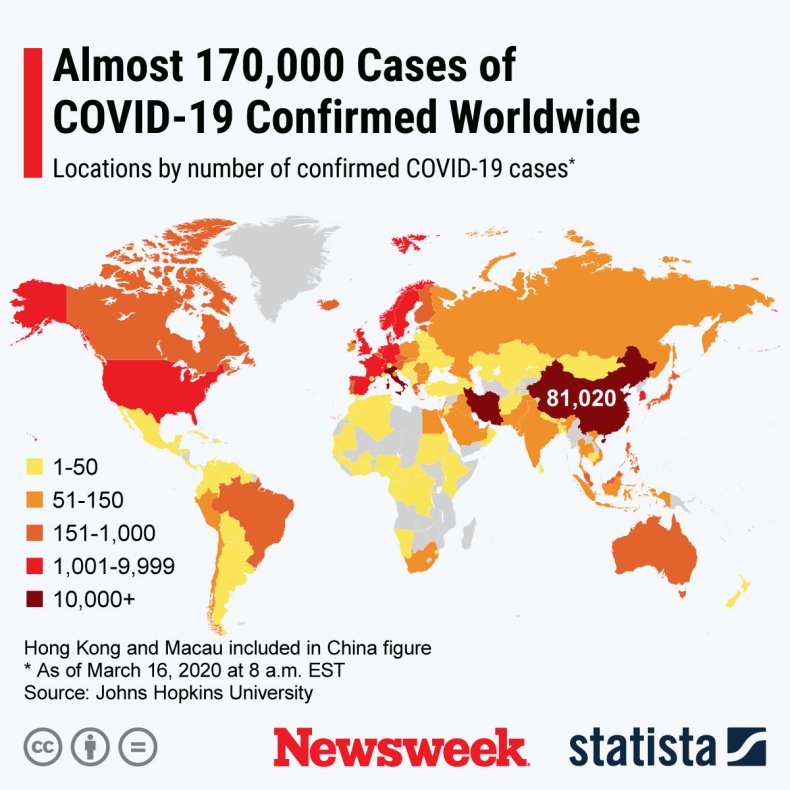 World Health Organization advice for avoiding spread of coronavirus disease (COVID-19) Hygiene advice:
Clean hands frequently with soap and water, or alcohol-based hand rub.
Wash hands after coughing or sneezing; when caring for the sick; before; during and after food preparation; before eating; after using the toilet; when hands are visibly dirty; and after handling animals or waste.
Maintain at least 1 meter (3 feet) distance from anyone who is coughing or sneezing.
Avoid touching your hands, nose and mouth. Do not spit in public.
Cover your mouth and nose with a tissue or bent elbow when coughing or sneezing. Discard the tissue immediately and clean your hands.
Medical advice
If you feel unwell (fever, cough, difficulty breathing) seek medical care early and call local health authorities in advance.
Stay up to date on COVID-19 developments issued by health authorities and follow their guidance.
Mask usage
Healthy individuals only need to wear a mask if taking care of a sick person.
Wear a mask if you are coughing or sneezing.
Masks are effective when used in combination with frequent hand cleaning.
Do not touch the mask while wearing it. Clean hands if you touch the mask.
Learn how to properly put on, remove and dispose of masks. Clean hands after disposing of mask.
Do not reuse single-use masks.