Riot Police Deployed in France to Enforce Mask Mandate as COVID-19 Cases Surge
As coronavirus cases in France continue to rise, over a hundred riot police officers have been deployed in the Marseille region of southern France to enforce mask mandates, which are now being issued for outdoor areas in several parts of the country. Face coverings in closed public spaces have been required in France from late July.
Meanwhile, the country's weekly total of new cases increased for five consecutive weeks since the week commencing July 13. France also reported a rise in daily new cases for four days in a row starting August 13, according to data compiled by the World Health Organization (WHO).
The government has sent 130 police officers to the Marseille region, where mask requirements were extended to all farmers' markets and additional neighborhoods from Friday, the Associated Press (AP) reported.
A spokesperson for the French government, Gabriel Attal, confirmed: "At #Marseille, we are strengthening the means of controlling the wearing of masks," in a post Monday on his official Twitter account:
The officers, who are from a special riot police unit known as the Compagnies Républicaines de Sécurité (CRS), will patrol Marseille to enforce the use of masks, Attal told French media.
"We will never be able to put a police officer behind every French [resident]. It is a matter of good citizenship and responsibility: we should fear less the fine than the virus," Attal warned in the post on Twitter.
Wearing a face covering in closed public spaces has been compulsory in France since July 21. From August 10, those aged 11 and above in Paris have also been required to wear a mask in busy outdoor areas over the next month.
Those who breach the mask order will be fined $159 (€135) and those who record more than three violations in a month face six months in prison, Reuters reported.
The French capital is among several other French cities, including Toulouse, Lille and Biarritz, where face coverings are required in outdoor areas.
The latest measure in the Marseille region follows anti-mask protests and growing anti-mask sentiment across Europe, including in France.
Some people in France were said to be boycotting certain stores or refusing to go into shops where they've been asked to wear a mask, according to locals, Radio France Internationale (RFI) reported.
Earlier this month, a nurse in France was attacked by two teenagers on a bus in the outskirts of Paris after she asked them to wear masks. The woman was kicked and punched by two 16-year-olds who were later arrested.
Last month, a bus driver in the city of Bayonne of southwest France died following an attack by five people after he tried to stop them from boarding the bus without wearing masks.
The driver was declared brain dead by doctors after arriving unconscious at the hospital and died days later.
New infections continue to emerge across France. The country's seven-day rolling average of daily new cases has been mostly rising on a sharper incline from mid-July, according to Worldometer.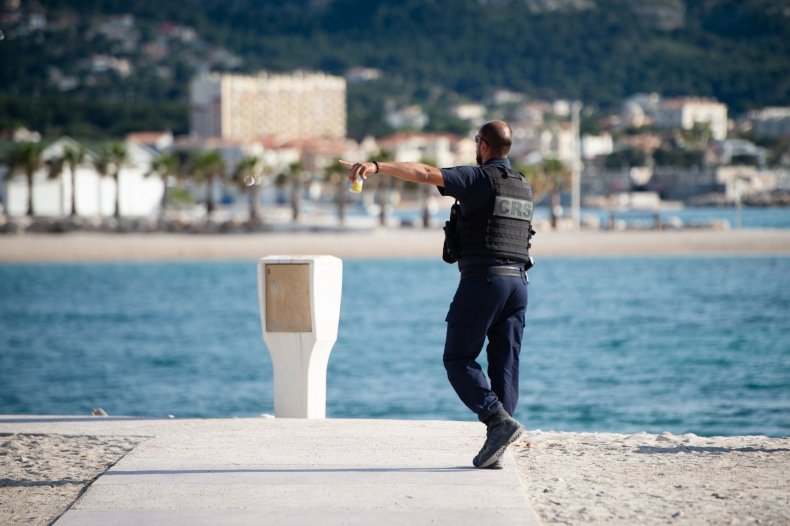 Over 21.9 million people across the globe have been infected since the virus was first reported in Wuhan, China, including more than 5.4 million in the U.S. Over 13.9 million have reportedly recovered from infection, while more than 774,600 have died, according to the latest report Tuesday by Johns Hopkins University.
The graphic below, provided by Statista, illustrates a comparison of average new cases in the U.S. and the European Union.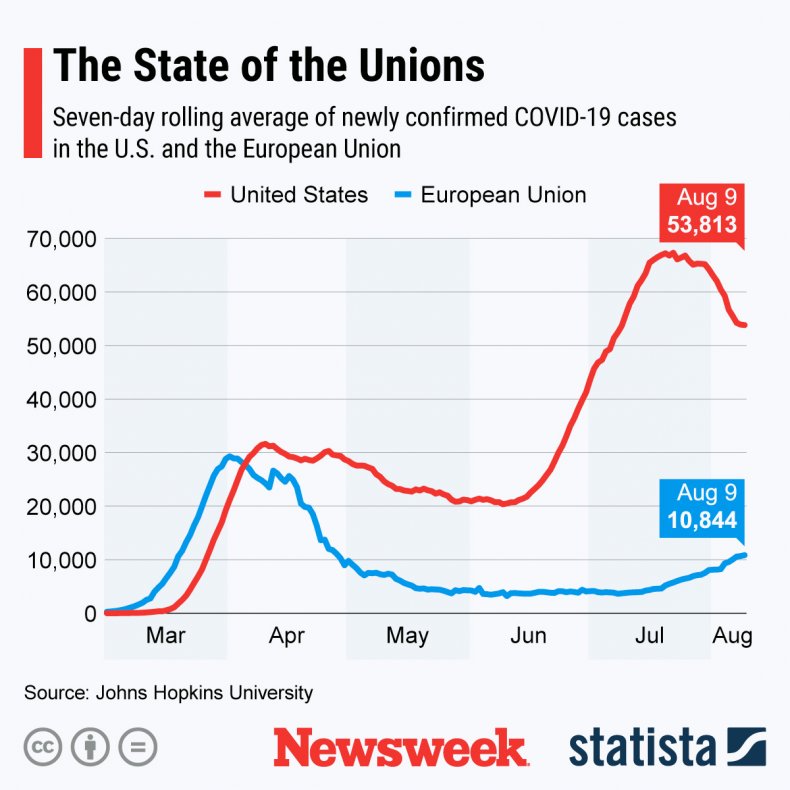 The graphic below, provided by Statista, illustrates countries with the most COVID-19 cases.