Small Business Funding Hits Snag in Senate With McConnell and Schumer at an Impasse
An emergency supplemental provision worth $250 billion for small business loans is expected to be defeated in the Senate on Thursday as Republicans and Democrats remained at an impasse Wednesday night.
The relief, intended to back loans for business owners financially strained from the coronavirus pandemic, is expected to be shot down by Senate Democrats when Majority Leader Mitch McConnell (R-Ky.) puts the legislation up for a unanimous consent vote Thursday morning.
"Democrats have a better alternative and will bring it to the floor tomorrow," a senior Senate Democratic aide told Newsweek Wednesday night.
Democrats, including Minority Leader Chuck Schumer (D-N.Y.) and House Speaker Nancy Pelosi (D-Calif.), are pushing for a dueling bill worth twice as much that includes broader funding measures and other stipulations, in addition to the money for small businesses. After blocking McConnell's measure, Schumer is expected to try and pass the Democratic plan, which McConnell will prevent from happening.
How the lawmakers will overcome the impasse remains to be seen.
"If Senators delay this urgent paycheck support to insist on a broader bill, more Americans will lose their jobs unnecessarily," McConnell wrote in a series of tweets. "There is no reason why this bipartisan job-saving program should be held hostage for other priorities."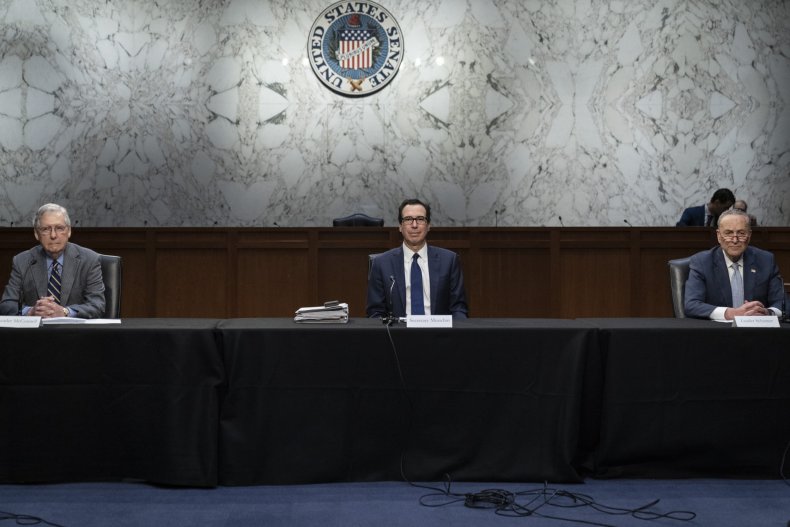 The Paycheck Protection Program for small businesses was created under an historic $2 trillion stimulus passed last month to combat the pandemic's economic impact and received $350 billion. However, Treasury Secretary Steven Mnuchin said with the volume of small businesses applying for the loans—which can be forgiven, so long as the money is used for payroll expenses, like employees—the pot of money is quickly being depleted and will require another $250 billion.
"We do not have time for the partisan games, and we don't want that, the obstruction or the totally unrelated agendas," President Donald Trump said at his daily White House coronavirus briefing.
Democrats support the additional funding, but want added stipulations: $125 billion of the $250 billion must go through local banks that serve farmers, family, women, minority and veteran-owned small businesses; it must include nonprofits in rural, tribal, suburban and urban communities; and businesses can't be rejected for not having a prior relationship or loan with a bank, as has reportedly happened.
Democrats also want to double the measure's total price tag by including another $100 billion for hospitals and local medical facilities; $150 billion for state and local governments; and a 15 percent increase to food stamp funding.
Pelosi told NPR's All Things Considered Wednesday afternoon that the $250 billion in aid Republicans want could not pass the House because it lacked the ability for some small businesses to qualify. "The bill that they put forth doesn't have—will not get unanimous support in the [Democratic] Caucus in the House. It just won't," she said.
McConnell urged his colleagues on the other side of the aisle to approve the $250 billion for small businesses—no strings attached—and to address the other matters in subsequent coronavirus legislation.
"If we want to act fast, Congress has to focus," he wrote on Twitter. "There is no realistic chance that another sprawling bill which allocates half a trillion dollars to a number of priorities, even important ones, will be able to pass the Senate or the House by unanimous consent this week."