Here's Who Could Get More Money Under Congress' New $250 Billion Aid Plan for Small Businesses
Farmers, nonprofits and minority- and veteran-owned businesses could be among the recipients of emergency funding for small business loans that Congress is looking to approve as soon as this week.
Getting the hundreds of billions of dollars in the hands of the business owners in a timely fashion, however, could be complicated. Several sticking points remain, including procedural hurdles. And stipulations from Democrats, such as how the money is spent and directing more money toward hospitals, food stamps and local governments, means they have to strike a concession with Republicans.
Congress is scrambling to appropriate an additional $250 billion to back small business loans as part of an interim coronavirus package, funds that the Treasury Department says it needs to fill the volume of demand—or risk having to turn people away. The $350 billion Congress allocated in a recent $2 trillion stimulus is quickly being depleted, Treasury Secretary Steven Mnuchin told lawmakers Tuesday as part of his request for the extra money.
The economic stimulus created the Paycheck Protection Program for small businesses, which allows owners teetering on the edge of existence to receive federally-backed loans that can later be forgiven, so long as the money is used for certain costs, like employees on payroll.
Before Congress appropriates more funds, Senate Minority Leader Chuck Schumer (D-N.Y.) and House Speaker Nancy Pelosi (D-Calif.) say several conditions must be included in the $250 billion: $125 billion of it must be channeled through local banks that serve farmers, family, women, minority and veteran-owned small businesses; nonprofits in rural, tribal, suburban and urban communities must be included; and businesses lacking current relationships with banks can't be turned away, as has reportedly occurred.
But the Democratic duo also wants to include an additional $100 billion for hospitals and local medical facilities battling the pandemic on the frontlines, including national rapid testing and personal protective equipment; $150 billion for state and local governments; and a 15 percent increase in food stamp benefits. As a result, the final package total could end up costing more than double.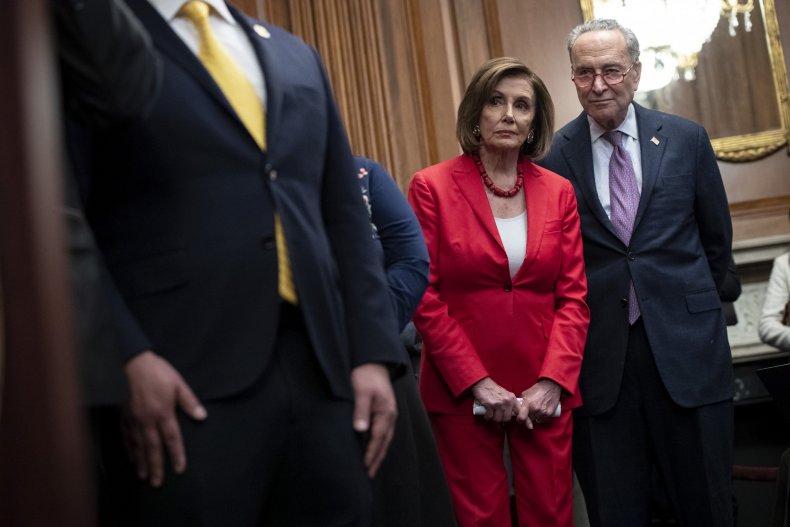 Republicans quickly agreed after Mnuchin made his case to top congressional leaders Tuesday for why the program needs more funding. Senate Majority Leader Mitch McConnell (R-Ky.) said he'll work to approve the extra money by voice vote or unanimous consent on Thursday, while House Minority Leader Kevin McCarthy (R-Calif.) urged the House to "move swiftly to do the same."
The asks from Democrats, some of which Republicans refused to include in prior stimulus packages, face steep hurdles, and a failure to strike a deal could delay the small business loan program from receiving the needed funds in a timely fashion.
Another sign that the parties could be on a collision course path with dueling proposals: a spokesperson for Schumer said he spoke with Mnuchin Wednesday and that Democrats "hope our Republican colleagues will support this 'Small Business Plus' proposal tomorrow in the Senate."
"The American people need to know that their government is there for them in their time of great need," Pelosi and Schumer said in a joint statement Wednesday.
But even as lawmakers on Capitol Hill try to reach an agreement, a procedural snafu will almost certainly await them. Passing the legislation in either chamber by unanimous consent or voice vote—actions that would require less than a handful of members to be present—could be rejected by a single lawmaker, something that will occur in the Senate Thursday if Republicans and Democrats are in disagreement.
And over in the House, a lone Republican forced hundreds of his colleagues to begrudgingly return to Washington, D.C., amid a pandemic to voice vote the last stimulus over his objection to the bill's price tag, a move that drew bipartisan scorn, including from President Donald Trump.
That Republican, Rep. Thomas Massie of Kentucky, signaled he will again raise an objection for a vote that could come as early as Friday and require lawmakers to return to the nation's capital.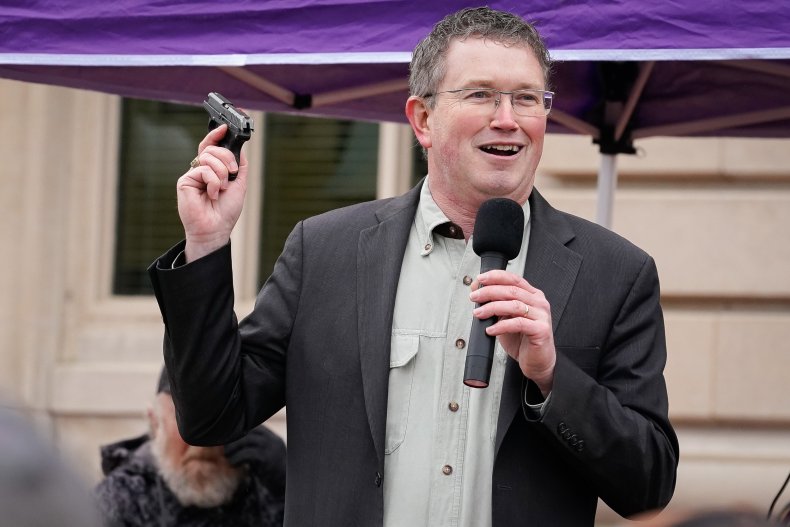 "They are recommending that just let Nancy Pelosi pass it on her own, that we can all stay home," Massie said on Fox Business Wednesday afternoon. "I'm saying that's not going to fly, it doesn't fly with the constitution, doesn't fly for accountability to the taxpayers."
Massie suggested that the chamber implement remote voting, something that would need an official rules change with a vote and has been opposed by Pelosi and other congressional leaders.
After the emergency supplemental is approved, Pelosi and Schumer said they will move to craft and pass a fourth economic stimulus. It's expected to resemble the $2 trillion package, which included checks for individuals, relief for small businesses and expanded unemployment benefits.
Schumer has unveiled a proposal that Senate Democrats will seek to include, which centers on boosting pay to essential frontline workers in health care, grocery stores, truck drivers, sanitation workers and more.
This story was updated to include new remarks from Rep. Thomas Massie.