Americans Could Get More Money, Unemployment Benefits in Democrats' Next Stimulus Bill
House Democrats are pushing to pass another emergency relief package for Americans, one that would include additional direct payments, more assistance for small businesses and an expansion of unemployment benefits.
Individuals have yet to receive their first checks under the $2 trillion stimulus that became law last month, but as unemployment numbers are breaking records and economists warn the coronavirus pandemic could plunge the economy into another Great Depression, House Democrats are planning ambitious, new legislation they've dubbed "CARES 2" that they aim to pass by month's end.
"CARES 2 must go further in assisting small businesses including farmers, extending and strengthening unemployment benefits and giving families additional direct payments," House Speaker Nancy Pelosi (D-Calif.) wrote in letter to other House members over the weekend. "Our communities cannot afford to wait, and we must move quickly."
The new legislation would mean another round of checks for families and individuals; more small business loans, portions of which can be forgiven; and extending the federal government's unemployment supplement of $600 per week, which is on top of state benefits and currently lasts for up to four months through July 31.
"I think we're gonna definitely need a [Phase 4], and I think it's gonna have to be big and bold because the problem is so unique," said Senate Minority Leader Chuck Schumer (D-N.Y.) Monday, who told reporters he's spoken with Pelosi about another package.
The push for another massive stimulus marks a change for Pelosi and Democratic leadership in the House, which until last week was advocating for an infrastructure-centered "Phase 4" package. Pelosi's weekend letter to her colleagues made no reference to infrastructure.
But fierce opposition from Republicans, who criticized Democrats for wanting to include initiatives unrelated to the coronavirus' impact on the economy, and grim jobs numbers appeared to be the catalyst for Democrats' shift. Roughly 10 million people filed for unemployment in the last two weeks in March while the latest jobs report—which doesn't include the month's final two weeks of record unemployment claims—showed more than 700,000 jobs were lost. Former Federal Reserve Chair Janet Yellen will give House Democrats a members-only briefing Monday afternoon about the state of the economy.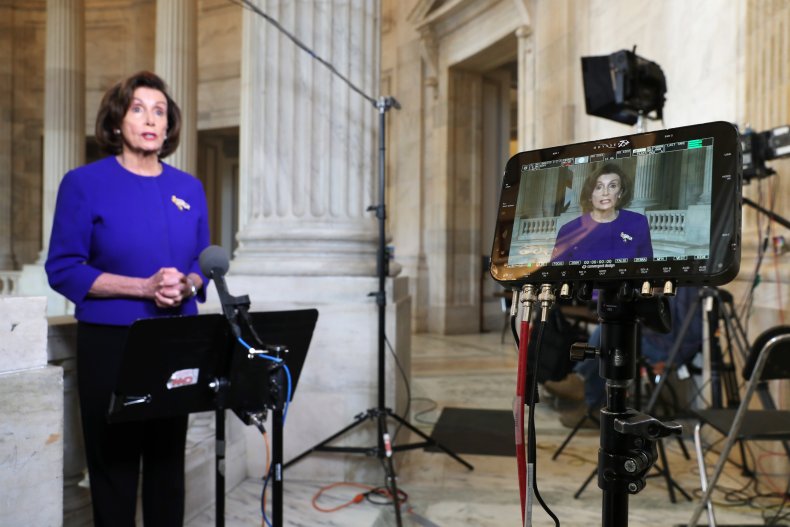 Republicans have characterized Pelosi's shift as a "retreat" from a "liberal wish list."
"[Pelosi] needs to stand down on the notion that we're going to go along with taking advantage of the crisis to do things that are unrelated to the crisis," Senate Majority Leader Mitch McConnell (R-Ky.) told The Washington Post last week.
Republicans have also emphasized their belief that the Phase 3, $2 trillion bill needs to first be fully implemented to identify what Congress should address in any subsequent legislation, a position some at the White House are also advocating.
"You've got assistance going out to 175 million people through unemployment insurance, direct checks, small business loans and loan guarantees, emergency funding mechanism with the [Federal Reserve]," top Trump economic adviser Larry Kudlow told reporters Monday. "Our job is to execute. Let's get it out. If we need more, we'll ask for more."
However, President Donald Trump endorsed Pelosi's push for another direct round of payments to Americans at a White House coronavirus briefing Monday evening, saying the idea is "absolutely under serious consideration."
Trump has expressed past support for a $2 trillion infrastructure bill, a position he reiterated Monday. His infrastructure push has differed from Democrats' in the sense that he wants to fund traditional projects, like rebuilding roads and bridges, while Democrats wanted digital upgrades to connect Americans remotely, such as with broadband and 5G.
Pelosi's move to have another economic stimulus passed "later this month" will be difficult, though not impossible. At the earliest, lawmakers could return to the nation's capital the week of April 20. But with the ability to only conduct conference calls while members continue to social distance in their home districts and no system to vote remotely, the sluggish pace at which normal legislative activity is conducted is further slowed.
"The acceleration of the coronavirus crisis demands that we continue to legislate," Pelosi wrote in her letter.
This story was updated with remarks made by President Trump at a Monday evening press conference.
Correction: An earlier version of this story incorrectly stated unemployment benefits would last six weeks rather than four months, information which was derived from a draft of the stimulus package and not the final text.