Gavin Newsom Set To Lift Stay-at-Home Order Despite Southern California at 0% ICU Capacity
Despite Southern California's intensive care unit (ICU) capacity reported to be at zero percent as of Saturday, California Gov. Gavin Newsom is expected to lift the state's regional stay-at-home order.
The California Restaurant Association (CRA) said in an email to its members on Sunday, shared with several local media outlets: "Late this evening, senior officials in the Newsom administration informed us that the Governor will announce [Monday] that the stay-at-home order will be lifted in all regions of the state.
"A formal announcement is expected [Sunday] and we will send you further information as soon as it's available," the email added.
In a tweet sharing the CRA email, an anchor/reporter for California's ABC7 News, Dion Lim, wrote: "@GGRASF [The Golden Gate Restaurant Association] tells me they hope [San Francisco] restaurants can resume outdoor dining by the end of the week."
California's regional stay-at-home order went into effect in early December last year. It is triggered when the ICU capacity drops below 15 percent in any given region among the five being tracked by state health officials.
"Once triggered, these orders will remain in effect for at least 3 weeks. After that period, they will be lifted when a region's projected ICU capacity meets or exceeds 15 percent. This will be assessed on a weekly basis after the initial 3 week period," the order states.
Southern California, Bay Area and San Joaquin Valley are the three regions currently under a regional stay-at-home order because their "four-week ICU capacity projections do not meet criteria to exit order," according to the latest statement Sunday by the California Department of Public Health (CDPH).
The projections for ICU capacities were made using a combination of models, according to state officials, the Associated Press (AP) reported Friday.
"At the moment the projections are not being shared publicly," a spokesperson for the CDPH said in an email at the time.
A spokesperson for the California Health and Human Services Agency said the projected ICU capacity is based on multiple variables including available beds and staffing that change regularly, AP reported Friday.
"These fluid, on-the-ground conditions cannot be boiled down to a single data point and to do so would mislead and create greater uncertainty for Californians," the spokesperson said in a statement at the time.
Dr. Lee Riley, chairman of the University of California, Berkeley School of Public Health infectious disease division, expects ICU capacity in the Southern California region to be strained by holiday-related cases for at least two more weeks, the AP reported Friday.
Riley said he would base reopening decisions on current COVID-19 cases rather than ICU projections partly because most who are hospitalized never require intensive care.
The current ICU bed availabilities across the five regions where the figure is being monitored are as follows, as of January 23, according to the CDPH:
Southern California: 0 percent
San Joaquin Valley: 1.3 percent
Greater Sacramento: 11.9 percent
Bay Area: 23.4 percent
Northern California: 41.2 percent
The ICU capacity in the Bay Area was reported to have seen a dramatic improvement since last week, when the ICU bed availability dipped to six percent.
"This could potentially be the beginning of the end," UCSF (University of California San Francisco) Epidemiologist Dr. George Rutherford told ABC7.
"All this stuff suggests we're on the downslope of the third wave of the pandemic, finally," Rutherford added.
Across California, the projected number of ICU beds needed is expected to peak on February 6 at around 6,564, according to the latest forecast from the Institute for Health Metrics and Evaluation (IHME) at the University of Washington.
Total confirmed cases in California have surpassed 3.1 million, with 37,121 reported deaths, as of Monday, according to Johns Hopkins University (JHU).
The seven-day average of current COVID-19 hospitalizations in California has been rising sharply from mid-November, according to data compiled by The Atlantic's COVID Tracking Project.
The state's seven-day average of cases rose from mid-November through late December and flattened out from then before declining from mid-January, according to data compiled by Worldometer.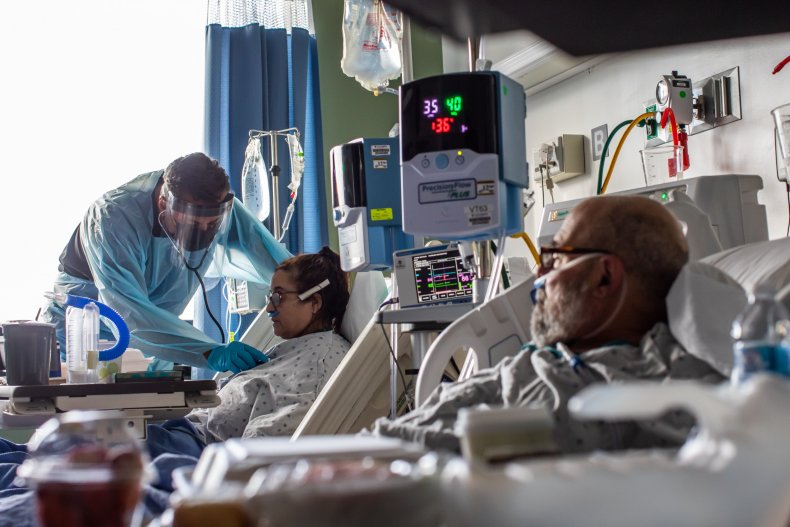 The wider picture
The novel coronavirus has infected more than 99.2 million people, including just over 25.1 million in the U.S., since it was first reported in Wuhan, China.
More than 2.1 million people have died worldwide and more than 54.8 million have recovered as of Monday, according to JHU.
The graphic below, produced by Statista, illustrates the spread of COVID-19 in the U.S.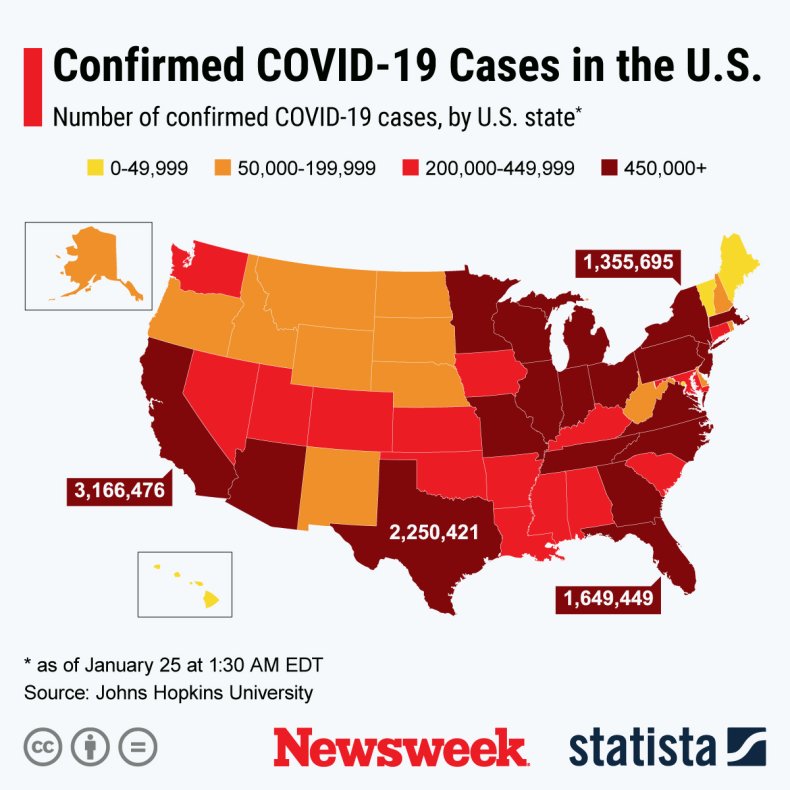 The graphic below, produced by Statista, illustrates countries with the highest rate of COVID-19 vaccination.