U.S. Gun Store Owners Say Asian Customers Are Buying Weapons Over Coronavirus Backlash Fears
Gun stores are reporting a sharp rise in the number of Asian people purchasing firearms to protect themselves from racist attacks amid the coronavirus outbreak.
David Liu, the owner of Arcadia Firearm & Safety in San Gabriel Valley, has claimed that he has seen around 10 times more customers walk through his door in recent weeks.
"It was crazy," Liu told Newsweek. "One example is on March 3 and 4, I had 50 plus people come in here to take their firearms safety test and everyone one of them bought a gun. That's quite unusual for my small shop.
"They're all coming in because the media is telling them that Asians are being targeted, Chinese are being targeted."
In recent weeks, several Asian people in the U.S. have been targeted in hate crimes in response to the virus, which was first detected in Wuhan, China, in December.
Earlier this month, an Asian male was sprayed with what appears to be air freshener by a man on a New York subway. The suspect was recorded yelling "because he's standing right f**king next to me. Tell him to move," apparently concerned he would infect him with the airborne spread virus.
In February, an Asian woman was also allegedly attacked at a subway station while wearing a protective mask in a suspected hate crime attack.
The Arcadia Firearm & Safety store is situated in an area with a large population of Asian Americans.
One Arcadia Firearm & Safety customer, Dirk Zhang, told CBSLA now is the "perfect time to get a weapon for ourselves," adding that his wife previously would not allow a gun in their home.
"She's a little afraid of the outbreak of the virus," he added.
Liu said that panic in the community got worse when news reports suggested that some cities may have to be put on lockdown to deal with the outbreak. He said it is not just Asian people who are reacting to the spread of the outbreak.
"I've checked with my distributor and most of their ammo is gone. It can't be bought by just the Chinese...Americans are stocking up too," he told Newsweek.
"It's just most Chinese don't have guns, they just come in and buy them now."
Other stores in California have seen a similair trend.
"Normally, we're a pretty busy store, but this made it really, really crazy," Dennis Lin, owner of Gun Effects and Cloud Nine Fishing in Industry, told KABC.
Lin also described an uptake in the number of gun sales at his store in an area with a large Asian American community. He said some are purchasing weapons over fears of being targeted because of their race.
"Just people discriminating," said Lin. "We forget, we're all people. We're in America, we're not in China."
One customer, April Zhao, confirmed she came to Gun Effects to purchase a weapon over concerns she may be attacked for being Chinese.
"So I have to protect my family and my son," Zhao told LAist, adding she has yet to experience any racism in her hometown of Rancho Cucamonga.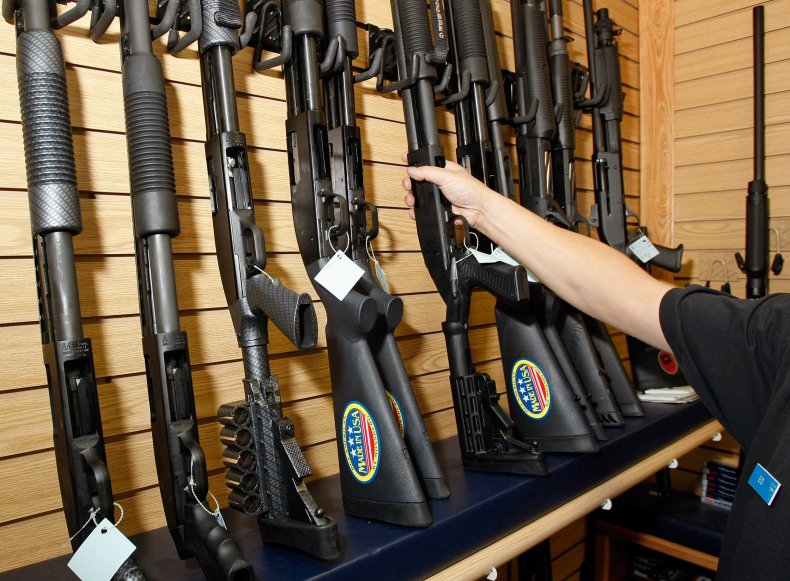 A similar rise an Asian Americans purchasing guns has also been reported in Washington, the U.S. state worst affected by the outbreak.
"The main thing I'm hearing is that they don't want to get jumped because of their race," Cole Gaughran, the internet sales manager at Wade's Eastside Guns in Bellevue, previously told The Trace.
Gun Effects and Arcadia Firearm & Safety have both been contacted for further comment.
There are now over 1,300 cases of coronavirus in the U.S., according to Johns Hopkins University, with 38 deaths and 8 recoveries.
The graphic below, provided by Statista, illustrates the spread of the COVID-19 across the world as of March 12.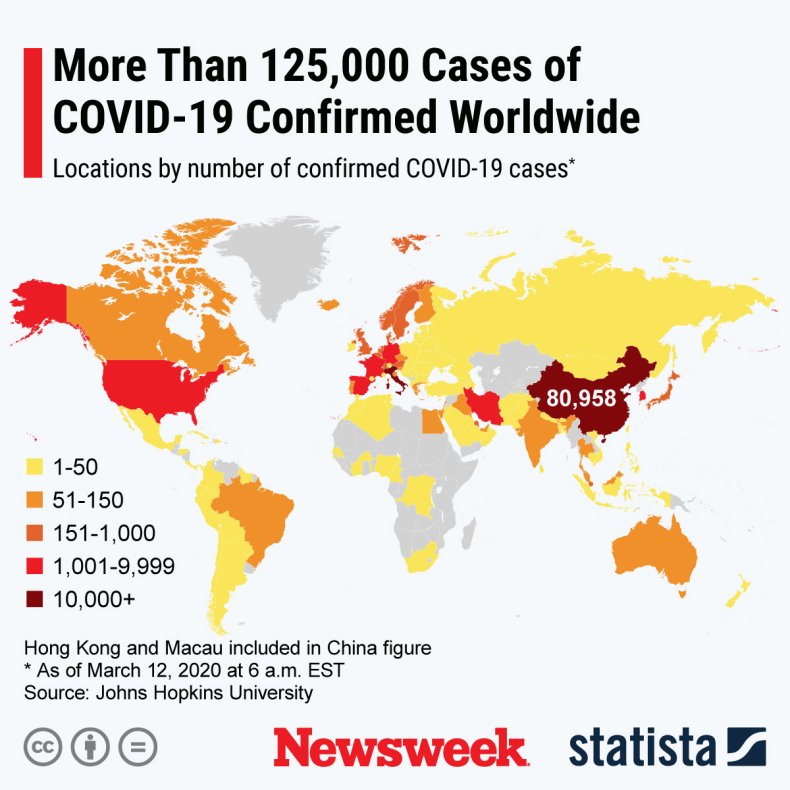 World Health Organization advice for avoiding spread of coronavirus disease (COVID-19) Hygiene advice:
Clean hands frequently with soap and water, or alcohol-based hand rub.
Wash hands after coughing or sneezing; when caring for the sick; before; during and after food preparation; before eating; after using the toilet; when hands are visibly dirty; and after handling animals or waste.
Maintain at least 1 meter (3 feet) distance from anyone who is coughing or sneezing.
Avoid touching your hands, nose and mouth. Do not spit in public.
Cover your mouth and nose with a tissue or bent elbow when coughing or sneezing. Discard the tissue immediately and clean your hands.
Medical advice
If you feel unwell (fever, cough, difficulty breathing) seek medical care early and call local health authorities in advance.
Stay up to date on COVID-19 developments issued by health authorities and follow their guidance.
Mask usage
Healthy individuals only need to wear a mask if taking care of a sick person.
Wear a mask if you are coughing or sneezing.
Masks are effective when used in combination with frequent hand cleaning.
Do not touch the mask while wearing it. Clean hands if you touch the mask.
Learn how to properly put on, remove and dispose of masks. Clean hands after disposing of mask.
Do not reuse single-use masks.