Some COVID-19 Patients May Get Seriously Ill Because of the Timing of Their Immune Response, Study Suggests
Some people may develop severe COVID-19 because of how their immune systems respond to the coronavirus, according to scientists who used a mathematical model to map how our bodies interact with the bug.
The team, from the Keck School of Medicine, University of Southern California, suggest drugs that suppress the immune system may help prevent people who catch the coronavirus from becoming seriously ill, but state more research is needed to explore this idea.
More than 3.5 million people have been diagnosed with COVID-19 since the pandemic started late last year, according to Johns Hopkins University. More than one million people are known to have recovered, and 247,630 people have died.
In the latest study, published in the Journal of Medical Virology, the team created a mathematical model to look at two different approaches the body can take to tackling invaders like the coronavirus: innate immunity and adaptive immunity. Our innate immunity is not specific to a certain pathogen, and includes parts of the body like the skin, mucous membranes, and some white blood cells. In contrast, our adaptive immunity is built up by the body against a specific intruder, after we are infected.
According to the researchers, a "mismatch" between when each immune response kicks in may affect the severity of COVID-19.
When creating the model, the team took into account factors such as which cells are susceptible to being infected by SARS-CoV-2 (the virus that causes COVID-19), how the virus replicates in the body, how infected cells respond, and how the immune system tries to clear the virus.
SARS-CoV-2 invades and kills specific cells in the respiratory system. The team believes that as the disease progresses relatively slowly, it does not kill all the cells it can target when it first infects a person. This slow burn allows new target cells vulnerable to the virus to develop.
That means adaptive immunity starts up, but peaks before levels of the virus have reached their height and SARS-CoV-2 has killed all the cells it can target. This enables the bug to keep on invading cells, and prevents the innate immune response from killing it off.
Sean Du, adjunct researcher at the Keck School of Medicine of USC and lead author of the study, said in a statement this may explain why some patients with COVID-19 see their symptoms improve before their condition then gets worse.
"It's possible that the combined effect of the adaptive and the innate immune responses may reduce the virus to a low level temporarily. However, if the virus is not completely cleared, and the target cells regenerate, the virus can take hold again and reach another peak."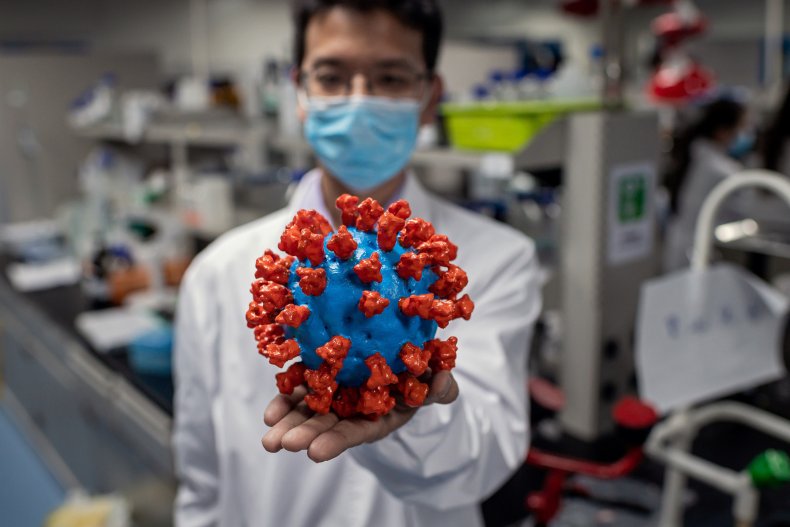 However, the team cautioned that as there is relatively little experimental data available on SARS-CoV-2, their research is "based on our best assumptions and observations."
Study co-author Weiming Yuan said in a statement that as the virus is active in the body for a long period of time, the immune system may overact and trigger what is known as a cytokine storm.
Cytokines are proteins that the immune system creates. A cytokine storm happens when these proteins are created at such a high level that the body attacks its own healthy cells. This causes tissue damage, said Yuan.
The pair suggest giving patients drugs that suppress the immune system early on in the disease could help prevent them from becoming seriously ill. The team hope their study will prompt more research on this question.
"Based on the results of the mathematical modeling, we proposed a counterintuitive idea that a short regimen of a proper immunosuppressant drug applied early in the disease process may improve a patient's outcome," Du said in a statement.
"With the right suppressive agent, we may be able to delay the adaptive immune response and prevent it from interfering with the innate immune response, which enables faster elimination of the virus and the infected cells."
The authors noted that as they were working on their mathematical model, a separate team of researchers released a pre-print study involving 46 COVID-19 patients on the website medRxiv that mirrored their findings.
This team found taking drugs known as corticosteroids—which reduce immune system activity—early on in the disease seemed to help people recover faster. This paper has not been through the rigorous peer review process required to publish in scientific journals, so findings should be taken with caution. Releasing studies this way enables scientists to prompt debate on a topic and are particularly useful during a fast-moving situation like a pandemic.
The anti-malarial drugs chloroquine and hydroxychloroquine have also been explored as potential treatments for coronavirus infection because they have a "potent" effect on the body's immune response. But, these drugs may in fact dampen the body's natural immune response, warned the authors of an article published in FASEBJournal.
Danny Altmann, professor of Immunology at Imperial College London and spokesman for the British Society for Immunology, who did not work on the study, commented on the research into the immune response to COVID-19.
He told Newsweek predictions made through mathematical modeling always have the potential to inform us of what the immune response may be. This is particularly important when scientists are racing to understand the body's immune response to the coronavirus, he said.
"The value of mathematical predictions is in their ability to inform directions in empirical lab studies," he said. "As the model suggests, some parts of the immune response may indeed be pathogenic through their excessive damage either through cytokine storm or inflammatory tissue damage in the lung."
The Statista chart below shows the countries with most COVID-19 cases.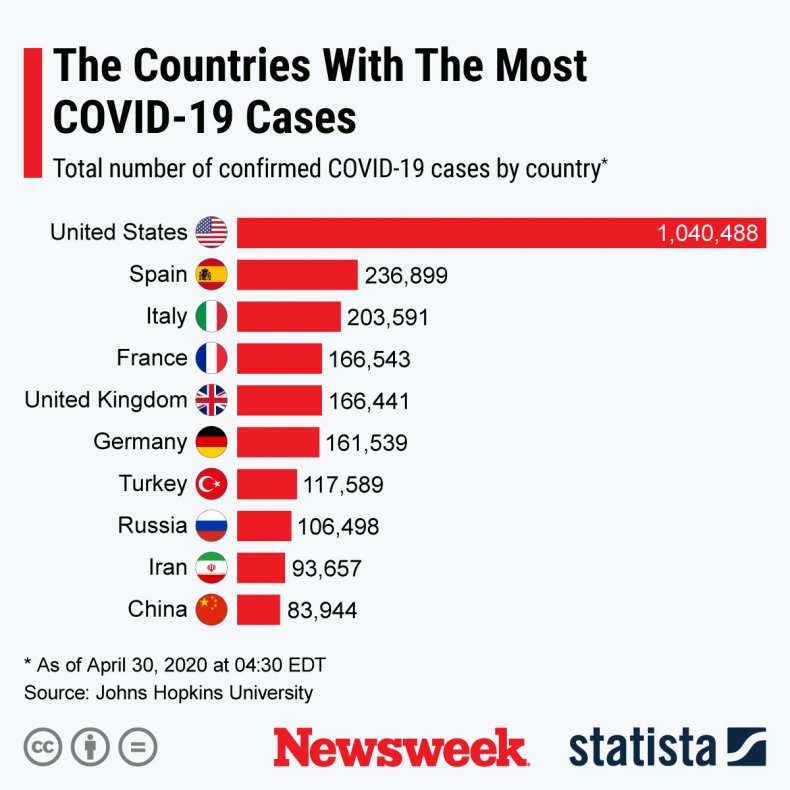 Centers for Disease Control and Prevention Advice on Using Face Coverings to Slow Spread of COVID-19
CDC recommends wearing a cloth face covering in public where social distancing measures are difficult to maintain.
A simple cloth face covering can help slow the spread of the virus by those infected and by those who do not exhibit symptoms.
Cloth face coverings can be fashioned from household items. Guides are offered by the CDC. (https://www.cdc.gov/coronavirus/2019-ncov/prevent-getting-sick/diy-cloth-face-coverings.html)
Cloth face coverings should be washed regularly. A washing machine will suffice.
Practice safe removal of face coverings by not touching eyes, nose, and mouth, and wash hands immediately after removing the covering.
World Health Organization advice for avoiding spread of coronavirus disease (COVID-19)
Hygiene advice
Clean hands frequently with soap and water, or alcohol-based hand rub.
Wash hands after coughing or sneezing; when caring for the sick; before, during and after food preparation; before eating; after using the toilet; when hands are visibly dirty; and after handling animals or waste.
Maintain at least 1 meter (3 feet) distance from anyone who is coughing or sneezing.
Avoid touching your hands, nose and mouth. Do not spit in public.
Cover your mouth and nose with a tissue or bent elbow when coughing or sneezing. Discard the tissue immediately and clean your hands.
Medical advice
Avoid close contact with others if you have any symptoms.
Stay at home if you feel unwell, even with mild symptoms such as headache and runny nose, to avoid potential spread of the disease to medical facilities and other people.
If you develop serious symptoms (fever, cough, difficulty breathing) seek medical care early and contact local health authorities in advance.
Note any recent contact with others and travel details to provide to authorities who can trace and prevent spread of the disease.
Stay up to date on COVID-19 developments issued by health authorities and follow their guidance.
Mask and glove usage
Healthy individuals only need to wear a mask if taking care of a sick person.
Wear a mask if you are coughing or sneezing.
Masks are effective when used in combination with frequent hand cleaning.
Do not touch the mask while wearing it. Clean hands if you touch the mask.
Learn how to properly put on, remove and dispose of masks. Clean hands after disposing of the mask.
Do not reuse single-use masks.
Regularly washing bare hands is more effective against catching COVID-19 than wearing rubber gloves.
The COVID-19 virus can still be picked up on rubber gloves and transmitted by touching your face.