Democratic Candidate Who Wished Lockdown Protesters Died of COVID-19 Says He Won't Be Intimidated by Trump 'Fan Boys'
A Democratic congressional candidate is refusing to apologize for comments he made hoping Donald Trump supporters and those taking part in anti-lockdown protests would die from coronavirus.
Ryan Farrar, who is running for election in the first congressional district in Northwest Indiana, has been criticized for a number of tweets sent over the course of several days in which he hit out at "COVIDIOTS" and "MAGAts."
In a tweet from April 21, Farrar condemned those who demonstrated in Indiana and elsewhere across the U.S., demanding that CODID-19 lockdown restrictions be lifted in order to help the economy.
"I believe we are near the point where the #COVIDIOTS' insistence that we reopen the economy, despite the clear fact it is not safe to do so, will ultimately make the #COVIDー19 outbreak 10x worse than it should have been," Farrar wrote.
"May it disproportionately kill many MAGAts, so that we never be placed in this sort of predicament again."
Three days later Farrar defended his comments, again suggesting there are people that "the world would [be] better without."
He added: "You don't like that you're one? Stop being a terrible person. I don't like anything terrible, for the record. Nazis, coronavirus, cancer, Donald Trump, and all his supporters can go to hell.
"Just an honest opinion, and I don't care if you don't like it. If you happen to be an IN1 democratic voter, and this opinion loses your vote; I'm fine with that.
"And if you're a magat, I don't give a damn what you think. Take your fascist a** opinion and shove it up your a**, and stop ruining my world."
Farrar also tweeted a video of the huge protest outside Wisconsin's Capitol building in Madison against the state's stay-at-home order, saying those who took part in the rally are "the ones I believe are most deserving of death" from COVID-19.
"Not sorry. Still running for Congress," he added.
Farrar has been urged to suspend his campaign in the wake of his comments by Indiana congressional candidates.
"This type of behavior and rhetoric from a Congressional candidate is unacceptable," GOP candidate Cameron Wild said in a statement.
Farrar dismissed criticism from Wild by tweeting out an article from 2016 detailing Wild's arrest for impersonating a police officer.
Wild eventually pleaded guilty to misdemeanor impersonation of a law enforcement officer and was sentenced to one year of probation.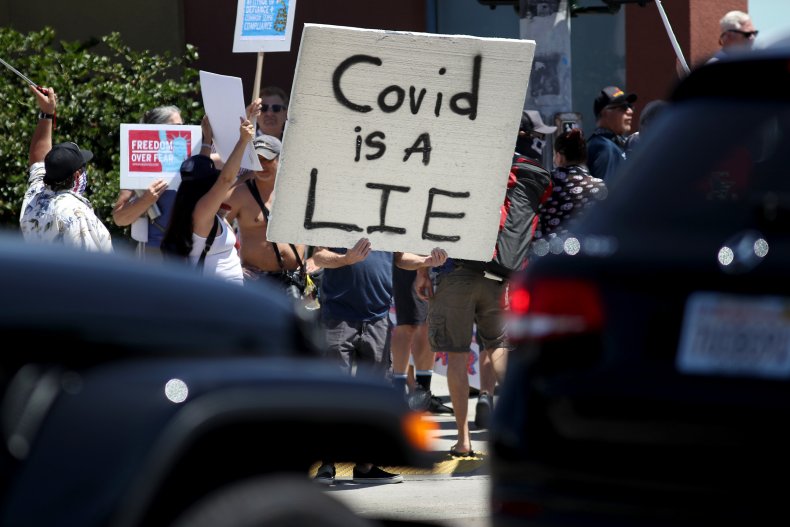 Fellow Republican candidate Dion Bergeron added: "I disagree with Mr. Farrar on a variety of topics, but would never wish harm on him because of that.
"It is very interesting to me that the left will openly denounce him when he talks about buying a gun (as happened a couple of months ago), but is completely silent when he wishes death on people. Is this what the Democrat party represents today?"
Speaking to Newsweek, Farrar dismissed calls for him to stand down as a "ridiculous P.R. stunt by a couple of knucklehead Trump wannabes trying to get attention."
"I put out edgy tweets frequently, and my audience takes little exception to my sentiments, when properly comprehended," Farrar added.
"It's the people I described as covidiots and magats taking offense; I am still highly offended at what they are doing, which is endangering the lives of many innocent people with their ridiculous protests. Those are the people who these republicans should be condemning.
"I'm running in the Democratic primary, and the Democratic voters will cast their judgment on me. Neither Trump nor any of his local fan boys are going to intimidate or bully me, and I believe that's a quality the voters of Northwest Indiana should want in a Congressman."
The Indiana Democratic Party has been contacted for further comment.
There are more than 988,000 confirmed cases of COVID-19 in the U.S., with 56,253 deaths, according to Johns Hopkins University. A total of 111,583 people have managed to recover from the virus.
This chart, provided by Statista, shows the states with the highest number of COVID-19 cases.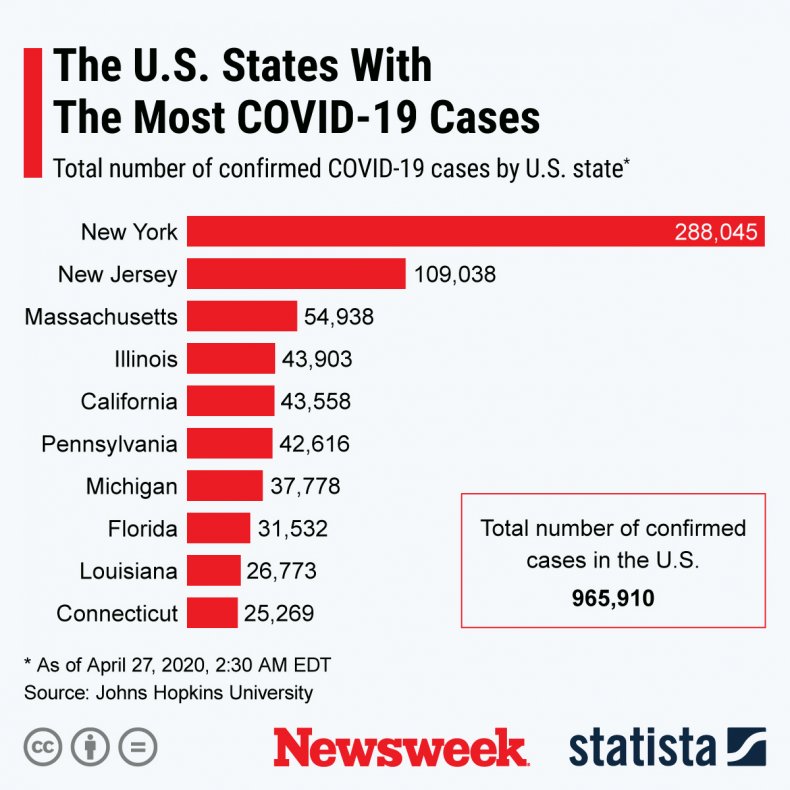 Centers for Disease Control and Prevention Advice on Using Face Coverings to Slow Spread of COVID-19
CDC recommends wearing a cloth face covering in public where social distancing measures are difficult to maintain.
A simple cloth face covering can help slow the spread of the virus by those infected and by those who do not exhibit symptoms.
Cloth face coverings can be fashioned from household items. Guides are offered by the CDC. (https://www.cdc.gov/coronavirus/2019-ncov/prevent-getting-sick/diy-cloth-face-coverings.html)
Cloth face coverings should be washed regularly. A washing machine will suffice.
Practice safe removal of face coverings by not touching eyes, nose, and mouth, and wash hands immediately after removing the covering.
World Health Organization advice for avoiding spread of coronavirus disease (COVID-19)
Hygiene advice
Clean hands frequently with soap and water, or alcohol-based hand rub.
Wash hands after coughing or sneezing; when caring for the sick; before, during and after food preparation; before eating; after using the toilet; when hands are visibly dirty; and after handling animals or waste.
Maintain at least 1 meter (3 feet) distance from anyone who is coughing or sneezing.
Avoid touching your hands, nose and mouth. Do not spit in public.
Cover your mouth and nose with a tissue or bent elbow when coughing or sneezing. Discard the tissue immediately and clean your hands.
Medical advice
Avoid close contact with others if you have any symptoms.
Stay at home if you feel unwell, even with mild symptoms such as headache and runny nose, to avoid potential spread of the disease to medical facilities and other people.
If you develop serious symptoms (fever, cough, difficulty breathing) seek medical care early and contact local health authorities in advance.
Note any recent contact with others and travel details to provide to authorities who can trace and prevent spread of the disease.
Stay up to date on COVID-19 developments issued by health authorities and follow their guidance.
Mask and glove usage
Healthy individuals only need to wear a mask if taking care of a sick person.
Wear a mask if you are coughing or sneezing.
Masks are effective when used in combination with frequent hand cleaning.
Do not touch the mask while wearing it. Clean hands if you touch the mask.
Learn how to properly put on, remove and dispose of masks. Clean hands after disposing of the mask.
Do not reuse single-use masks.
Regularly washing bare hands is more effective against catching COVID-19 than wearing rubber gloves.
The COVID-19 virus can still be picked up on rubber gloves and transmitted by touching your face.