Iowa Gov. Kim Reynolds Ignored COVID Experts for Months Over Mask Mandate
Iowa Gov. Kim Reynolds issued a statewide mask mandate on Monday after ignoring warnings and recommendations made by health experts for several months, including the White House COVID-19 task force.
The mask mandate comes eight months after Iowa recorded its first infection. On March 8, the state reported its first three "presumptive" positive cases of the virus.
The governor's office noted in a statement at the time: "No additional or special precautions are recommended for Iowans beyond the simple daily precautions to combat the flu including washing hands frequently, covering coughs and sneezes, and staying home when ill."
Reynolds said in the statement: "The state of Iowa has been coordinating plans across state agencies, including a partial activation of the State Emergency Operations Center (SEOC), to protect the health of Iowans and assess our operational needs. While these are the first cases, it may not be the last and it's why Iowans must continue to practice safe habits like hand washing and staying home from work when sick.
Reynolds signed a Proclamation of Disaster Emergency after five additional presumptive positive cases were reported on March 9.
Earlier that month on March 2, Reynolds tweeted: "This morning, I met with @IAPublicHealth and @IAHSEMD (Iowa Homeland Security and Emergency Management) to discuss the potential dangers of the Coronavirus. Iowa remains at low risk, but we are taking every precaution to keep Iowans safe and healthy."
Reynolds questions accuracy of COVID-19 projections
At the start of April, a model from the Institute of Health Metrics and Evaluation (IHME) at the University of Washington projected Iowa would see over 1,300 total deaths from COVID-19, with resource usage expected to peak on April 30.
At a press conference on April 1, Reynolds questioned the accuracy of the projections made by the IHME model, which noted that non-essential services and educational facilities remained open in Iowa.
Reynolds said: "The [IHME] model that's out there does not reflect a lot of the mitigation practices that we put in place, and so that will have some bearing on the numbers."
At the time, schools were recommended to be closed until at least April 13, while colleges and universities were transitioned to online learning. Some non-essential businesses and services were also closed.
Health experts and others call for a mask mandate
After flattening out from early May, the seven-day average of cases began increasing from mid-June to mid-July, according to data compiled by Johns Hopkins University.
On July 17, hundreds of protesters supported the Iowa Citizens for Community Improvement (CCI) in a Mask Up Iowa car protest in Des Moines calling for a mask order to be issued.
Back in late July, the Iowa Medical Society and 14 other health professional groups called for the "widespread use of cloth masks in public settings will dramatically slow the spread of COVID-19 and save lives," in a letter to the governor.
While Reynolds encouraged residents to wear a mask, as part of the state's Step Up Mask Up campaign at the time, she refused to order a statewide mask order.
The communications director for the governor, Pat Garrett, said in July: "Gov. Reynolds encourages Iowans who are interacting with others where social distancing is impossible to wear masks. But she does not believe a governmental mask mandate is appropriate."
In a statement released on July 14 by the Centers for Disease Control and Prevention (CDC), director Dr. Robert R. Redfield said: "Cloth face coverings are one of the most powerful weapons we have to slow and stop the spread of the virus—particularly when used universally within a community setting. All Americans have a responsibility to protect themselves, their families, and their communities."
At a press conference in late July, when a reporter highlighted that scientists have said face masks help to slow the spread of infection, Reynolds responded: "But there's people that would tell you just the opposite.
"All along we've said if you can't social distance, wear a mask. We know that those are two things that can help slow the spread and have an impact on COVID-19 in our state. I believe that Iowans are doing the right thing, and I'm doing it through a PR campaign," she said.
At the same press briefing, when Reynolds was asked why she refused to issue a mask mandate, she noted "there's not a single answer" to stopping the spread of the virus.
"A lot of the states, they've done that, but they've said there's absolutely no enforcement. They've put it right in the declaration [saying]: 'We're going to issue a face mandate, but we're not going to enforce it.'
"And if you look [at] the cases and the timelines that they actually issued a mandate, the cases are still rising, so it's just, there's not a silver bullet, there's not a single answer," she said at the time.
Reynolds ignores White House COVID-19 task force advice
Back in early August, the IHME warned the state's lack of a mask mandate could cost 700 more COVID-19 lives over the following three months.
The institute projected the daily death toll would hit 13 by the end of October if the state carried on without a mask requirement, while it could be reduced to fewer than two deaths a day if 95 percent of people wore face coverings.
On August 29, the seven-day average of cases in Iowa peaked at 1,177.29, according to data compiled by Johns Hopkins.
In a report issued on August 30, experts from the White House coronavirus task force warned that "mask mandates across the state must be in place to decrease transmission."
"Rural and urban counties in Iowa continue to have increases in case and test positivity. Common sense preventive measures must be implemented to stop further spread," said the report.
Reynolds said at a press briefing at the time: "I believe we can get there without a mask mandate," when asked how her team has been working to decrease the state's number of infections. "I trust Iowans to do the right thing and I think they are doing the right thing."
Newsweek has contacted the governor's office for comment.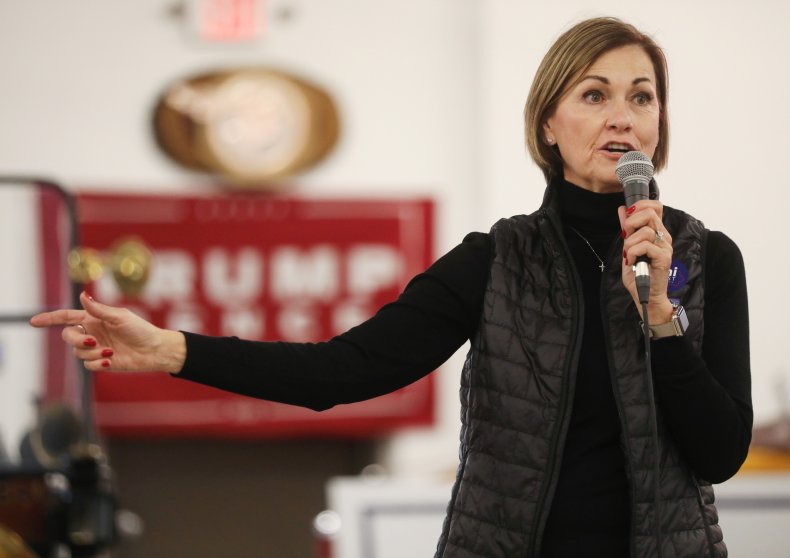 As of Tuesday, total confirmed cases in Iowa have surpassed 189,500, with 2,023 total reported deaths. The seven-day average of cases has been increasing since early August, rising on a sharper incline from late October and peaking at 4,757 on November 11, according to Johns Hopkins.
The state reported the country's third-highest number of cases and sixth-highest number of deaths per 100,000 people in the past seven days, according to the latest report Monday by the CDC.
The wider picture
The novel coronavirus has infected more than 55.1 million people since it was first reported in Wuhan, China.
Globally, more than 1.3 million have died while more than 35.4 million have recovered as of Tuesday, according to Johns Hopkins.
The graphic below, provided by Statista, illustrates the number of COVID-19 hospitalizations reported from March to November.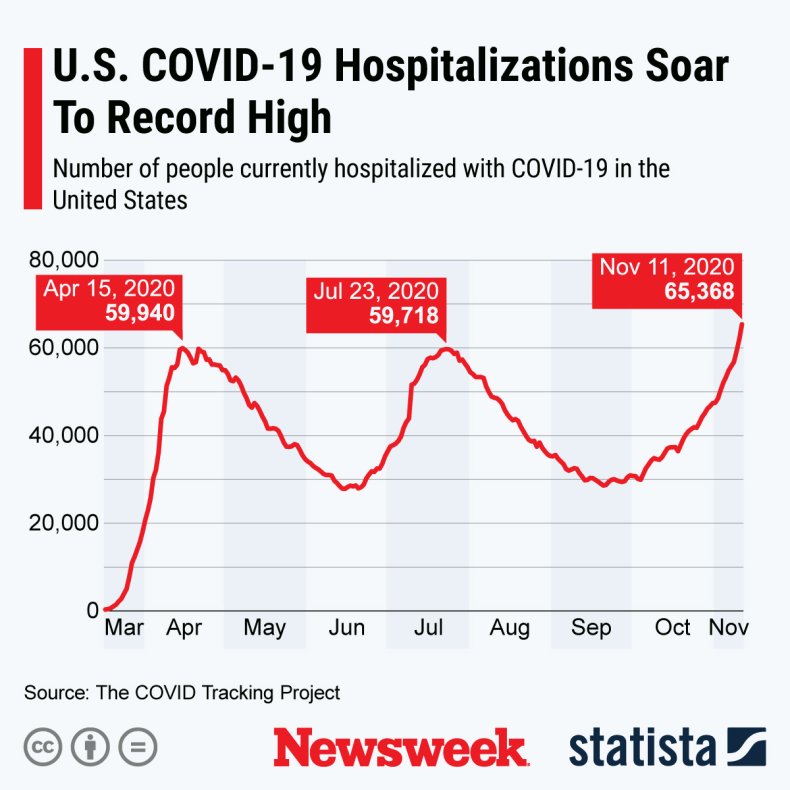 The graphic below, produced by Statista, shows the spread of COVID-19 cases across the U.S.