The army has been brought in to transport dead bodies out of Bergamo, a city in northern Italy severely hit by the coronavirus, as its crematorium struggles to cope with the outbreak.
Around 30 miles northeast of Milan, the city is one of the areas hardest hit by the virus in Italy, a country which could soon overtake China in fatalities from COVID-19. The city's crematorium has resorted to operating 24 hours a day in order to deal with the number of deaths amid the outbreak.
As reported by L'Eco di Bergamo, army vehicles have now been used to take the coffins away to neighboring areas.
The local paper said that as many as 31 bodies are expected to arrive in the city of Modena, around 110 miles away, after being removed from Bergamo.
The bodies will also be taken to other cities such as Parma, Brescia, and Domodossola for cremation in order to help Bergamo cope.
The mayor of Bergamo, Giorgio Gori, wrote a letter to the leaders of the other cities to thank them for their assistance.
"In a tragic moment, your collaboration and closeness is commendable" Gori wrote.
Images of the army vehicles in Bergamo taking the bodies were also posted by La Repubblica.
"The crematorium of Bergamo, working at full capacity, 24 hours a day, can cremate 25 dead", a spokesperson for the local authority said, reported the ANSA News Agency.
"It is clear that it could not stand up to the numbers of the past few days."
The Washington Post previously reported the dead in Bergamo are being buried with no ceremonies as family members remain under quarantine or too sick to attend themselves.
The obituary pages in the local newspaper can also stretch up to 10 pages and feature around 150 names as it lists all of the COVID-19 victims.
"I think it's worse than a war," said Marta Testa, whose father died of the virus at age 85, told The Post. "Dad is waiting to be buried. And we are here waiting to tell him goodbye."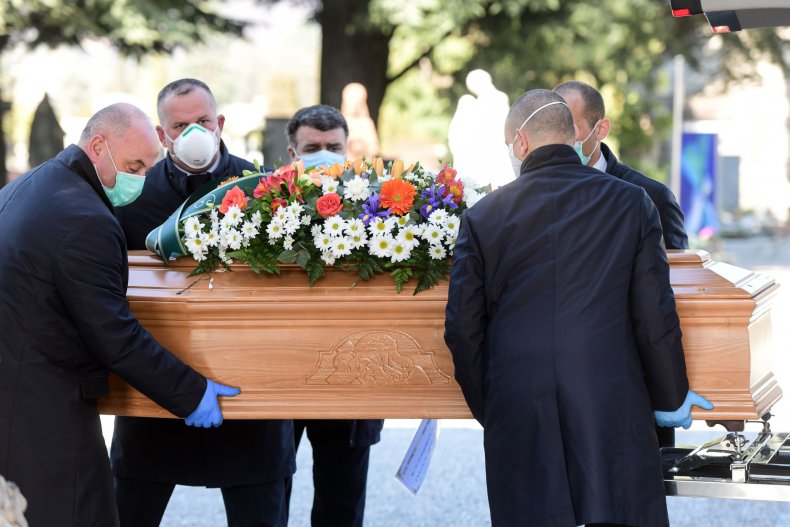 Claudia Scotti, a funeral home co-owner, added: "Morgues and health institutions are collapsing. We were absolutely unprepared for an emergency of this kind."
Earlier this month Dr, Daniele Macchini, an intensive care unit physician working in Bergamo, also described how the country's hospitals are struggling to cope in a Facebook post which later went viral.
"Every ventilator becomes like gold: those in operating theaters that have now suspended their non-urgent activity become intensive care places that did not exist before," he wrote.
"The staff is exhausted. I saw the tiredness on faces that didn't know what it was despite the already exhausting workloads they had. I saw a solidarity of all of us, who never failed to go to our internist colleagues to ask, 'What can I do for you now?'"
There are more than 35,000 confirmed cases of COVID-19 in Italy, with 2,978 deaths. A total of 4,025 people have managed to recover from the virus.
This graphic, provided by Statista, shows the global spread of the new coronavirus as of March 18.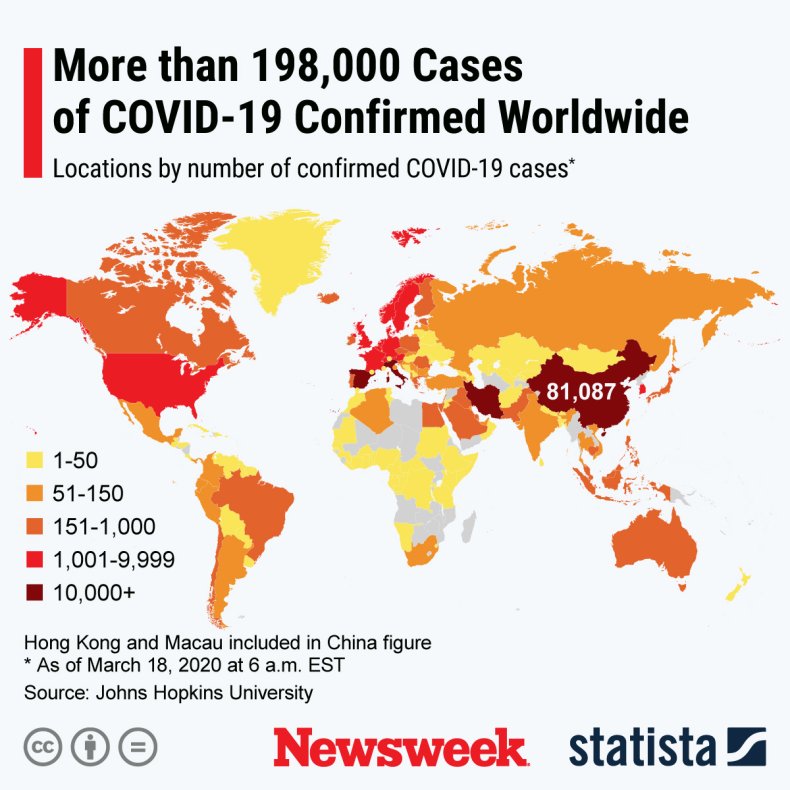 World Health Organization advice for avoiding spread of COVID-19
Hygiene advice
Clean hands frequently with soap and water, or alcohol-based hand rub.
Wash hands after coughing or sneezing;
When caring for the sick; before; during and after food preparation; before eating; after using the toilet; when hands are visibly dirty; and after handling animals or waste.
Maintain at least 1 meter (3 feet) distance from anyone who is coughing or sneezing.
Avoid touching your hands, nose and mouth. Do not spit in public.
Cover your mouth and nose with a tissue or bent elbow when coughing or sneezing. Discard the tissue immediately and clean your hands.
Medical advice
If you feel unwell seek medical care early and call local health authorities in advance.
Stay up to date on COVID-19 developments issued by health authorities, follow guidance.
Mask usage
Healthy individuals only need to wear a mask if taking care of a sick person.
Wear a mask if you are coughing or sneezing.
Masks are effective when used in combination with frequent hand cleaning.
Do not touch the mask while wearing it. Clean hands if you touch the mask.
Learn how to properly put on, remove and dispose of masks.
Clean hands after disposing of mask, do not reuse single-use masks.