Italy, Europe's First COVID-19 Epicenter, Sees New Cases Double in 3 Weeks
New coronavirus cases have more than doubled in Italy over the past three weeks, according to data compiled by the World Health Organization (WHO). New restrictions have been imposed by the Italian government, in a bid to curb the spread of the infection in the country that served as Europe's first epicenter of the outbreak.
The total number of new cases reported in Italy between August 10 and 16 (3,335 total new cases) is more than double the 1,648 total new infections reported between July 20 and 26. New infections also rose for five consecutive days starting August 12.
From Monday, masks are required outdoors from 6 p.m. to 6 a.m. in areas near bars and where gatherings are more likely.
Nightclubs in Italy were also closed as of Monday. The median age of people contracting the virus in the country was reported to have dropped below 40.
Italy's Minister of Health Roberto Speranza warned Saturday: "We cannot nullify the sacrifices made in past months. Our priority must be that of opening schools in September, in full safety," in a post on Facebook.
He urged young people in the country to be as cautious as possible, warning "if they infect their parents and their grandparents, they risk creating real damage."
Nightclubs in the country previously remained open despite growing criticism that social distancing practices were not being maintained and masks were not being worn at the venues.
From Sunday, tourists arriving in Rome's airports were also tested for the virus. This follows the government's mandate announced Wednesday requiring those traveling from Croatia, Greece, Malta and Spain to be screened for the virus.
Popular squares in Rome were also recently closed during weekends in a bid to limit crowds after new infections were reported to be rising in the Italian capital and the surrounding Lazio region in July.
The seven-day rolling average of daily new cases in Italy has been increasing from around July 6. The figure hit a peak around March 26, when it recorded an average daily case count of 5,646, before mostly declining and starting to flatten from around June 12.
The country's active cases (those currently infected who are being treated in hospital or recovering at home) have been mostly increasing from late July, rising from 12,189 reported July 22 to 14,733 reported August 16, according to Worldometer.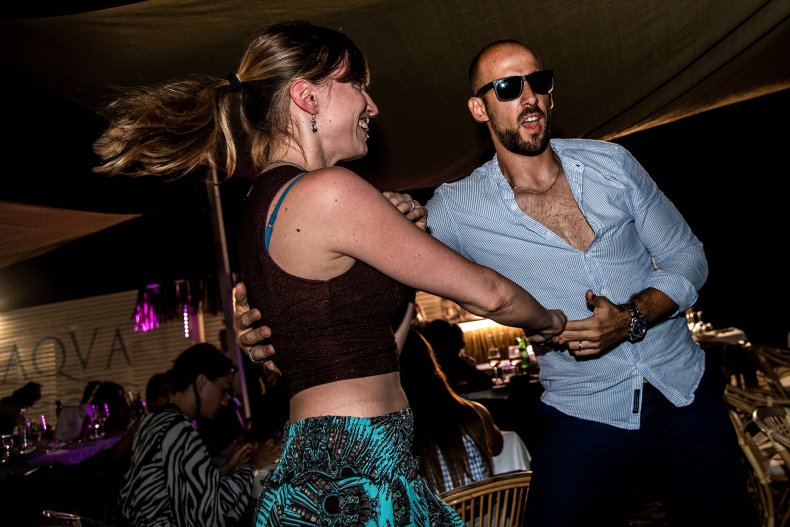 Anti-mask and anti-lockdown protests have been reported across Europe this month, including in the Spanish capital of Madrid and Belgian capital of Brussels on Sunday.
Hundreds of demonstrators gathered in both cities in protest against the wearing of masks, which are required in Spain and the Brussels region, and other safety measures issued by their respective governments following a rise in new infections.
Over 21.7 million people across the globe have been infected since the virus was first reported in Wuhan, China, including more than 5.4 million in the U.S. Over 13.6 million have reportedly recovered from infection, while more than 775,800 have died, according to the latest report Monday by Johns Hopkins University.
The graphic below, provided by Statista, illustrates countries with the most COVID-19 cases.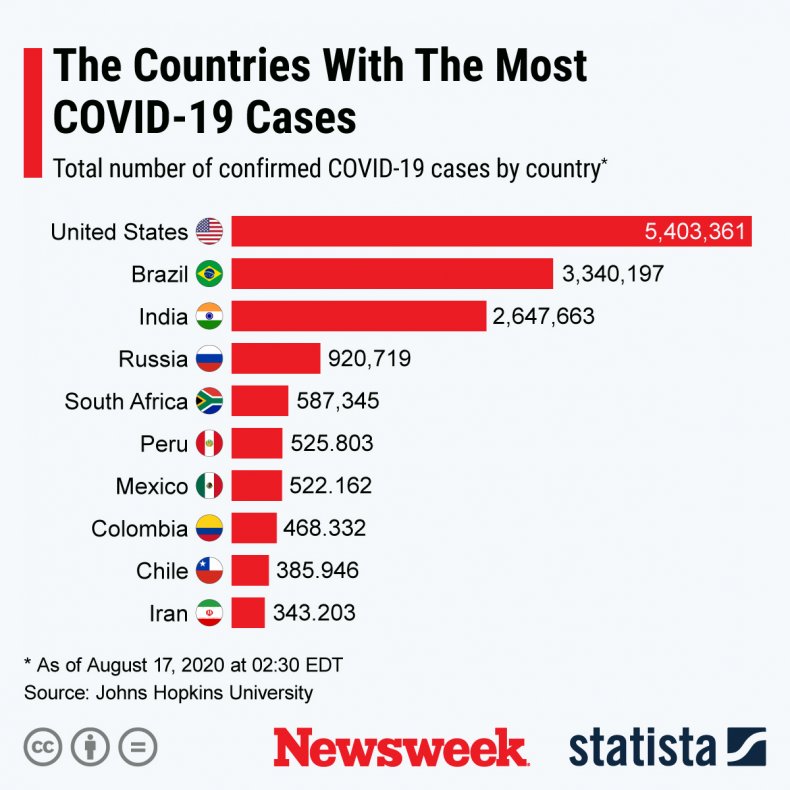 The graphic below, provided by Statista, illustrates a comparison of average new cases in the U.S. and the European Union.