The coronavirus appears able to linger in COVID-19 patients' stools longer than their respiratory system, according to a study.
The research, published in the journal the BMJ, involved 96 COVID-19 patients being treated at a dedicated COVID-19 hospital in the eastern province of Zhejiang, China. Twenty-two of the participants had a mild form of the disease, defined as having no or mild pneumonia. The remaining 74 patients had severe COVID-19, with symptoms including breathing problems. Of those, 30 were treated in an intensive care unit. The data on the patients, aged 55 years old on average, was collected between January 19 and March 20. All patients tested negative of the coronavirus by March 20, and none died.
The researchers looked for the genetic material of the coronavirus in almost 3,500 respiratory, stool, blood serum and urine samples taken daily from the patients. They also assessed the participants' medical records to see if they could find a link between viral loads—the levels of the germ present in samples—and how sick they were.
The team found the RNA, or the genetic material, of the virus in the stool samples of 55 patients, and the blood serum of 39. One urine sample tested positive for the coronavirus.
On average, the virus lingered in stool samples for 22 days. This was "significantly longer" than the 18 days in respiratory samples, and 16 days for serum.
By looking at data on severe patients specifically, they saw the virus was detectable for 21 days on average, "significantly longer" than in mild patients at 14 days.
In mild patients, their viral loads peaked in respiratory samples in the second week after their symptoms came on. However, in the seriously ill patients, levels were still high in the third week. The virus stuck around longer in patients aged 60 and over, and males, the team said.
Using the name of the coronavirus which causes COVID-19, the authors wrote: "The duration of SARS-CoV-2 is significantly longer in stool samples than in respiratory and serum samples, highlighting the need to strengthen the management of stool samples in the prevention and control of the epidemic, and the virus persists longer with higher load and peaks later in the respiratory tissue of patients with severe disease."
They added: "Consistent with earlier reports of SARS-CoV-2, we found differences in the viral load in patients with different disease severities, those with severe disease showing a significantly higher viral load than those with mild disease, which suggests that viral load can be used to assess prognosis."
The study suggests the role of feces in the spread of the coronavirus "cannot be ignored," the scientists said, but more research is needed to uncover how important the viral load in stools is in preventing and controlling the spread of the bug.
The study had several limitations, the researchers said, including that it involved patients only from one hospital, and the sample size was too small to compare the effects of treatments in subgroups. Also, many factors affect the viral load in a sample, including how well it was collected, they noted. In addition, the testing method they used didn't distinguish between viable and non-viable virus, or tell them anything about its ability to replicate.
Ian Jones, professor of virology at the University of Reading in England, who did not work on the research, told Newsweek, "The study shows that the sicker a patient is, the more virus is present and that it lasts for longer. This is more or less what would be expected although it is good to see the times defined.
"Virus was also found in body secretions other than respiratory samples but at a lesser level. This has been seen before and although it is worth noting it should not detract from the main route of infection, which is via respiratory droplets. Stopping these will have by far the most impact in reducing transmission."
According to Johns Hopkins University, more than 2.7 million COVID-19 cases have been diagnosed worldwide, and 190,890 have died. Over 743,000 people are known to have survived. The Statista graph below shows the U.S. is the country with the most reported cases.
Earlier this month, a separate team found that diarrhea may be the first or only symptom some COVID-19 patients experience.
Brennan Spiegel, professor of medicine and public health at Cedars-Sinai and co-author of the study published in The American Journal of Gastroenterology, told Newsweek: "I think the main message is COVID-19 is not just cough."
This is article has been updated with comment from Professor Ian Jones.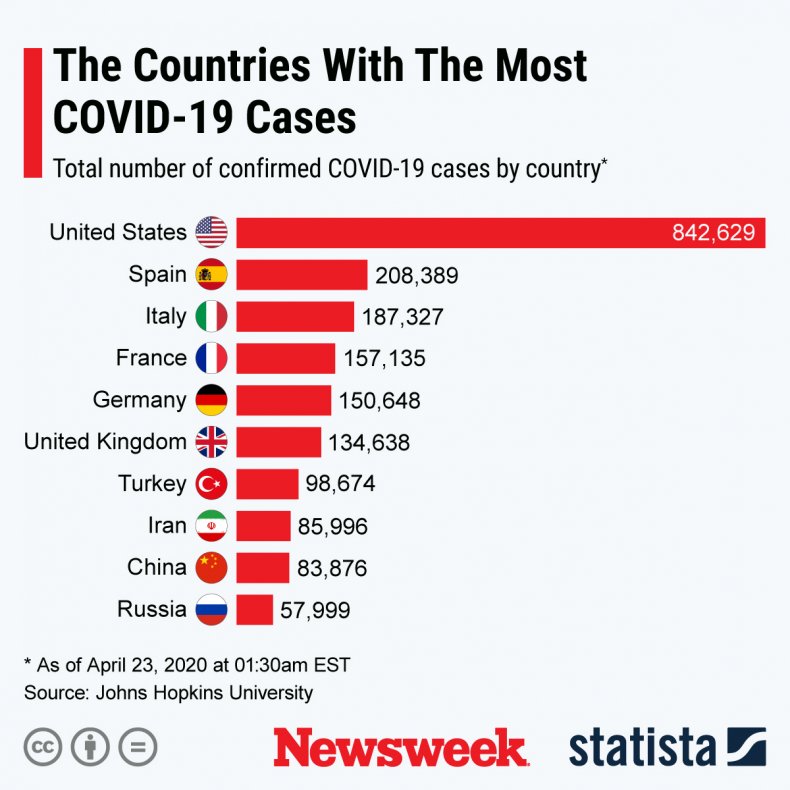 Centers for Disease Control and Prevention Advice on Using Face Coverings to Slow Spread of COVID-19
CDC recommends wearing a cloth face covering in public where social distancing measures are difficult to maintain.
A simple cloth face covering can help slow the spread of the virus by those infected and by those who do not exhibit symptoms.
Cloth face coverings can be fashioned from household items. Guides are offered by the CDC. (https://www.cdc.gov/coronavirus/2019-ncov/prevent-getting-sick/diy-cloth-face-coverings.html)
Cloth face coverings should be washed regularly. A washing machine will suffice.
Practice safe removal of face coverings by not touching eyes, nose, and mouth, and wash hands immediately after removing the covering.
World Health Organization advice for avoiding spread of coronavirus disease (COVID-19)
Hygiene advice
Clean hands frequently with soap and water, or alcohol-based hand rub.
Wash hands after coughing or sneezing; when caring for the sick; before, during and after food preparation; before eating; after using the toilet; when hands are visibly dirty; and after handling animals or waste.
Maintain at least 1 meter (3 feet) distance from anyone who is coughing or sneezing.
Avoid touching your hands, nose and mouth. Do not spit in public.
Cover your mouth and nose with a tissue or bent elbow when coughing or sneezing. Discard the tissue immediately and clean your hands.
Medical advice
Avoid close contact with others if you have any symptoms.
Stay at home if you feel unwell, even with mild symptoms such as headache and runny nose, to avoid potential spread of the disease to medical facilities and other people.
If you develop serious symptoms (fever, cough, difficulty breathing) seek medical care early and contact local health authorities in advance.
Note any recent contact with others and travel details to provide to authorities who can trace and prevent spread of the disease.
Stay up to date on COVID-19 developments issued by health authorities and follow their guidance.
Mask and glove usage
Healthy individuals only need to wear a mask if taking care of a sick person.
Wear a mask if you are coughing or sneezing.
Masks are effective when used in combination with frequent hand cleaning.
Do not touch the mask while wearing it. Clean hands if you touch the mask.
Learn how to properly put on, remove and dispose of masks. Clean hands after disposing of the mask.
Do not reuse single-use masks.
Regularly washing bare hands is more effective against catching COVID-19 than wearing rubber gloves.
The COVID-19 virus can still be picked up on rubber gloves and transmitted by touching your face.
Uncommon Knowledge
Newsweek is committed to challenging conventional wisdom and finding connections in the search for common ground.
Newsweek is committed to challenging conventional wisdom and finding connections in the search for common ground.
About the writer
Kashmira Gander is Deputy Science Editor at Newsweek. Her interests include health, gender, LGBTQIA+ issues, human rights, subcultures, music, and lifestyle. Her work has also been published in the The Independent, The Independent on Sunday, The i Newspaper, the London Evening Standard and International Business Times UK.