U.S. Mortgage Lenders Urge Customers to Ask About Forbearance if Coronavirus Poses Financial Threat
Some of America's largest mortgage lenders are urging their borrowers to get in touch as soon as possible if they making home loan payments becomes difficult because of the coronavirus health emergency.
While none of the institutions who were approached by Newsweek and responded had a specific policy related to coronavirus, they do have existing procedures for dealing with forbearance due to illness or loss of income.
Coronavirus and efforts to contain it may deprive many workers of part or all of their income. President Donald Trump is in talks with Congress about a stimulus package to financially support any affected workers as the situation worsens.
In Italy, which is badly hit by the coronavirus outbreak, the government is in talks with the country's banks to suspend mortgage payments and ease the coronavirus burden on consumers and the economy.
And in the U.K., the Royal Bank of Scotland, one of the country's largest mortgage lenders, said it would offer up to a three-month deferral on payments for any customers who catch the coronavirus. TSB and Lloyds Bank are offering a similar payment window, BBC News reported.
But in the U.S., big banks and mortgage lenders are taking a wait-and-see approach as the number of coronavirus cases rises, leaning on current policies to cope with any payment issues that may arise.
U.S. Bank is monitoring the situation but has not yet updated its policies in light of the coronavirus outbreak.
"However, a number of options are regularly available to U.S. Bank customers experiencing hardship," Evan A. Lapiska, vice president for public affairs and corporate communications at U.S. Bank, told Newsweek. "Customers with questions are encouraged to speak with a banker or contact customer service for more information."
Similarly, JP Morgan Chase Bank wants customers with concerns about making mortgage payments to call because there are options available to them.
United Wholesale Mortgage (UWM) has not yet instituted a new forbearance policy over coronavirus, but it may do soon. "At this time we are in the process of evaluating any and all impact COVID-19 could have to our borrowers," Sarah DeCiantis, UWM's chief marketing officer, told Newsweek.
Bill Halldin, a spokesman for Bank of America, told Newsweek his institution has forbearance policies already in place to help mortgage customers who may struggle to make their payments for a number of reasons.
Halldin said any Bank of America customers who face difficulty with mortgage payments because of coronavirus should contact the lender to discuss their options and, when doing so, fully disclose their financial situation.
Kristy Fercho, mortgage head at Flagstar, said nearly all of her institution's home loans "are owned by investors like Fannie Mae, Freddie Mac, or Ginnie Mae, and we are required to follow their guidelines on anything to do with forbearance."
"For loans we do not have with those agencies, we'll look at hardships on a case-by-case basis," Fercho told Newsweek. Flagstar mortgage customers experiencing a hardship can apply online or call a dedicated number—(800) 393-4887—for forbearance.
Jessica Alexander, a spokeswoman for Fannie Mae, a government-sponsored enterprise, told Newsweek they "issued guidance to remind servicers about our existing forbearance policies to assist borrowers who are unable to make their monthly mortgage loan payment as a result of a temporary hardship (for example, if a borrower is quarantined and unable to work)."
Freddie Mac, another government-sponsored enterprise, has also been asked for comment on their forbearance policies in light of the coronavirus.
A spokesman for Ginnie Mae, also a government-sponsored enterprise, directed Newsweek to the Federal Housing Administration (FHA), which provides mortgage insurance on loans made by FHA-approved lenders.
Mark Calabria, director of the Federal Housing Finance Agency, the conservator of Fannie and Freddie, told Newsweek in a statement that last week "Fannie Mae and Freddie Mac reminded mortgage servicers that hardship forbearance is an option for borrowers who are unable to make their monthly mortgage payment."
"For borrowers that may be experiencing a hardship, I encourage you to reach out to your servicer," Calabria added.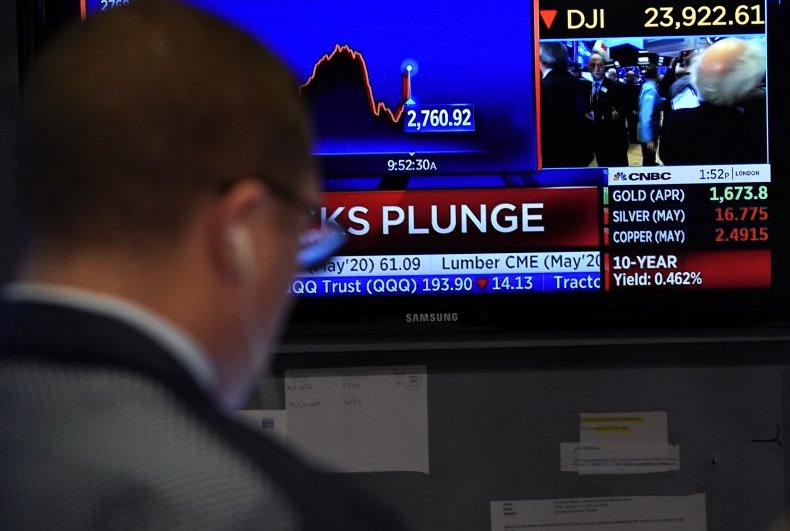 This article was updated with a comment by Mark Calabria and Jessica Alexander.